Spirit Airlines, renowned for its ultra-low-cost reputation in the U.S., made a significant transformation to its elite status program at the beginning of 2021. Surprisingly, the revamped program is brimming with powerful features that can truly enhance your travel experience. Imagine enjoying perks like complimentary baggage, free seat selection, waived fees for overweight checked bags, and even coveted exit-row seat assignments, among a host of other benefits.
However, determining the true value of these perks becomes crucial as you contemplate whether pursuing elite status with Spirit in 2023 is a worthy endeavor.
Within this insightful article, we delve into the actual worth of Spirit elite status by meticulously analyzing the advantages offered by each status tier and attributing a concrete cash value to each benefit. Prepare to discover how this upgraded elite program can elevate your journey to new heights!
Basics of Spirit Gold Status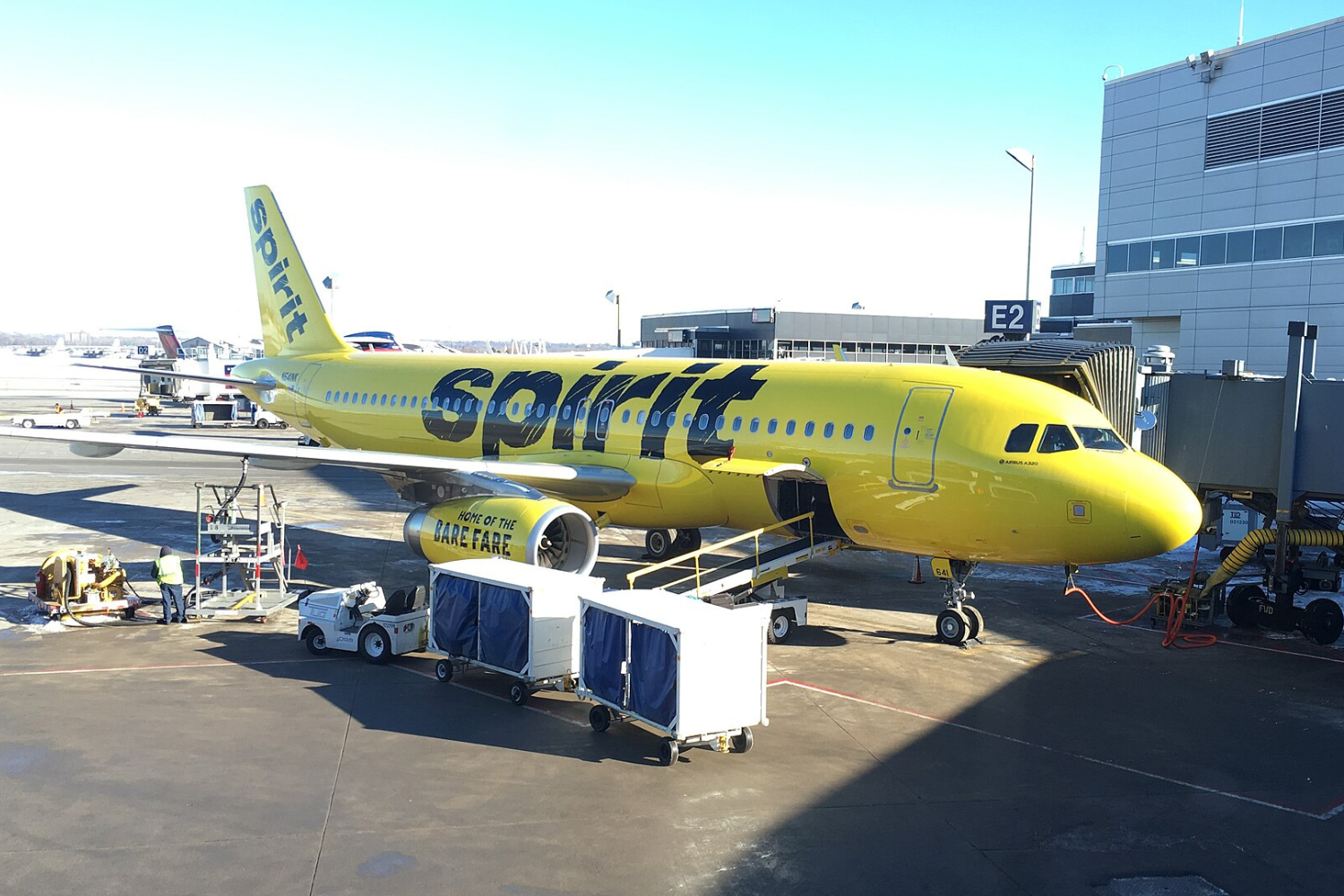 If you're a frequent traveler, Spirit Gold status offers a plethora of enticing perks to enhance your flying experience. Here's what you need to know:
Earning Spirit Gold Status
You need to accumulate 5,000 status-qualifying points per year.
This is equivalent to spending $5,000 on base fares and extras, like seat assignments and bag fees, within a calendar year.
Another way to earn progress towards Gold status is through spending on an eligible Spirit credit card.
Perks of Spirit Gold Status
Faster Point Accumulation: Enjoy earning redeemable points at a rate of 10x on fares and an impressive 20x on "extras" such as bag fees.
Free Seat Selection: Get complimentary seat selection at the time of booking (except for the Big Front Seats), ensuring you secure your preferred spot.
Complimentary Carry-On and Checked Bag: Travel with ease knowing you can bring one full-sized carry-on bag and one checked bag for free.
In-Flight Refreshments: Enjoy a complimentary snack and drink onboard during your flights, adding an extra touch of comfort to your journey.
Points Pooling: Have the flexibility to combine your points with fellow travelers, maximizing rewards for everyone.
Waived Redemption Fees: Save even more when booking awards with a redemption fee waiver for Gold members.
Early Boarding: Expedite your travel experience with early boarding privileges.
Dedicated Elite Service: Gain access to a dedicated elite service phone number for personalized assistance whenever needed.
Flight Flexibility: With "Flight Flex," modify your itinerary once, online, with no fees up to 24 hours before departure.
With this lengthy list of perks, Spirit Gold status has transformed into a truly elite experience for frequent flyers. Take it for a test flight and embrace the enhanced journey that awaits you!
Also Read: Is Spirit Airlines Safe To Fly In 2023? A Super Honest Review!

Becoming a Free Spirit Elite Flyer: Step-by-Step Guide
Spending SQPs:
Earn 1 Status Qualifying Point (SQP) for every dollar spent on fares and Á La Smarte options.
Accumulate 2,000 SQPs within a calendar year to attain Free Spirit Silver status.
Achieve Free Spirit Gold by accumulating 5,000 SQPs within a calendar year.
Keep in mind that the SQP count resets at the start of each new calendar year.
Utilizing Free Spirit Credit Card:
If you think reaching elite status through budget fares alone might be challenging, consider getting an eligible Free Spirit credit card.
Earn 1 SQP for every $10 spent with the credit card, boosting your progress towards elite status.
Enjoying Benefits:
Once you achieve elite status, you'll enjoy the benefits for the remainder of the calendar year in which you earned it.
Additionally, you'll have access to the benefits throughout the entire following year.
For instance, if you earned Silver status in September 2023, you'll receive the perks until the end of 2024.
By following these steps and accumulating the required SQPs, you can elevate your Free Spirit status and unlock a range of exclusive benefits for your air travel. If you're considering your options and want to hear from fellow travelers about their experiences, reading Spirit Airlines reviews can provide valuable insights into the airline's services and what you can expect during your journey.
Is Free Spirit Gold Worth It?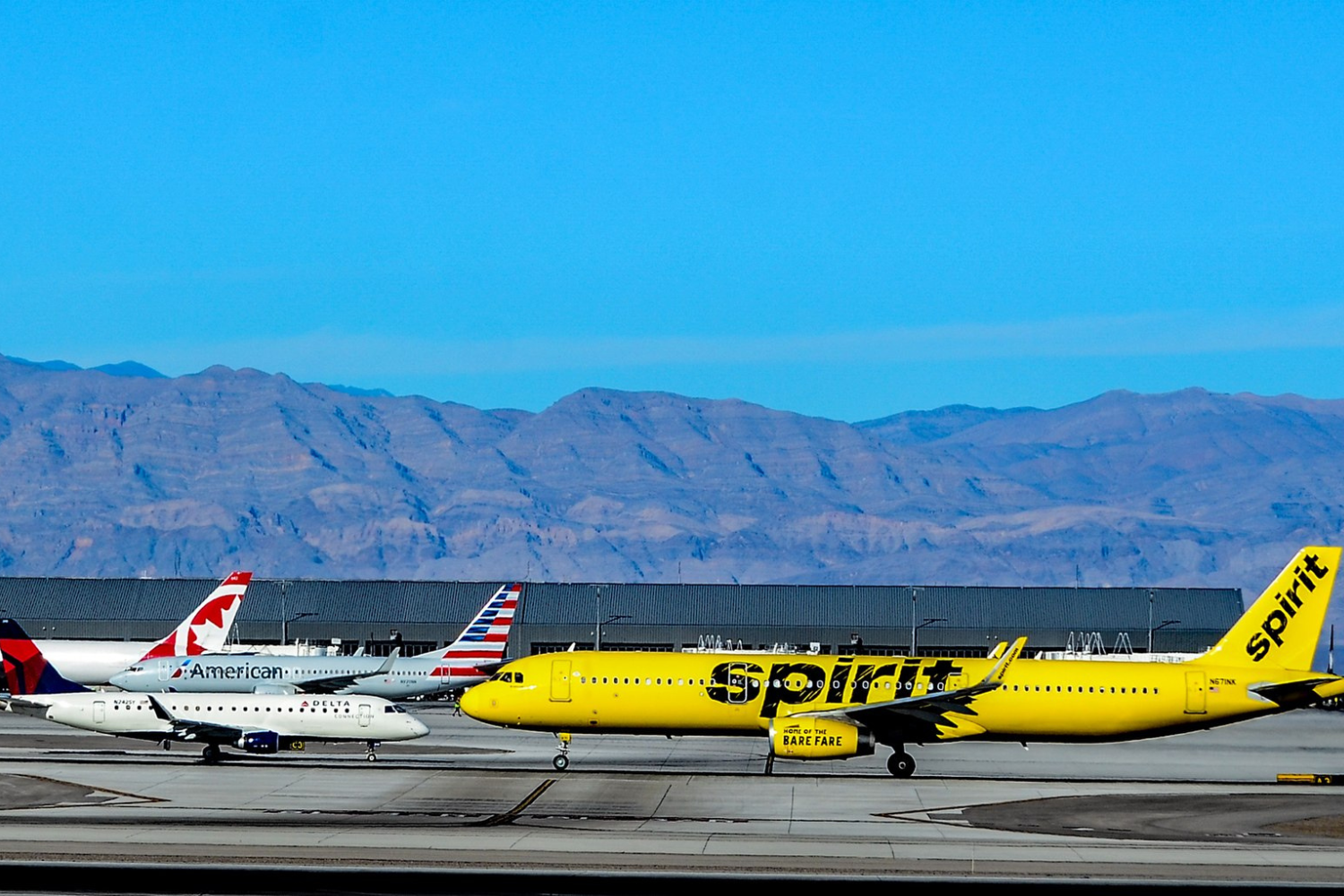 Comparing my recent experiences with American Airlines and United Airlines, both as a top-level elite, to Free Spirit Gold, I must say it's a close call. During the last six weeks, I flew with all three, and here's my take:
United Airlines:
The first-class Spirit Airlines upgrade was only available on one out of four flights, which was disappointing.
Paid a hefty $450 for a 45-minute flight, significantly more expensive than Spirit.
The benefits were not as impressive as expected; I actually received more perks with Spirit.
Free Spirit Gold:
Despite the lower cost of the Spirit flight, I enjoyed more benefits than with United.
The ability to pool points with friends and family traveling with me was a big plus.
Earning and redeeming points could have been even better if I had spent money on extras.
Some perks come with the Spirit Fare Club, priced at approximately $60 annually.
If you mainly fly domestically or to Latin America/the Caribbean, going for Gold with Free Spirit might be a smart choice. However, if your travels take you further afield, other carriers like Delta, American, or United could be better suited for your needs.
It's essential to note that while other airlines have been increasing spending requirements and points needed for elite levels and redemptions, Spirit has taken a different approach. They rolled out innovations and improvements for their customers, especially during the pandemic, while other airlines seemed to retract their services.
Considering the overall picture, I'd say yes, you should go for Gold with Free Spirit, especially if your travel aligns with their primary destinations.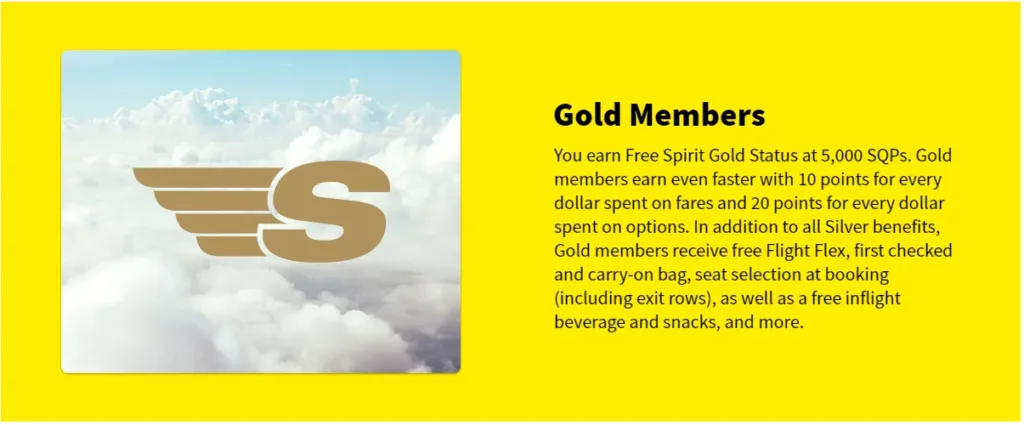 Pros of Spirit Gold status
The advantages of having Spirit Gold status are quite appealing, particularly if you frequently opt for a budget airline. For instance, on our Orlando to Houston flights, we only paid $42 per ticket. Thanks to the complimentary Gold status, I was able to secure a complimentary seat assignment in row 5, which would typically cost $21.
Additionally, I could bring a carry-on bag onto the plane at no extra charge, a benefit that usually costs around $36 when booked in advance. Moreover, during the flight, I enjoyed a free snack and drink, which would have cost approximately $7 otherwise. Checking a bag could have been another perk, but let's discuss that later.
If you happen to travel alone and hold Gold status Spirit, you can take advantage of incredibly affordable airfares starting at around $20 each way, either with cash or just a few thousand Spirit points. This fantastic deal also includes a complimentary drink, snack, bag, and even a seat assignment, including the coveted exit row option.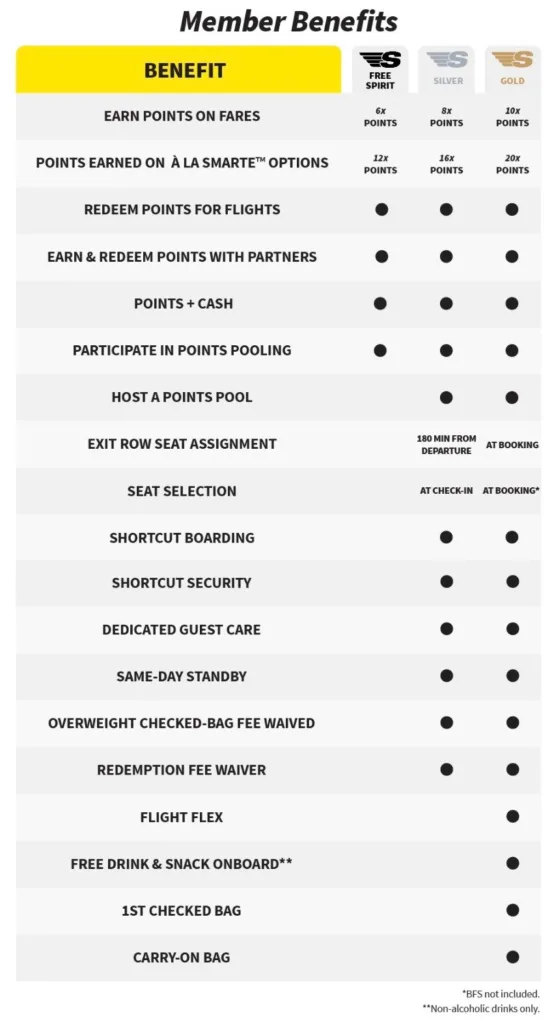 Also Read: Unlocking the Mystery: How Many Rows on Spirit Airlines?
Cons of Spirit Gold status
The downsides of Spirit Gold status were not surprising, but experiencing them firsthand felt more disheartening than merely reading about them. As a frequent flyer, I was accustomed to elite status benefits that extended to at least one other person on the reservation with other airlines like Frontier. However, Spirit's perks are solely applicable to the traveler with Gold status, which presents some challenges, especially when traveling with family, as I often do. Additionally, understanding the policies and procedures for an involuntary refund Spirit Airlines, that is crucial in such situations to ensure a smooth resolution.
One of the significant drawbacks of Spirit Gold status is that no one else on the booking receives a complimentary or discounted bag or seat assignment. While I can enjoy my free seat assignment as a Gold member, I have to pay an additional fee for my kids to sit with me, amounting to $21 each, totaling $42. This limitation can become a significant added expense, particularly for families traveling together, making it less appealing for loyal customers who want to benefit from their status. It's essential to stay informed about Spirit Airlines problems today to be prepared for any potential challenges or issues that may arise during your travel.
Even though receiving one free perk is better than none at all, it feels like a missed opportunity for Spirit to follow the standard practice of status benefits extending to at least one other person on the reservation. Many other airlines offer similar elite status benefits, including complimentary checked bags and seat assignments, for a travel companion. Implementing a "status match" or extending some of the Free Spirit Elite status benefits to other travelers on the reservation would have provided a greater sense of appreciation for their loyalty and incentivized more customers to achieve Gold status. While Spirit Gold status does offer some perks for the individual traveler, its limitations, particularly with regards to benefits not extending to others on the reservation, can be disappointing, especially for families or groups. Free Spirit points expire if there is no account activity for a period of time.
Incorporating a more inclusive approach, such as a "status match" or extending certain benefits to travel companions, could enhance the overall appeal and reward the loyalty of Free Spirit Gold status elite members. Additionally, for those planning their travel with Spirit Airlines, it's important to know details like "how many bags does Spirit allow" to make the most of your travel experience.
Conclusion
In conclusion, Spirit Gold status unlocks a host of valuable benefits for frequent flyers, making it a coveted tier within the Free Spirit program. From complimentary seat assignments and priority boarding to free carry-on bags, the perks elevate the travel experience and reward loyal customers. However, it's important to be aware of the limitations, particularly when traveling with companions, as the benefits are exclusive to the status holder.
FAQs