Nestled within the charming village of Lansallos, South East Cornwall's hidden gem, Lansallos Beach, beckons you to discover its tranquil beauty. Away from the crowds and tourist hotspots, this pristine shoreline offers a serene escape for those seeking a peaceful retreat by the sea.
As you set foot on Lansallos Beach, you'll be captivated by the untouched natural splendor that surrounds you. The beach's unique blend of sandy stretches and pebbly expanses creates a picturesque landscape that feels like a secluded paradise. The gentle lapping of the waves against the shore and the cry of seabirds overhead add to the soothing ambiance, transporting you to a state of complete relaxation.
While Lansallos Beach may not offer the extensive amenities found in busier tourist destinations, its lack of modern conveniences only enhances its allure. Here, you can truly disconnect from the outside world and immerse yourself in the simplicity and raw beauty of nature.
As part of South East Cornwall, Lansallos Beach is a testament to the region's breathtaking coastline. The area is renowned for its charming villages, stunning cliffs, and unspoiled landscapes, and Lansallos Beach embodies all of these qualities. For nature enthusiasts and beach lovers alike, this coastal retreat offers a delightful opportunity to explore the untouched beauty that South East Cornwall has to offer.
Whether you choose to bask in the sun on the sandy shores, explore the intriguing rock pools, or take leisurely walks along the coastline, Lansallos Beach promises an unforgettable experience. The untouched beauty of this hidden gem is a reminder of the simple pleasures that nature provides.
So, if you seek tranquility and a chance to reconnect with nature, Lansallos Beach in South East Cornwall is the perfect destination. Embrace the serene beauty of this coastal haven, and allow yourself to be captivated by the charm of Lansallos Beach, a true hidden gem awaiting your discovery.
Lansallos Beach: An Untamed And Serene Scenery In Cornwall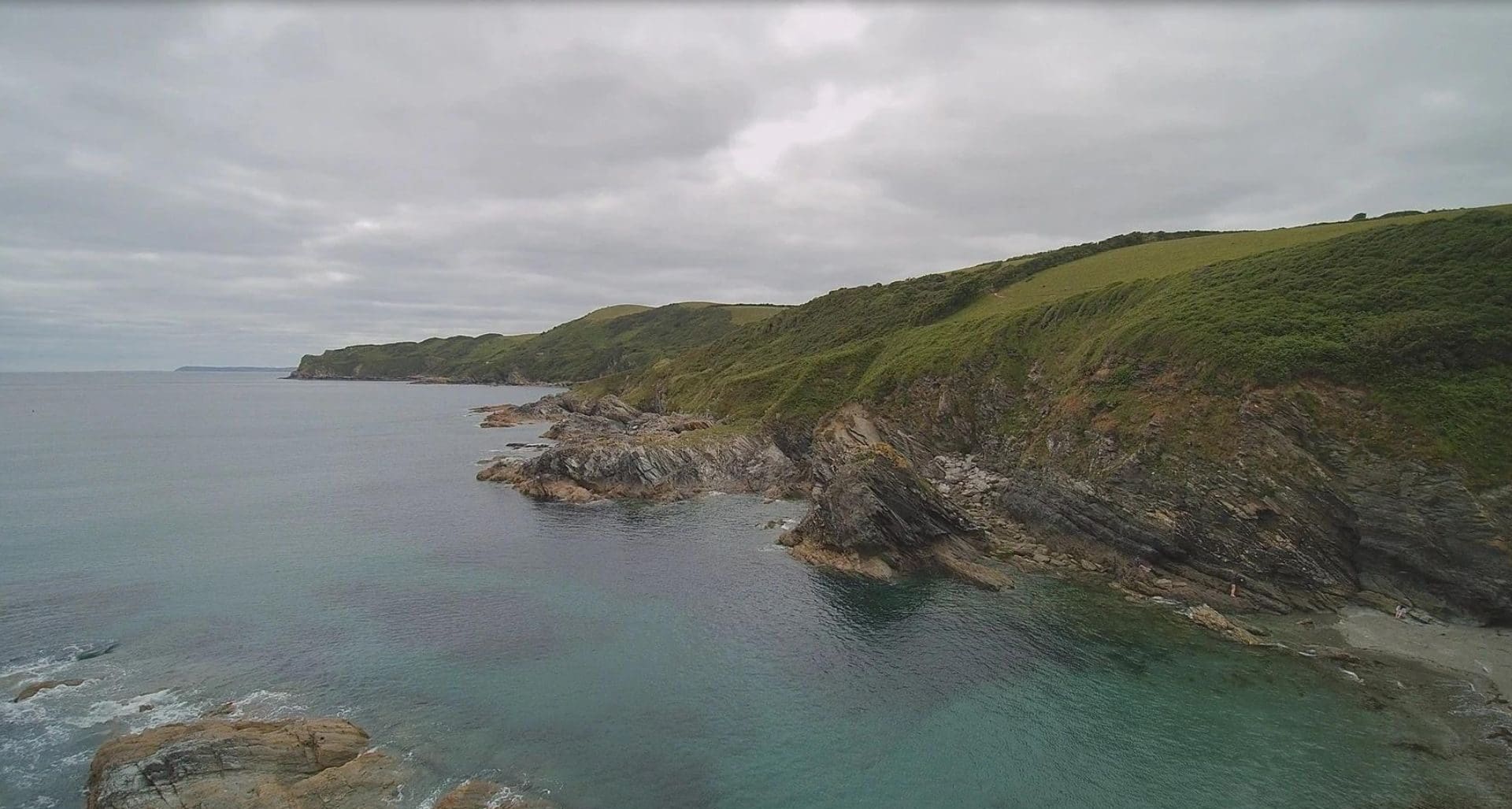 Nestled a short distance west of Polperro, lies Lansallos Beach, also known as West Coombe, a tranquil and captivating cove adorned with sand and rocky formations.
Meandering through the beach's western edge, you'll discover a petite cascade named Reed Water, which was once harnessed to power a small mill.
To access the beach, a footpath awaits near the church in Lansallos village, conveniently accompanied by a National Trust car park (complimentary for members). This picturesque route unfolds along a delightful track, running alongside a babbling stream and featuring interactive elements for children's amusement. Alternatively, paths lead from the fields near the National Trust campsite at Highertown Farm, guiding you through lush fields and down the coombe.
While the beach itself lacks facilities, the closest public toilets are situated at Lantivet Bay (Frogmore) car park.
For the intrepid souls venturing along the South West coastal path from Polperro, this hidden Cove presents an idyllic spot to pause and savor a leisurely lunch.
Witness the Enchanting Beauty of Lansallos Beach through this Captivating Video
Lansallos Beach | Cornwall | 4K Aerial/Drone Cinematic Video
Navigating Your Way to Lansallos: Easy Directions to Reach Paradise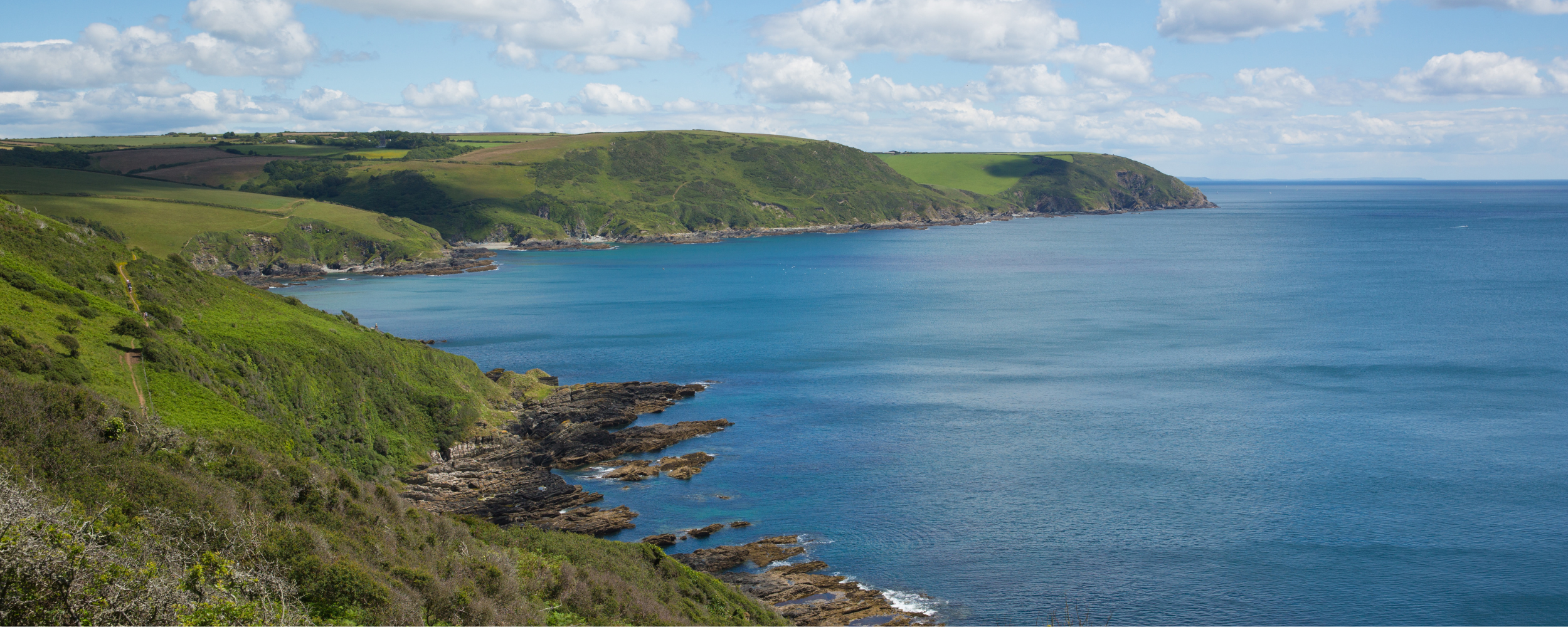 If you're planning a visit to Lansallos, the tranquil coastal haven in Southeast Cornwall, finding your way is a breeze. Here are step-by-step directions to guide you on your journey:
Start your adventure by taking the A38 road from Plymouth, setting you on the path to Lansallos. Enjoy the scenic drive as you traverse through picturesque landscapes, anticipation building with each passing mile.
As you approach Trerulefoot, keep your eyes peeled for the junction where you'll need to turn onto the A374 road. This will lead you further on your way to Lansallos, bringing you closer to your destination.
After approximately 1 mile on the A374, a left turn awaits. Take this opportunity to join the A387 road, which will guide you toward the charming town of Looe. Embrace the anticipation of exploring the coastal wonders that lie ahead.
Stay on the A387 road, following its path as you travel toward Polperro. Take in the scenic surroundings, enjoying the journey as you draw nearer to the charming seaside town.
Once you reach Polperro, a right turn awaits you, located opposite the Crumplehorn Inn. As you make this turn, prepare for the final leg of your journey to Lansallos. Take a moment to soak in the delightful atmosphere of Polperro before proceeding.
Follow the road for several miles, allowing the mesmerizing coastal scenery to unfold before you. Keep an eye out for a left turning that is signposted to Lansallos. This is your path to paradise.
Follow the road indicated by the signpost, leading you directly to Lansallos village. Soon, you'll find yourself immersed in the tranquil ambiance and natural beauty of Lansallos Beach, ready to create lasting memories.
Essential Information and Delights
Discover Southeast Cornwall's hidden gem, Lansallos Beach, and immerse yourself in its serene beauty. To ensure a seamless experience, here is some additional information to guide you:
Address: Lansallos Beach, Polperro, Cornwall, PL13 2QU
Contact: nationaltrust.org.uk
Email: [email protected]
Telephone: 01726 870146
Safety: While specific safety details may not be available, we strongly recommend referring to the Beach Safety Guide for general precautions. Prioritize your well-being and take necessary steps to enjoy the beach responsibly.
Access: Kindly note that Lansallos Beach's path is unsuitable for wheelchairs and pushchairs due to its distance and steep terrain. To reach this coastal haven, you'll need to navigate a pathway through the rocks, adding a touch of adventure to your journey.
Dogs: Embrace the freedom of Lansallos Beach and Parsons Cove, as both are dog-friendly year-round. Let your furry companions frolic in the sand and surf, creating treasured memories together.
Post Code: Make note of the post code for Lansallos Beach: PL13 2PX. It will help guide you precisely to this tranquil destination.
Parking: There are limited on-street car park in Lansallos Village for visitors. Please note that the village is relatively small, and parking spaces may fill up quickly, especially during peak seasons. For those planning to visit Lansallos Beach, there are alternative parking options within a reasonable walking distance. One option is to park at the National Trust car park located at Lansallos Church, which is a short walk away from the beach. From there, visitors can follow footpaths or public bridleways to reach the beach. Lansallos village is located approximately a half mile walk away from Lansallos Beach.
Toilets: Regrettably, the toilets in Lansallos are currently closed. Plan accordingly and consider making necessary arrangements before your visit.
Facilities: Lansallos Beach offers no additional facilities, allowing you to bask in the beauty of nature in its purest form. Take solace in the absence of distractions and embrace the simplicity of the surroundings.
Activities: Immerse yourself in serenity at Lansallos Beach. Take leisurely strolls along the shore, feeling the sand beneath your feet and the soothing rhythm of the waves. Unwind amidst nature's beauty, appreciating the coastal scenery and letting the stresses of everyday life melt away.
Location: Nestled in Southeast Cornwall, Lansallos Beach beckons with its unspoiled allure. Prepare to be enchanted by its idyllic setting and natural wonders.
Key features of Lansallos Beach: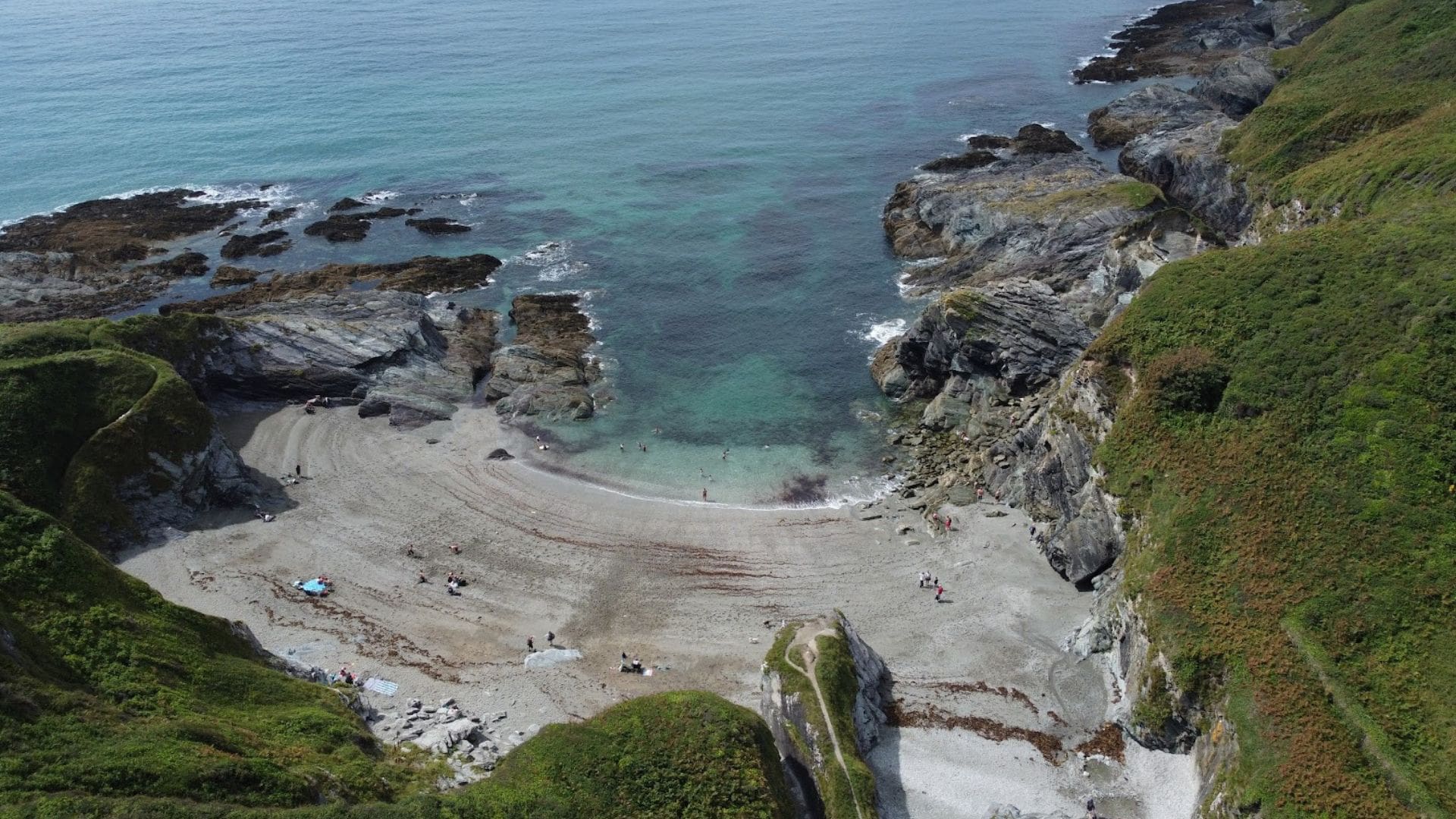 Rare and important points: This beach boasts some unique and remarkable features that set it apart from others in the area. These distinguishing characteristics make it a memorable destination for visitors.
Covered with Gray pebbles: Unlike sandy beaches, this beach is covered with smooth gray pebbles, creating a distinctive and visually appealing shoreline. Walking along the pebbly beach provides a unique sensory experience for beachgoers.
Bottom with Pebbles: The pebble-covered landscape extends beyond the shore and continues beneath the water. This means that when swimming or wading in the crystal-clear waters, visitors can feel the pebbles beneath their feet, enhancing the overall sensory experience.
Ideal for:
Hiking adventurers: With its rugged terrain and diverse landscape, this beach offers great opportunities for hikers and nature enthusiasts. The surrounding area might have trails or paths that lead to stunning viewpoints or hidden coves, providing exciting adventures for those seeking exploration and discovery.
Beachgoers with pets: If you're a pet owner looking for a beach where you can enjoy the sun and sand with your furry companion, this beach is a great choice. Its pet-friendly environment ensures that you and your four-legged friend can make lasting memories together.
Beach overall scores:
Water: The water quality at this beach is exceptional, earning a high rating of 9.5 out of 10. The clear and pristine waters make it perfect for swimming, snorkeling, or simply cooling off on a hot day.
Cover: The cover score, unfortunately, is relatively low at 2.3 out of 10. This indicates that the beach may lack sufficient shaded areas or natural cover, making it less ideal for those seeking respite from the sun.
Cleanliness: This beach prides itself on maintaining a high level of cleanliness. With a very good rating of 7.5 out of 10, visitors can expect a well-maintained and litter-free environment, contributing to a pleasant and enjoyable beach experience.
Amenities: In terms of amenities, this beach is relatively basic, with a score of 0 out of 1. While it may lack facilities such as restrooms or picnic areas, the focus here is more on the natural beauty and outdoor activities that the beach offers.
Lansallos Beach Ratings
Unforgettable Beauty:
⭐️⭐️⭐️⭐️½
Dog-Friendly Atmosphere:
⭐️⭐️⭐️
Family-Friendly Environment:
⭐️⭐️
Swimming Conditions:
⭐️⭐️⭐️⭐️
Surfing Opportunities:
⭐️⭐️⭐️⭐️
Lansallos Beach: Nearby Beaches and Coastal Delights
While Lansallos Beach is a hidden gem in Southeast Cornwall, there are several other enchanting coastal destinations worth exploring in the vicinity. These stunning beaches offer their unique charms, ensuring there's something for everyone seeking coastal bliss. Let's take a closer look at the nearby alternative beaches that will captivate your senses: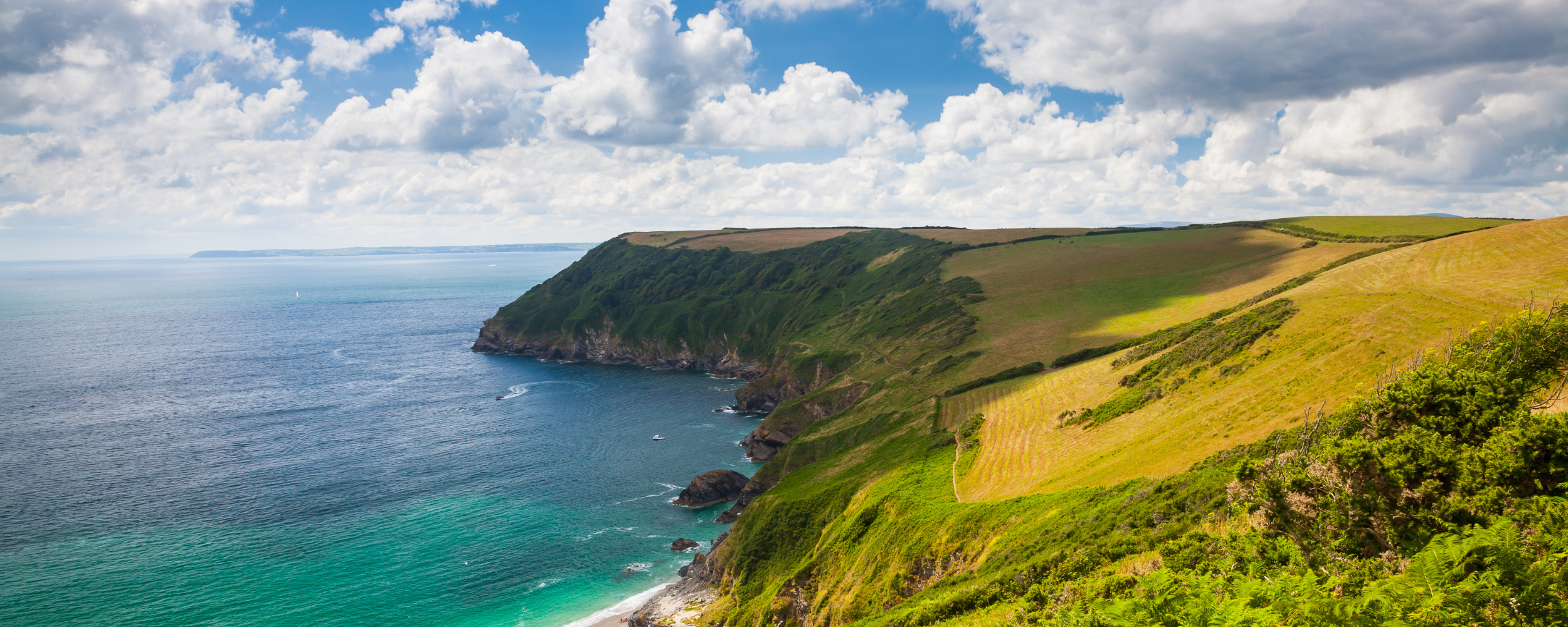 Lantic Bay is a picturesque coastal paradise located just 3 miles west, of Lansallos Beach. As you approach the bay, you'll be captivated by its stunning beauty. The beach offers a true sandy haven, with soft golden sands stretching out before you, inviting you to kick off your shoes and feel the warm grains under your feet.
The most remarkable feature of Lantic Bay is its crystal-clear turquoise waters, which glisten in the sunlight. The sight of the water meeting the sky in perfect harmony creates a mesmerizing and tranquil atmosphere that instantly puts visitors at ease.
What makes Lantic Bay even more special is its dog-friendly policy, providing the perfect opportunity for you to bring your beloved four-legged companions along on your beach adventure. The beach allows dogs to accompany you, giving them a chance to frolic and explore the sandy shores and frothy waves with you.
As you stroll along the coastline, you'll find yourself surrounded by natural beauty. The rugged cliffs that encircle the bay add a touch of dramatic allure to the scenery. This captivating landscape offers a sense of escape from the hustle and bustle of everyday life, providing a serene and peaceful environment for relaxation.
Visitors to Lantic Bay can indulge in various activities to make the most of their day by the sea. You can bask in the sun, swim in the refreshing waters, or enjoy a leisurely beach picnic while taking in the breathtaking coastal views. The bay is also an excellent spot for photography enthusiasts, as every angle offers a postcard-worthy snapshot.
For those seeking a more adventurous experience, you can explore the rocky outcrops and hidden coves that adorn the bay's perimeter. Keep in mind that some areas might be accessible only during low tide, adding an element of excitement and discovery to your visit.
As the day draws to a close, Lantic Bay presents a front-row seat to one of nature's most enchanting displays – the sunset. The sky transforms into a canvas of vibrant hues, creating a magical backdrop as you bid farewell to the day.
Lantic Bay is a true gem of the Cornwall coastline, offering an idyllic retreat where you can unwind, rejuvenate, and create beautiful memories with your loved ones and furry friends. Whether you are seeking a day of tranquility or adventure, this sandy haven is sure to leave you with an unforgettable experience and a longing to return.
Location: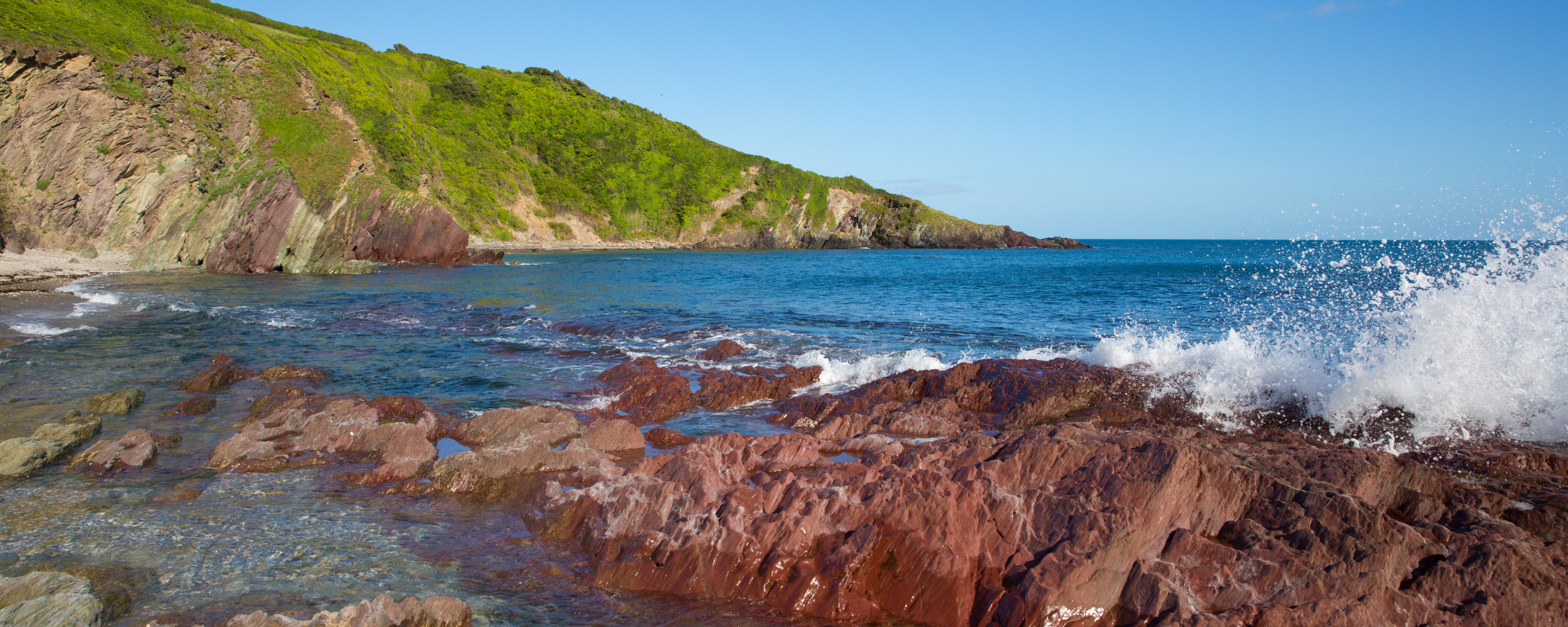 Talland Bay is a hidden gem nestled just 6 miles away from Lansallos Beach, and it offers a unique and picturesque coastal experience. As you make your way towards the bay, you'll be greeted with awe-inspiring beauty and a sense of tranquility that immediately captivates your senses.
The beach at Talland Bay is a sandy haven that stretches out in front of you, inviting you to take a leisurely stroll or simply bask in the sun. The soft golden sands are the perfect place to set up a beach blanket, unwind, and enjoy the stunning coastal views that surround you. The bay's serene atmosphere creates a sense of peace, making it an ideal destination for those looking to escape the hustle and bustle of everyday life.
What sets Talland Bay apart and makes it even more special is its commitment to accessibility. The beach offers disabled access, ensuring that everyone, regardless of their physical abilities, can enjoy the beauty and tranquility of this coastal paradise. With ramps or pathways leading to the beach, individuals with mobility challenges can easily access the shoreline and partake in the beach experience. This inclusivity adds a heartwarming touch to the destination, making it a place where everyone can come together to enjoy the wonders of nature.
Moreover, Talland Bay is also dog-friendly, extending a warm welcome to your furry friends. This means that you can bring along your beloved four-legged companions and explore the beach together, creating cherished memories as you frolic in the sand and play by the water's edge.
The coastal views at Talland Bay are nothing short of breathtaking. The bay is framed by rugged cliffs that add a dramatic backdrop to the sparkling turquoise waters. As you look out towards the horizon, you can see the vast expanse of the sea meeting the sky in perfect harmony, creating a stunning panorama that will leave you in awe.
For those who enjoy coastal walks, Talland Bay offers a wonderful opportunity to explore the surrounding area. The South West Coast Path runs through the bay, providing scenic hiking trails that showcase the natural beauty of Cornwall's coastline. From the cliffs, you can take in sweeping views of the ocean and the charming landscapes that stretch along the shoreline.
Whether you choose to spend your time relaxing on the beach, taking a refreshing dip in the sea, exploring the coastal paths, or simply appreciating the beauty of nature, Talland Bay promises an unforgettable experience for visitors of all abilities, including those with disabilities, and their furry companions. It's a place where you can unwind, connect with nature, and create cherished memories with your loved ones, leaving you with a sense of serenity that lingers long after you depart.
Location:
3) Looe (6 miles away)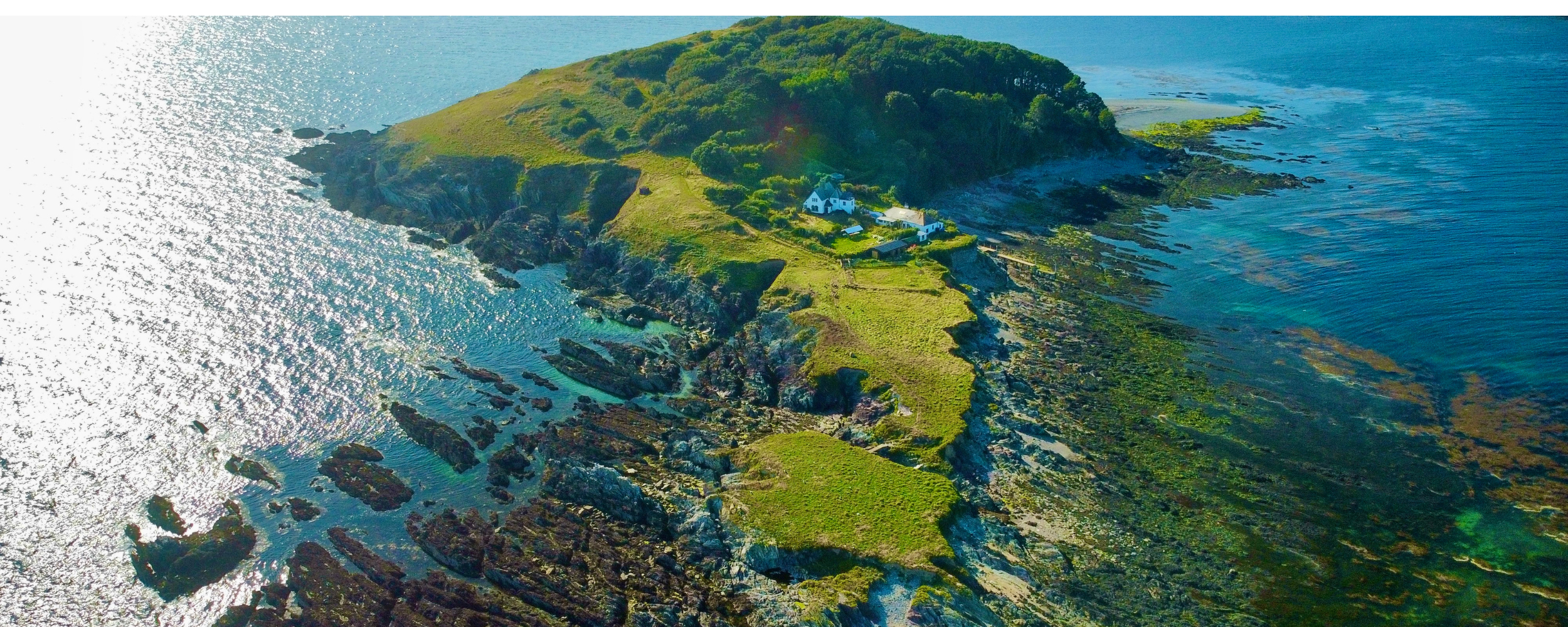 Looe is a delightful coastal town located just a short 6-mile drive from Lansallos Beach. It offers visitors a perfect blend of natural beauty, a serene ambiance, and a warm sense of hospitality. As you approach Looe, you'll be captivated by its quaint charm and stunning sandy beach, which beckons you to explore its shores.
The sandy beach in Looe provides an excellent spot to unwind and soak up the coastal atmosphere. The soft sands invite you to kick off your shoes and feel the warmth under your feet as you take leisurely walks along the shore. The rhythmic sounds of the waves crashing against the beach create a soothing soundtrack that adds to the tranquility of the area.
One of the remarkable features of Looe is its commitment to providing disabled access to the beach. This inclusive approach ensures that all beachgoers, regardless of their physical abilities, can enjoy the beauty and serenity of this coastal gem. Accessible pathways and facilities cater to the needs of visitors with mobility challenges, making it a place where everyone can relax and appreciate the splendor of nature.
As you immerse yourself in the picturesque surroundings of Looe, you'll find plenty of opportunities to connect with nature and indulge in various activities. Apart from leisurely walks on the beach, you can explore the rock pools teeming with marine life or watch seabirds gracefully gliding overhead.
Looe is renowned for its delectable local seafood offerings, and indulging in these culinary delights while admiring the view is a must-do experience. The town boasts charming cafes and restaurants that serve fresh catches of the day, allowing you to savor the flavors of the sea in a delightful seaside setting.
While in Looe, consider taking a boat trip to explore the coastline from the water, offering a different perspective of the area's beauty. You might spot dolphins, seals, and other marine creatures during your excursion, adding an element of excitement to your visit.
The town itself is steeped in maritime history and character, evident in its colorful fishing boats and charming waterfront houses. Stroll through the narrow streets and browse local shops, where you can find unique souvenirs and crafts to remember your time in Looe.
Whether you prefer to immerse yourself in the tranquil ambiance, feast on delicious seafood, explore the natural wonders, or simply take in the coastal views, Looe offers a captivating experience for every beach enthusiast. Its disabled access and warm hospitality make it a truly welcoming destination for visitors of all ages and abilities, ensuring that everyone can create cherished memories in this charming coastal town.
Location: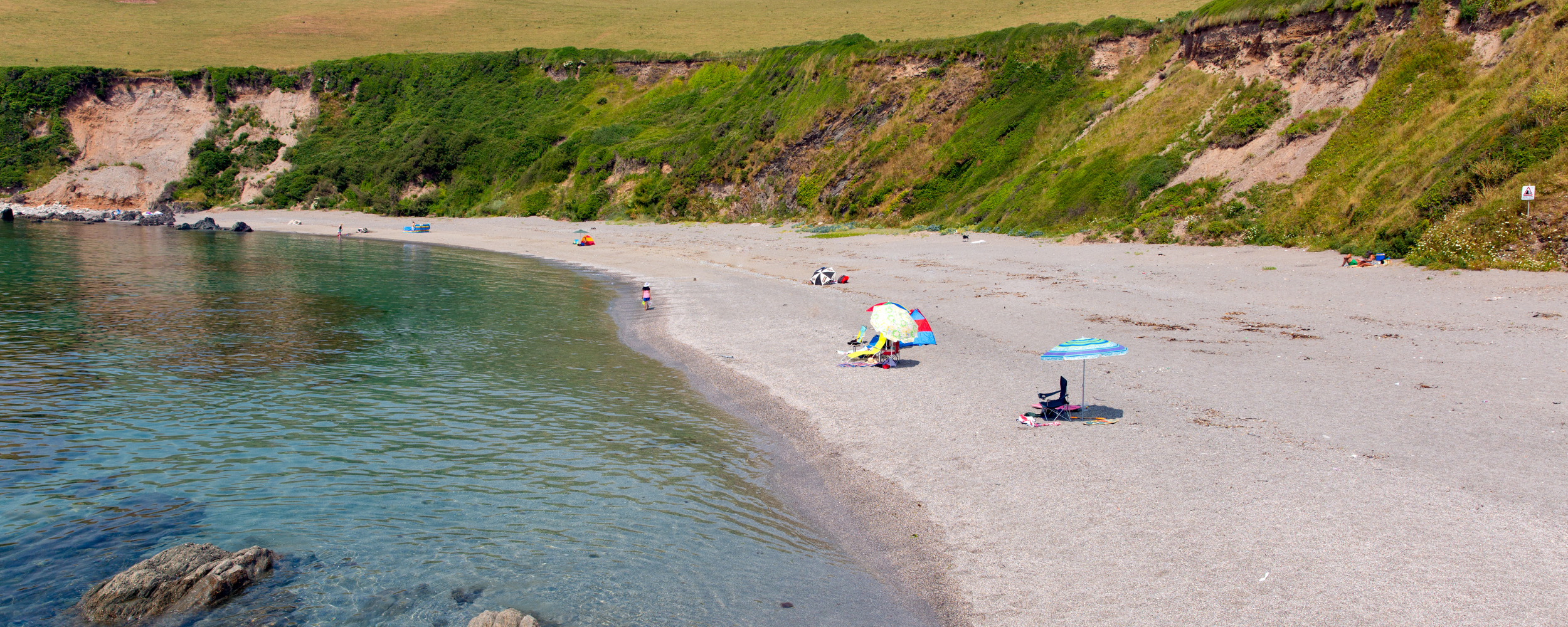 Whitsand Bay, situated just 18 miles from Lansallos Beach, is a sandy haven that offers a perfect blend of adventure and relaxation for beachgoers. As you approach the bay, you'll be greeted with a vast expanse of sandy shoreline stretching along the coast, inviting you to explore its beauty and embrace the thrilling atmosphere.
For surfers seeking an adrenaline rush, Whitsand Bay is a paradise of thrilling waves. The bay's position along the coastline makes it an excellent location for catching swells, attracting surfers from near and far. Whether you're a seasoned surfer or a beginner looking to catch your first wave, Whitsand Bay provides an ideal environment for riding the surf and experiencing the thrill of the ocean.
However, Whitsand Bay is not just for surfers. It also caters to those looking for a more laid-back experience. The expansive beach allows ample space for leisurely strolls along the shore, where you can feel the soft sands beneath your feet and breathe in the refreshing sea breeze. The sound of the waves crashing against the beach creates a soothing soundtrack as you walk, adding to the serene ambiance of the area.
If you prefer to simply relax and soak up the sun, Whitsand Bay offers plenty of opportunities for sunbathing and unwinding. Spread out your beach towel, lay back, and enjoy the warm rays of the sun as you take in the stunning coastal views around you. The bay's picturesque surroundings create a tranquil setting, perfect for those seeking a peaceful escape.
One of the highlights of Whitsand Bay is its dog-friendly atmosphere, making it an ideal destination for pet owners. Your canine companion can join in on the fun and frolic alongside you on the sandy shores and in the refreshing waters. Watching your furry friend enjoy the beach and the waves can be a heartwarming experience that adds an extra layer of joy to your visit.
While at Whitsand Bay, consider exploring the cliffs and hidden coves that surround the beach. The rugged cliffs offer breathtaking vistas of the bay and the vast sea beyond, providing excellent opportunities for photography and moments of awe-inspiring natural beauty.
Whether you're seeking adventure through surfing, relaxation on the beach, or quality time with your four-legged friend, Whitsand Bay promises an unforgettable experience. Its combination of thrilling waves, serene ambiance, and dog-friendly policy makes it a versatile and inviting destination for beach enthusiasts of all kinds. So, pack your surfboard, bring your beach essentials, and get ready to create cherished memories at this captivating coastal gem.
Location:
5) Lantivet Bay (6 miles away)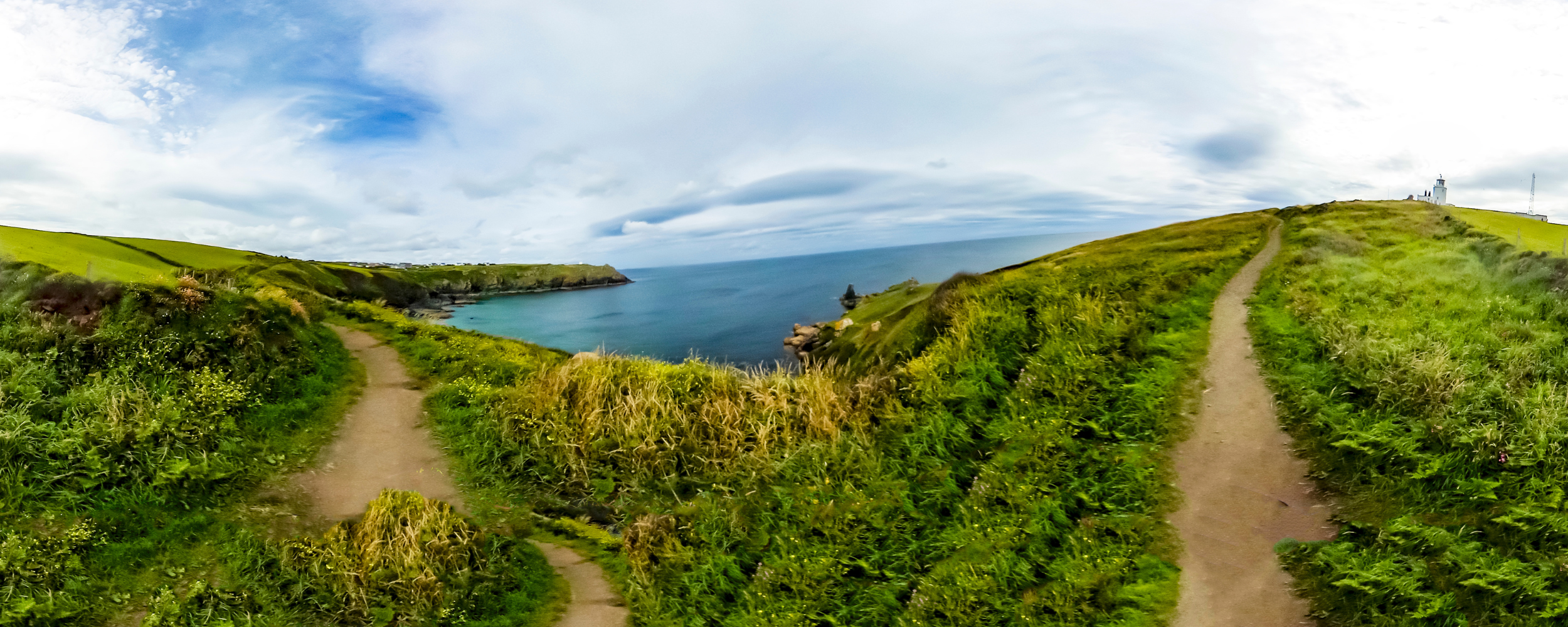 Lantivet Bay, the shingle beach located to the west of Lansallos Beach, is a hidden coastal gem awaiting discovery by beach enthusiasts. Lantivet Bay is located to the west of Lansallos Beach along the South West Coast Path. The distance between the two beaches is approximately 6 miles. This serene and picturesque bay offers a unique experience compared to the sandy shores nearby. As you venture along the South West Coast Path to reach Lantivet Bay, you'll be treated to breathtaking views and a sense of tranquility that immediately captivates your senses.
The defining feature of Lantivet Bay is its collection of smooth pebbles and shingles that line the shoreline. These beautifully rounded stones, polished by the ebb and flow of the tides, create a distinctive texture underfoot, making every step a delightful sensory experience. The sound of the waves gently rolling the pebbles adds to the soothing ambiance, creating a symphony of nature that calms the soul.
Unlike sandy beaches, Lantivet Bay's shingle composition offers a different kind of coastal exploration. Beachcombers will find themselves in a treasure trove of unique and fascinating pebbles, shells, and interesting rocks washed ashore by the sea. The variety of colors and patterns of the pebbles adds an element of wonder, making every discovery a delight.
The beach's location along the coastline also provides stunning views of the surrounding cliffs and the vast expanse of the sea. The rugged cliffs, standing tall and proud, frame the bay and create a breathtaking backdrop for your coastal adventure. Nature enthusiasts will find joy in observing seabirds gliding gracefully over the waters, while the more adventurous may choose to explore the cliffs and discover hidden vantage points offering panoramic vistas of the bay.
Lantivet Bay's tranquility and quieter atmosphere make it an ideal spot for those seeking a more secluded beach experience. Away from the crowds, you can immerse yourself in the natural beauty, listen to the soft sounds of nature, and find solace in the embrace of the coastal landscape.
For those who value peaceful moments of reflection, Lantivet Bay provides the perfect environment for mindfulness and connection with nature. Whether you find a quiet spot to read a book, practice yoga, or simply sit and contemplate the beauty around you, this hidden shingle beach invites you to escape the hustle and bustle of everyday life and find serenity by the sea.
Lantivet Bay is a treasure trove for photography enthusiasts as well. The unique textures and colors of the pebbles, combined with the striking coastal views, offer countless opportunities to capture mesmerizing images of nature's artistry.
In conclusion, Lantivet Bay, the shingle beach near Lansallos Beach, is a coastal sanctuary for those seeking a different beach experience. Its smooth pebbles, beautiful views, and tranquil ambiance make it a haven for nature enthusiasts and those yearning for a quieter escape by the sea. Embrace the unique texture underfoot, revel in the beauty of nature, and allow yourself to be captivated by the serenity of Lantivet Bay.
Loaction:
Wrapping Up
Lansallos Beach in Cornwall, England, is a captivating destination that combines natural beauty with a peaceful atmosphere. With its idyllic golden sands and turquoise waters, it provides a serene escape from the bustling world. While parking options are limited, the journey to this hidden gem is well worth it.
Whether you're a nature enthusiast, a beach lover, or simply seeking tranquility, Lansallos Beach offers it all. Soak up the sun, take a refreshing swim, or explore the coastal paths. Don't forget to bring your furry friends along, as Lansallos Beach warmly welcomes dogs. Experience the allure of Lansallos Beach and create cherished memories in this scenic paradise.
FAQs