Experience the awe-inspiring Hong Kong buildings, a true marvel of modern architecture. The vibrant city of Hong Kong, resembles a futuristic wonderland, boasting a plethora of iconic skyscrapers that define its urban landscape. Among them, the imposing International Commerce Centre (ICC) stands tall as one of Asia's tallest structures, seemingly reaching for the heavens.
Furthermore, the skyline showcases the remarkable Bank of China Tower, a distinctive architectural masterpiece shaped like soaring bamboo shoots. This tower is celebrated for its innovative and cutting-edge design, making Hong Kong's skyline a testament to the city's dynamic and progressive spirit.
Don't overlook the spectacular Central Plaza's triangular roof and the Two International Finance Centre (IFC), a gleaming colossus that reflects the river below. These structures illuminate at night, producing an amazing light display. One of the most beautiful cityscapes in the world, the Hong Kong buildings represent the city's drive and ambition.
1. HSBC Tower: A Financial Landmark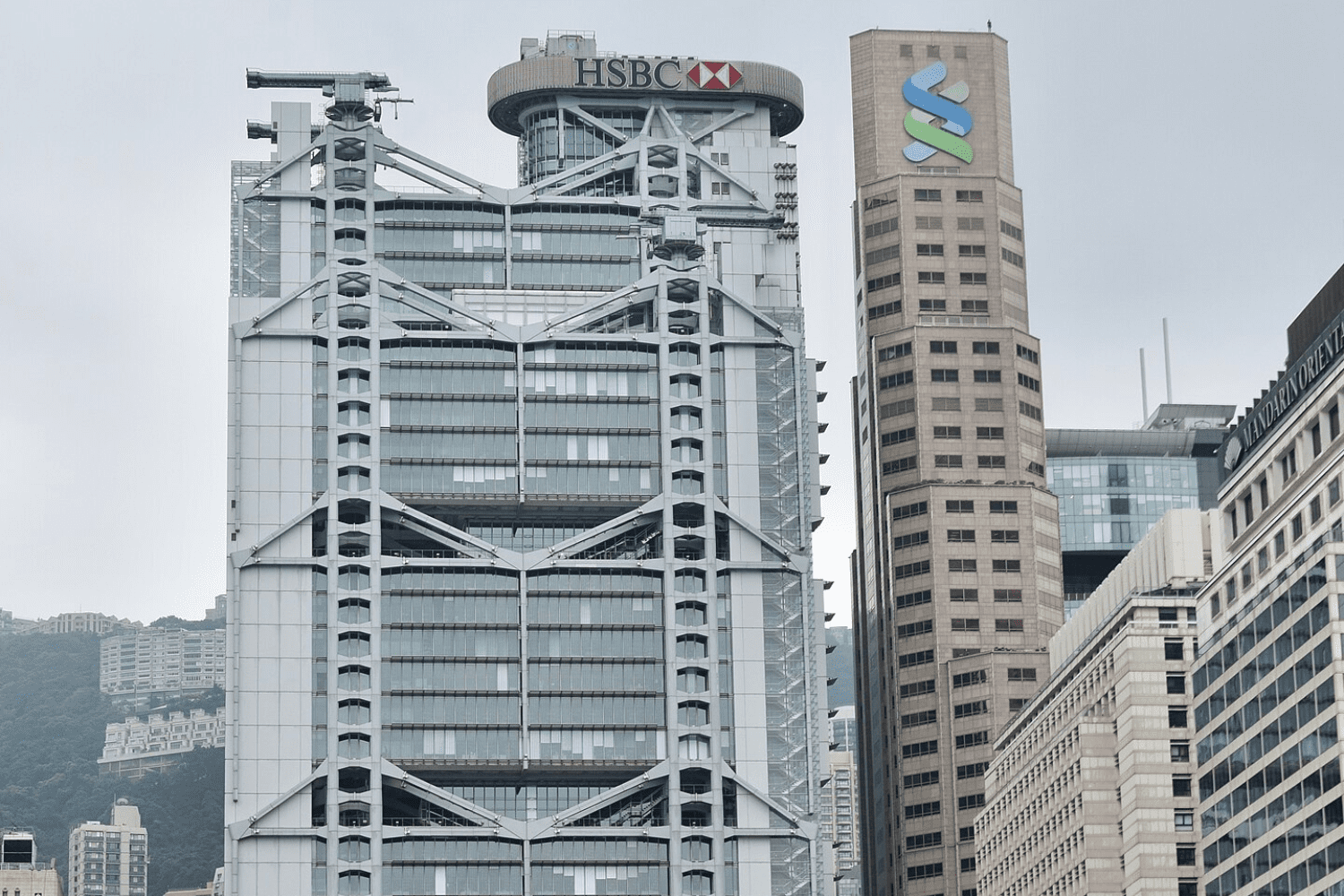 The HSBC Tower in Hong Kong is more than simply a building; it represents the strength of the local economy. It is located in the city's center and displays Hong Kong's status as a major financial center.
This Hong Kong Building is a masterwork of architecture. The HSBC Tower was designed by famous architect Sir Norman Foster and is inspired by bamboo, which is a symbol of growth and wealth in Chinese culture. The framework of the building is a work of contemporary engineering, and its facade is built of glass and steel, giving it a sleek and futuristic aspect.
Inside, the HSBC Tower serves as an international financial center. The bank, HSBC, is one of the world's largest and most powerful, and its presence in this magnificent structure emphasizes Hong Kong's position as a worldwide financial hub.
The significance of Hong Kong`s skyscrapers goes beyond finance. It represents Hong Kong's resilient nature, flexibility, and significance as a bridge between East and West. The HSBC Tower is more than just a feature of the city's skyline; it represents the city's dynamic character and its ongoing presence in the global economy.
2. Bank of China Tower: A Modern Marvel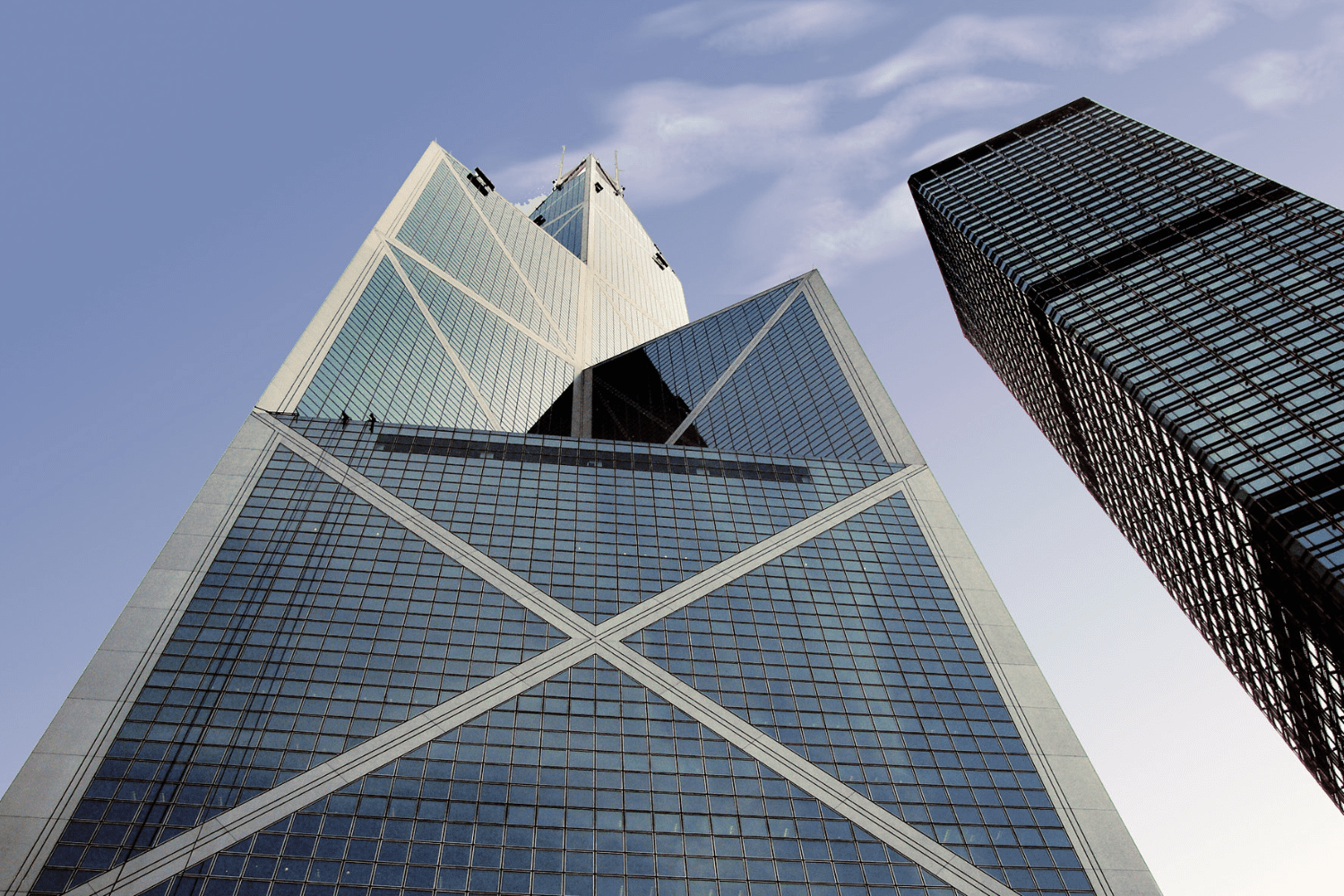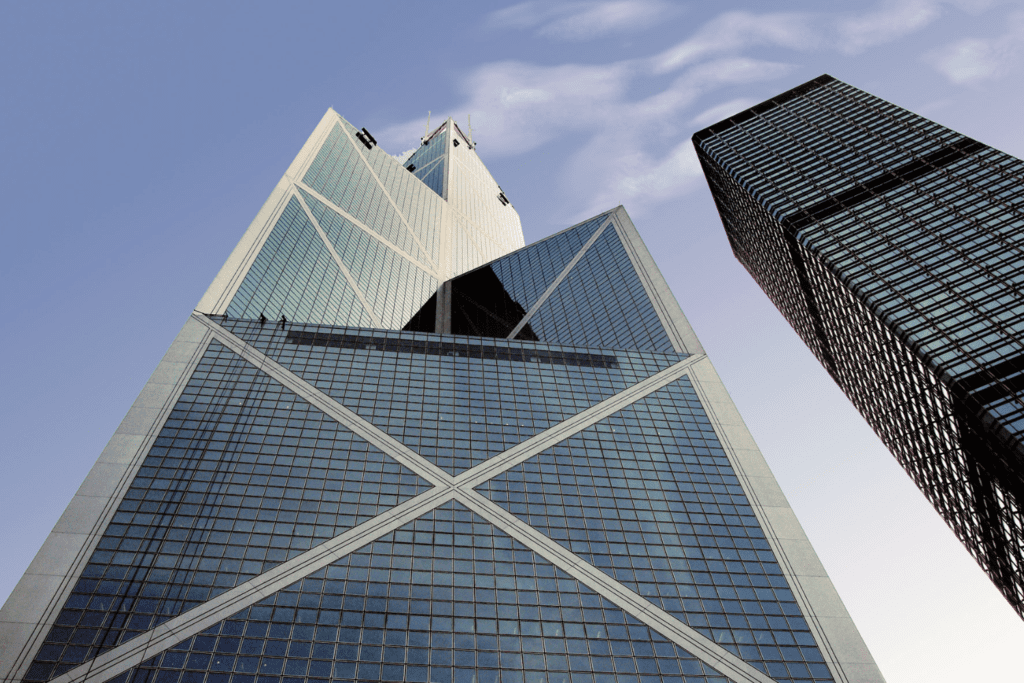 Hong Kong building Bank of China Tower is a modern marvel that serves as an iconic emblem of the city's power and ingenuity. This magnificent skyscraper was built by famous architect I.M. Pei and finished in 1990.
The design of the tower is one-of-a-kind, like bamboo shoots reaching towards the sky. It's built of steel and glass, with sharp angles and a futuristic design that draws everyone's attention. In Chinese culture, the sharp edges indicate growth and advancement. The Bank of China Tower is a work of art in terms of architecture. It is designed to endure typhoons and earthquakes, demonstrating Hong Kong's versatility and durability.
Today, the Bank of China Tower is a prominent feature among Hong Kong buildings, serving as both a symbol of the city's financial strength and an architectural marvel, exemplifying the harmonious marriage of traditional symbols with contemporary engineering. It's a truly modern marvel that never ceases to amaze and inspire.
3. International Finance Centre II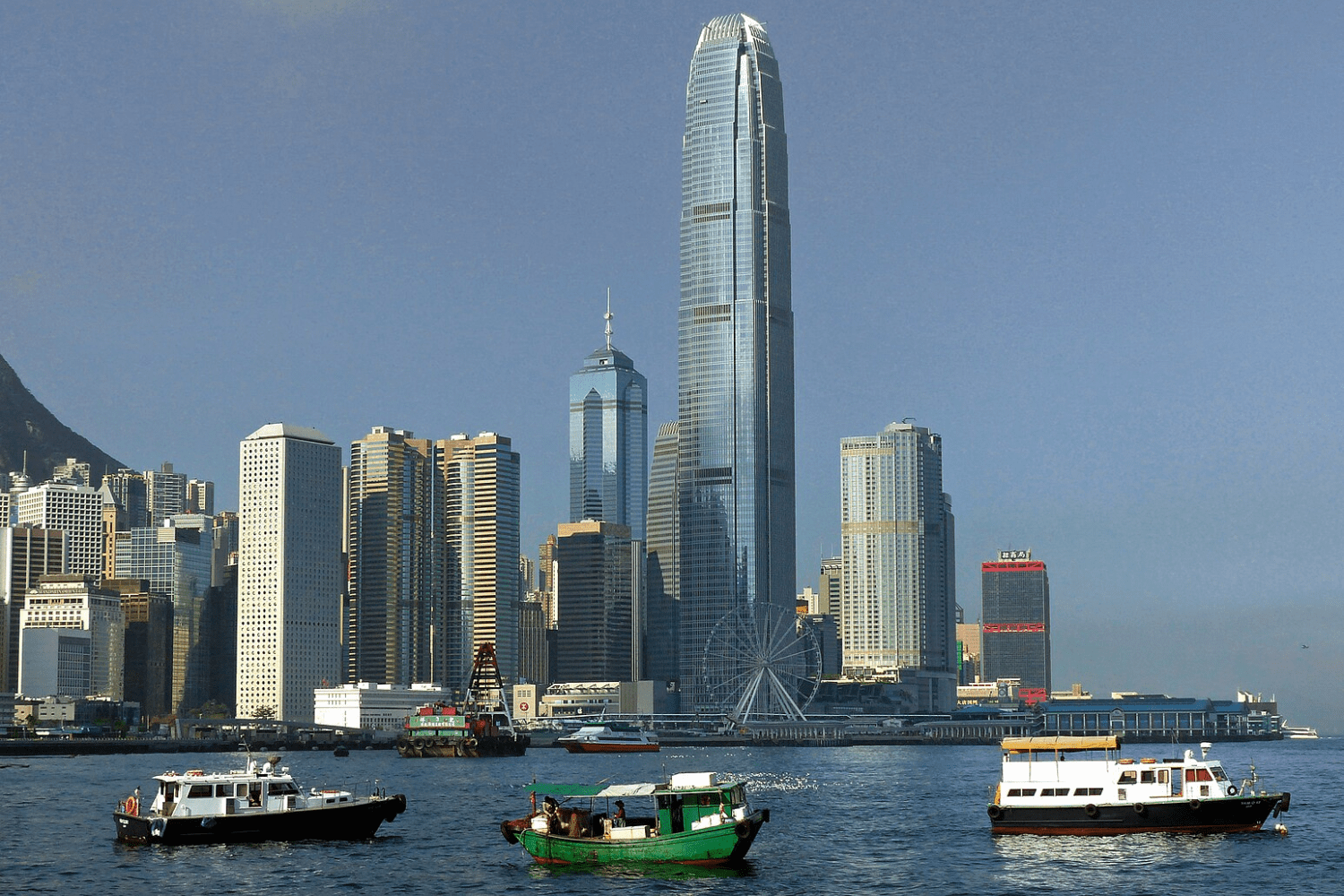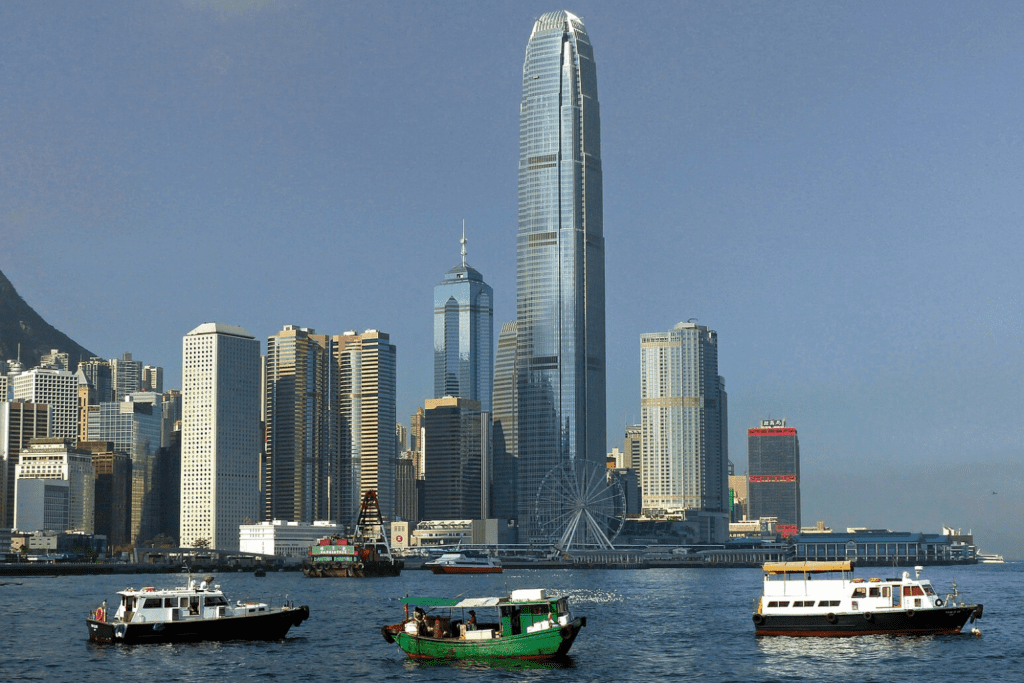 Hong Kong Buildings International Finance Centre II (IFC II) serves as a potent reminder of the city's immense importance in finance. This twin-building complex's skyscraper, which is not just any building but rather a testimony to Hong Kong's significance in global banking, is not just any building.
With its astonishing height, IFC II, created by renowned architect César Pelli, aims for the stars. With shimmering glass that glistens like crystal in the sun, it has a sleek, contemporary aspect that is an architectural marvel.
In addition, it benefits from a good location in Central, the heart of Hong Kong's financial region, which makes it a significant player in the city's growing corporate scene. Its existence demonstrates Hong Kong's steadfast dedication to the global financial system and serves as a symbol of the city's ambition and economic might in the global arena.
4. Central Plaza: Elegant in Height Amidst Hong Kong Buildings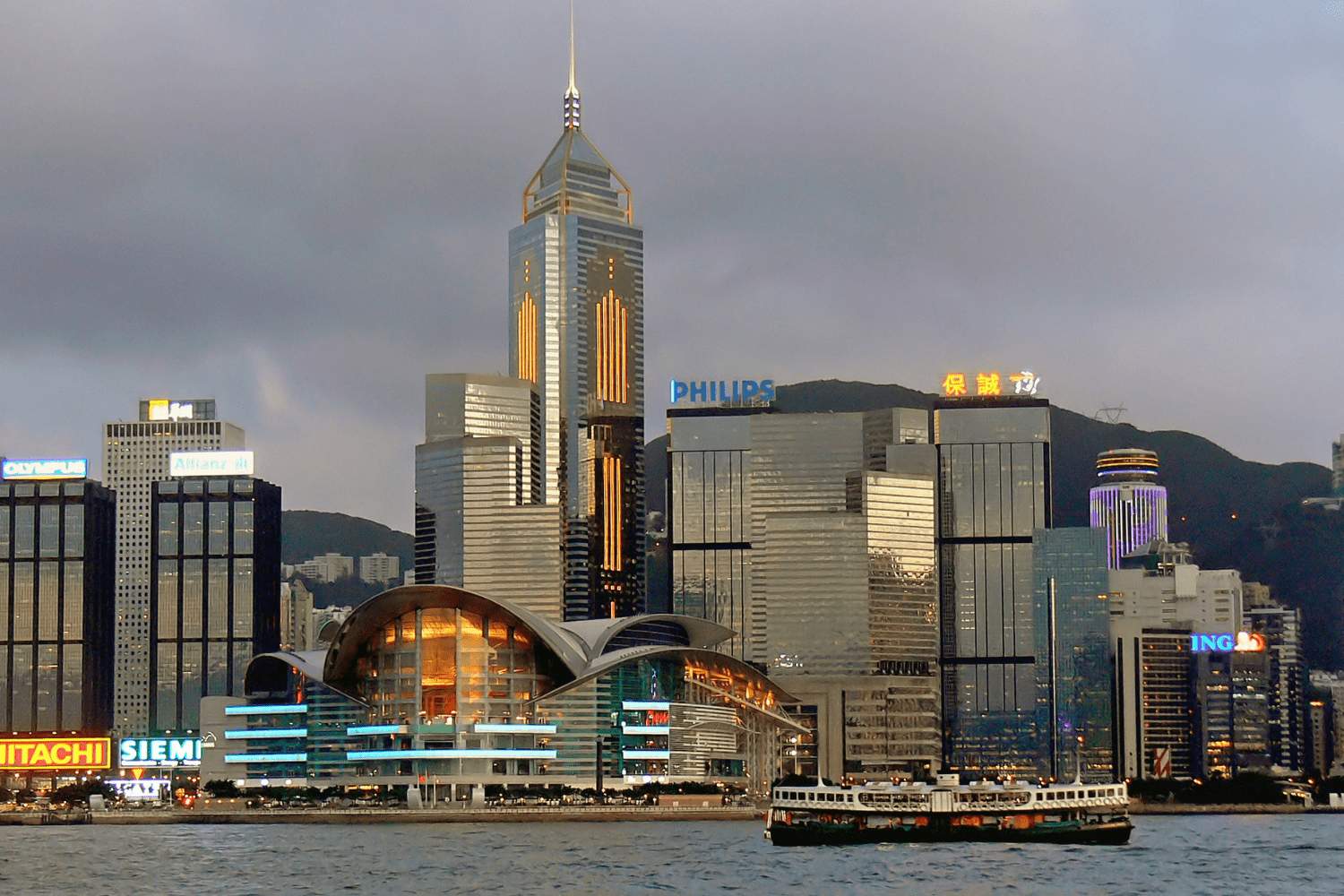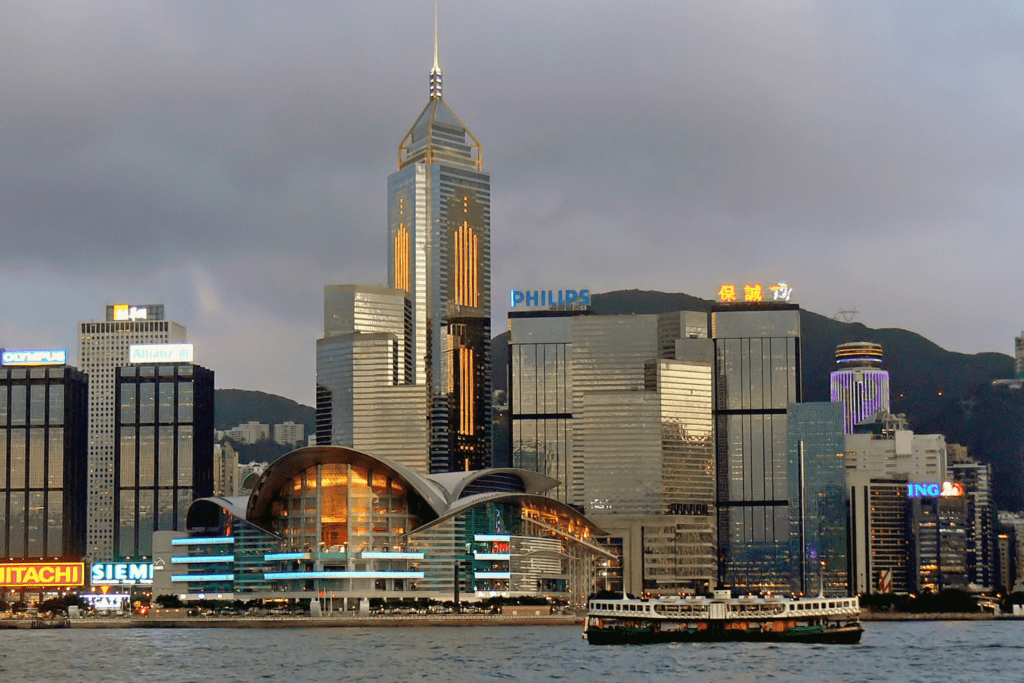 Among the famous Hong Kong buildings in this building is the powerful skyscraper known as Central Plaza, which is located in Hong Kong. The exquisite building was created by architect Ng Chun Man and is a representation of sophistication and modernity.
Central Plaza is one of the most recognizable elements of Hong Kong buildings because of its towering height at its top. A triangular glass top of the structure, which is part of its distinctive design and adds to its attraction at night, emits various colored lights. The importance of Central Plaza goes beyond its design.
In essence, Central Plaza represents Hong Kong's modernism and its status as a thriving, international metropolis by being the ideal fusion of elegance and practicality. Its elegance in height among the amazing Hong Kong buildings serves as a reminder of the city's ever-expanding ambitions.
5. The Center: An Architectural Icon Amidst Hong Kong Buildings
The Center, a towering masterpiece, stands out among the amazing Hong Kong buildings. This iconic piece of architecture, created by architects Dennis Lau and Ng Chun Man, represents the dynamism and success of Hong Kong.
The Center, which rises magnificently, has a distinctive structure. It stands out prominently on the skyline with its row of triangular windows and striking, upward-pointing peak. Modernity and functionality are combined in its attractive design. Beyond its magnificent architecture, The Center is significant. It stands for Hong Kong's economic clout and its function as a global center of commerce and finance. It demonstrates the city's unwavering dedication to excellence.
The Center is a spectacular representation of Hong Kong's success, fusing beautiful architecture with a hive of activity. It serves as evidence of the city's innovative spirit and status as a global Hong Kong building leader.
6. The Cullinan Towers: Luxury Among Hong Kong Buildings
One of Hong Kong's buildings Cullinan Towers reminds one of sky palaces. In the center of the city, these opulent structures stand as an example of wealth and sophistication.
The Cullinan Towers, which were lavishly constructed, are a sight to behold. They are sleek and contemporary looking, with a combination of steel and glass that makes them sparkle like diamonds in the sunlight. These skyscrapers are impressive and draw attention.
The Cullinan Towers' interiors are just as opulent as their exteriors. They provide breathtaking views of Victoria Harbour and have opulent amenities befitting of royalty. Residents can even unwind in sky gardens while taking in the view.
The Hong Kong buildings Cullinan Towers are accessible to upscale restaurants, good shopping, and cultural attractions because they are situated in the prominent West Kowloon neighborhood. They stand for the height of opulent life in one of Asia's most energetic cities.
The Cullinan Towers are, in essence, more than just structures; they are a statement of wealth and elegance that offers a life of luxury and comfort above Hong Kong's busy streets.
7. International Commerce Centre: Reaching for the Sky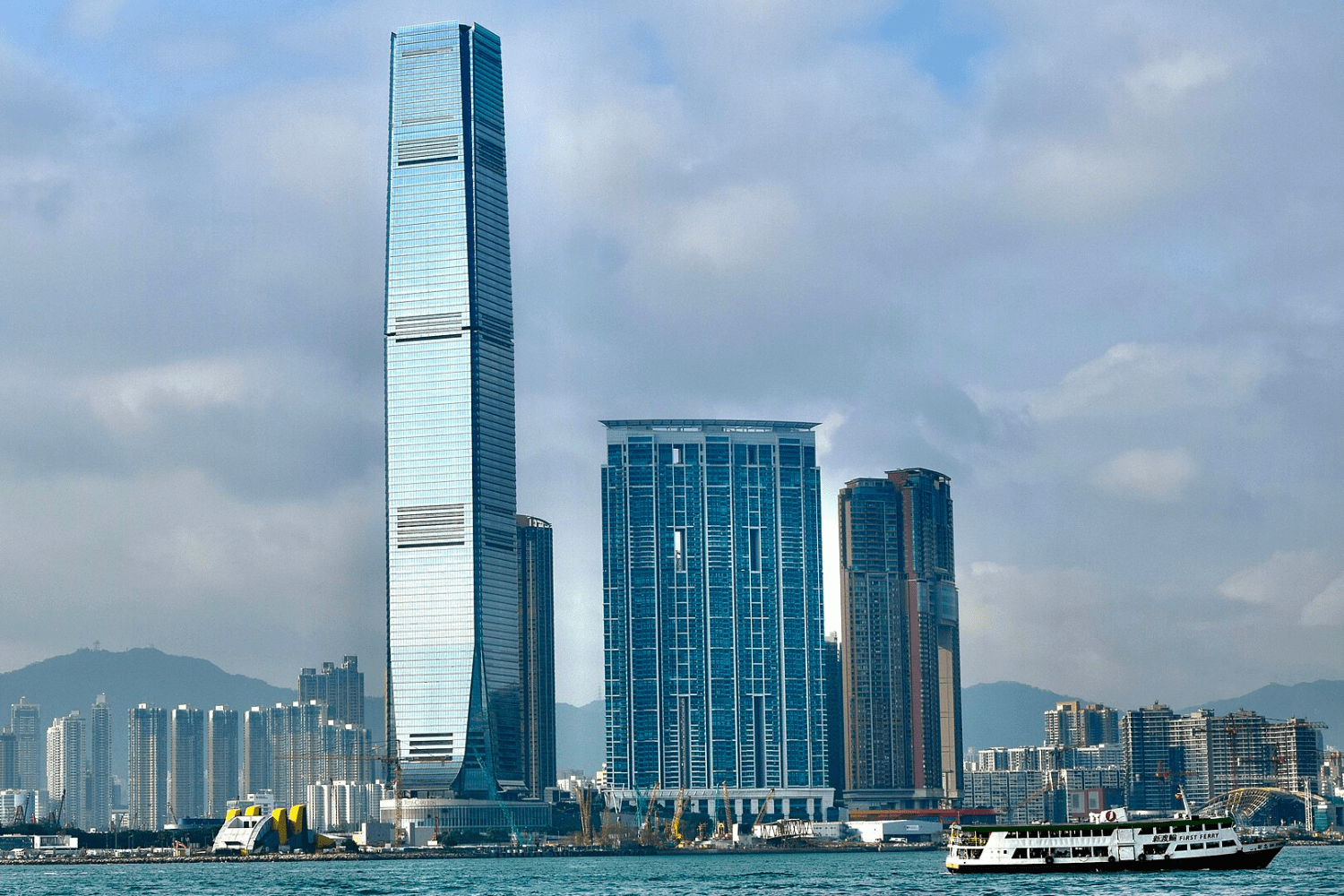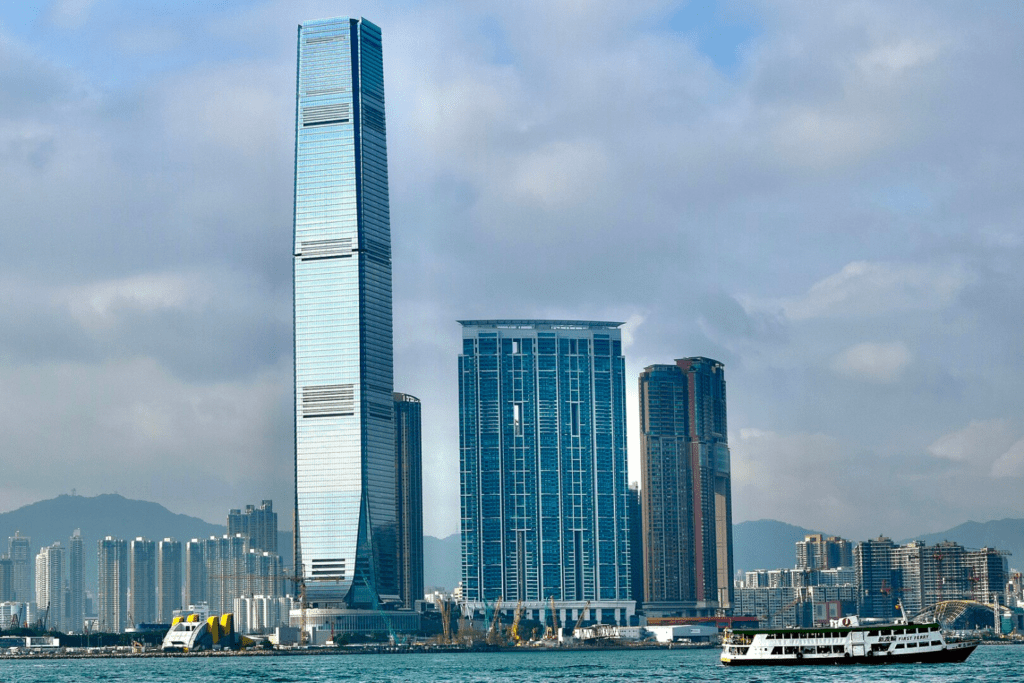 The International Commerce Centre (ICC) in the city resembles a giant reaching for the stars. One of the highest structures in all of Asia, it dominates the Hong Kong buildings. The ICC is a masterpiece of architecture. Its sleek, contemporary style, built of glass and steel, is a representation of modern engineering and aspiration. It was like a massive glass tower scrubbing the sky.
A variety of offices, a posh hotel, and a shopping center are located inside, and they all provide breathtaking views of the city and the port. Even the fastest elevator in the world can transport passengers up and down at the ICC.
The ICC's significance extends beyond its stunning height and architecture. It symbolizes Hong Kong buildings as a major international center for commerce and finance. It is an essential component of the city's business scene because many large corporations have offices there.
The International Commerce Centre is a spectacular Hong Kong building that is reaching for the stars. It is a symbol of Hong Kong's aspirations and its significance in the global economy.
8. Sky100 Hong Kong Observation Deck: Elevated Hong Kong Buildings
Sky100 Hong Kong Observation Deck provides a unique perspective of Hong Kong. It's like seeing through a wonderful window into the city. It is one of the world's tallest indoor observation decks, located on the 100th floor of the International Commerce Centre (ICC).
When you enter this building, you're met with spectacular views of Hong Kong buildings. You can view the city from high above through the floor-to-ceiling windows, and it seems like you're floating in the sky.
Famous sites such as Victoria Harbour, the busy streets, and the unmistakable Hong Kong skyline may be seen. There are also interactive exhibitions and displays on the deck that will help you learn more about the Hong Kong building's culture and history.
Sky100 Hong Kong Observation Deck is a site where you may receive high views of Hong Kong's buildings, observe its grandeur, and develop a closer connection with this extraordinary city.
9. Kowloon Peak: A Natural Skyline Vista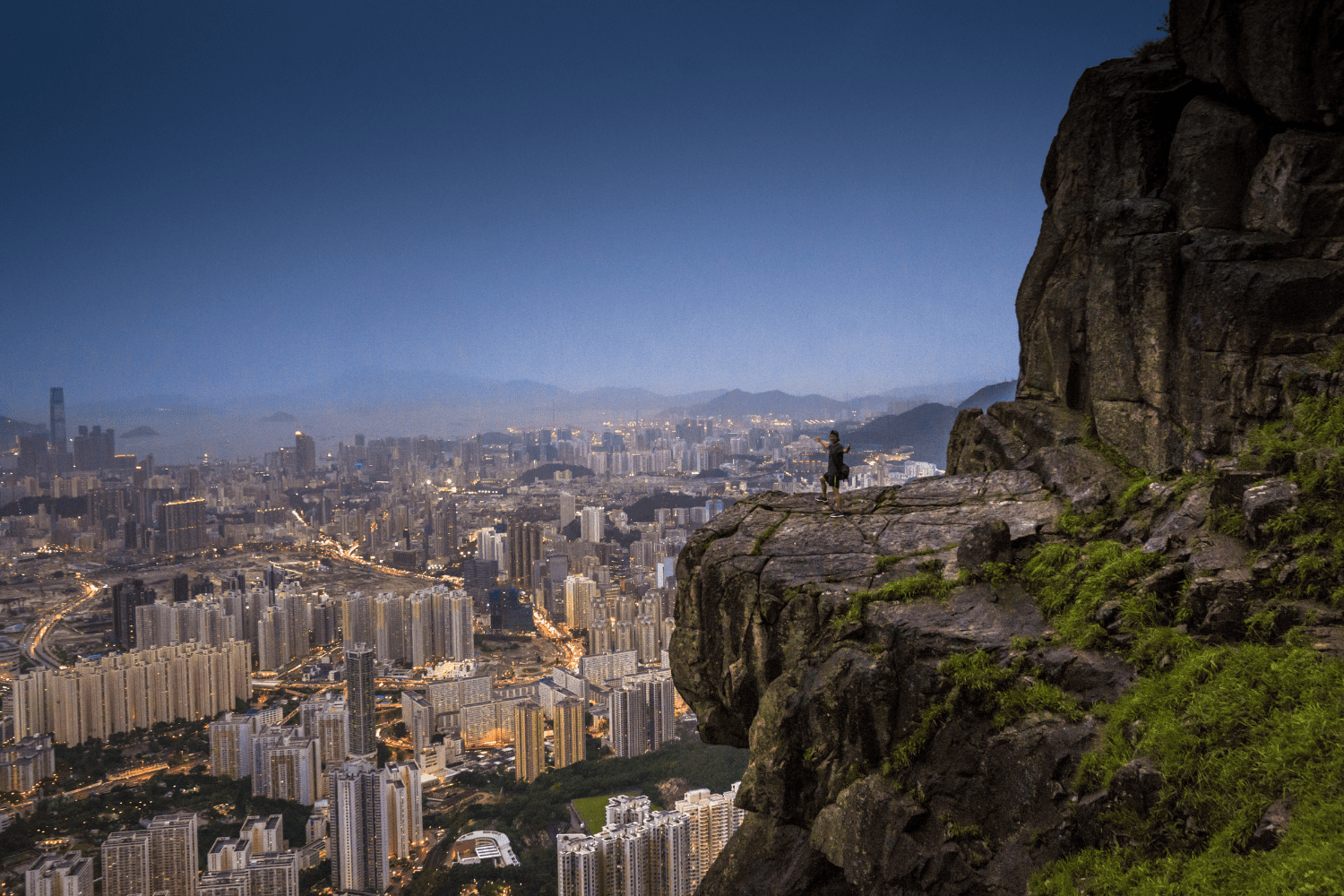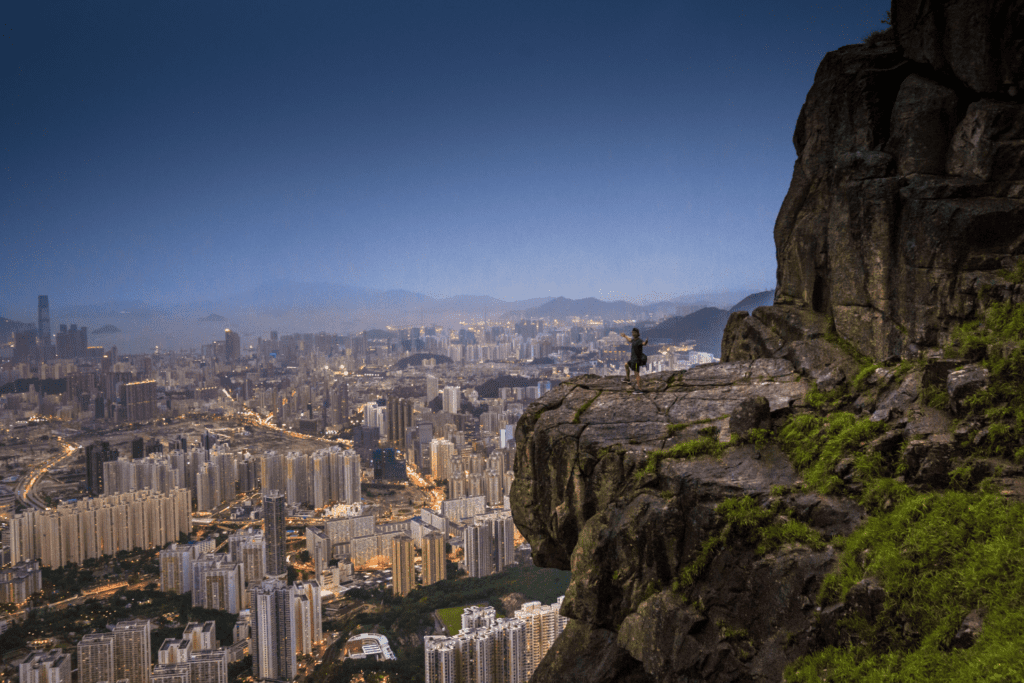 Kowloon Peak, also known as Fei Ngo Shan, is a hidden gem in Hong Kong that offers natural Hong Kong buildings views. It's like a hidden mountain getaway right in the city.
You'll climb through beautiful forests and difficult terrain to reach Kowloon Peak. It's an adventure, and the route is just as enjoyable as the goal. The top, which rises roughly 600 meters tall, offers panoramic views of Hong Kong buildings and its beautiful Victoria Harbour.
When you reach the summit, you feel like you're on top of the world. Kowloon Peak is especially popular around sunset when the sky turns into a colorful painting. It's a peaceful and calm setting, and it's difficult to realize you're still in the center of a bustling metropolis.
Kowloon Peak is indeed a natural gem that provides a unique Hong Kong buildings panorama, allowing you to connect with nature while admiring Hong Kong's city's splendor from a fresh perspective.
10. Sky Terrace 428: Gazing Down from the Skies
Sky Terrace 428 is a wonderful Hong Kong building where you can look down on the city from a great height. It is positioned on the pinnacle of Victoria pinnacle and offers breathtaking views.
You'll take the Peak Tram to Sky Terrace 428, an exciting and steep tram journey that adds to the adventure. When you arrive, you'll be 428 meters above sea level, with spectacular views. It's as if you're looking down on a little globe filled with skyscrapers, marinas, and verdant hills.
This terrace is ideal for visitors both during the day and at night. During the day, the city's energy and the harbor's splendor may be seen. At night, Hong Kong sparkles like a gem, creating a wonderful environment.
You may make a day of it by visiting local stores, restaurants, and even a Madame Tussauds wax museum. The Peak is a popular destination for both visitors and residents, making it a lively and fascinating site. Sky Terrace 428 is an incredible vantage from which you may feel as if you're flying in the sky, taking in Hong Kong's gorgeous environment from above. It's a memorable experience that gives you a unique perspective on the city.
Conclusion
The Hong Kong buildings are a remarkable narrative of tradition and innovation. Modern buildings, such as the Bank of China Tower and the International Commerce Centre, tower tall with futuristic designs. Nonetheless, among these behemoths are historical treasures like temples and colonial-era structures that preserve culture.
This fusion of old and contemporary produces a harmonious cityscape, embodying Hong Kong's dynamic life. The Hong Kong skyline is a dynamic canvas where the past and future coexist, representing the city's character as a diverse global metropolis that honors its legacy while striving for the sky with innovation.
FAQs