The Hoh Rainforest Waterfalls are a hidden gem that invites nature lovers with their alluring beauty. They are located within Olympic National Park's enchanting Hoh Rainforest. Here, the lush, emerald canopy of the rainforest creates the scene for an enthralling adventure. You will come across pristine waterfalls that sparkle like nature's jewels. These cascades are fed by the Hoh River, which meanders through the forest. It produces an amazing symphony of sights and sounds.
The magnificent "Minerva's Falls," which cascades from a moss-covered cliff into a sparkling pool below, is the main draw. Deeper exploration will lead you to undiscovered wonders like "Maple Creek Falls" and "Bunch Falls," each with its allure. The moss-draped trees, vibrant ferns, and the gentle murmur of the Hoh River entice you to start an in-depth exploration of this magical rainforest realm. You're about to embark on an unforgettable journey through a world of lush vegetation and cascading waters as you discover more cascades nearby.
Hoh Rainforest Waterfalls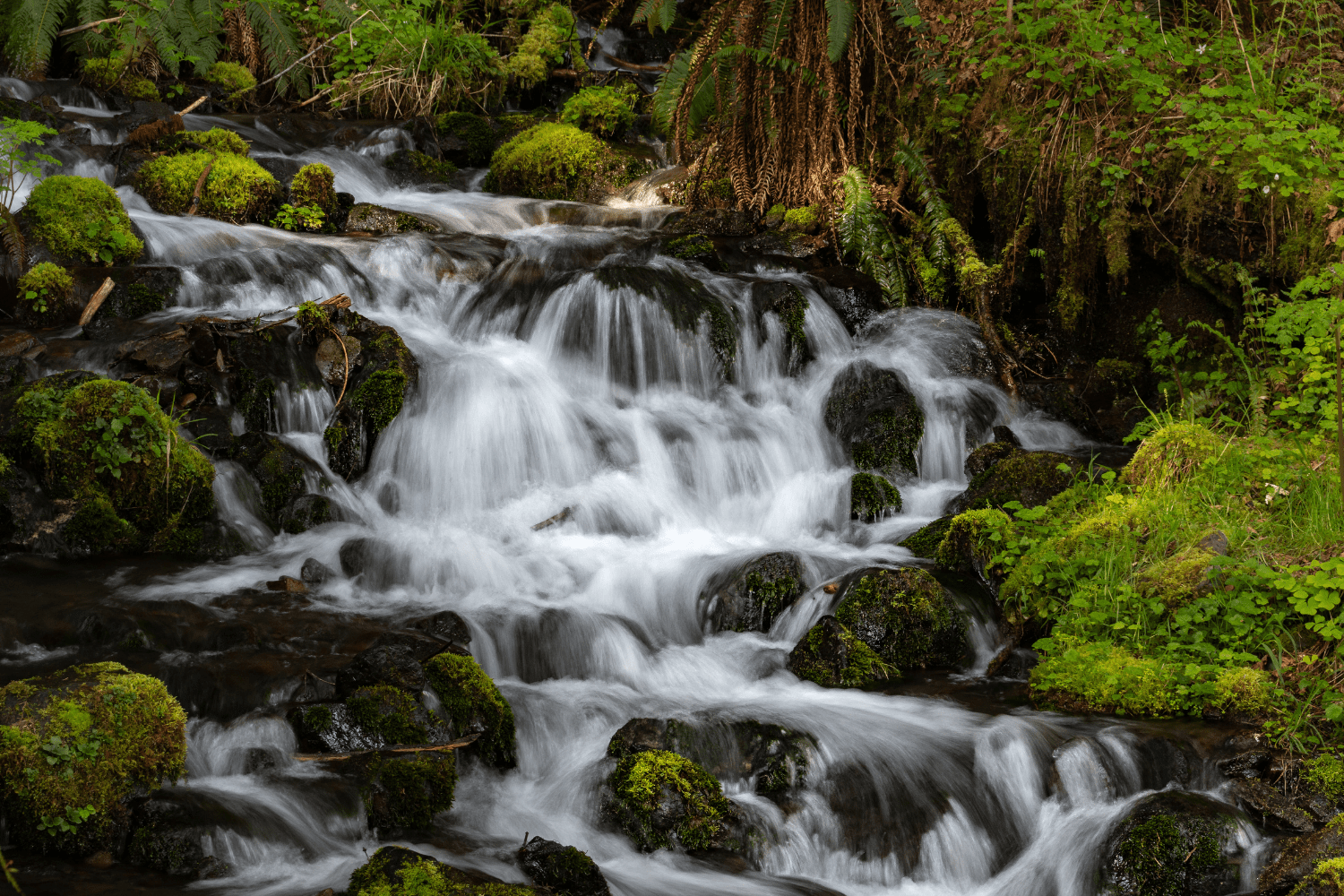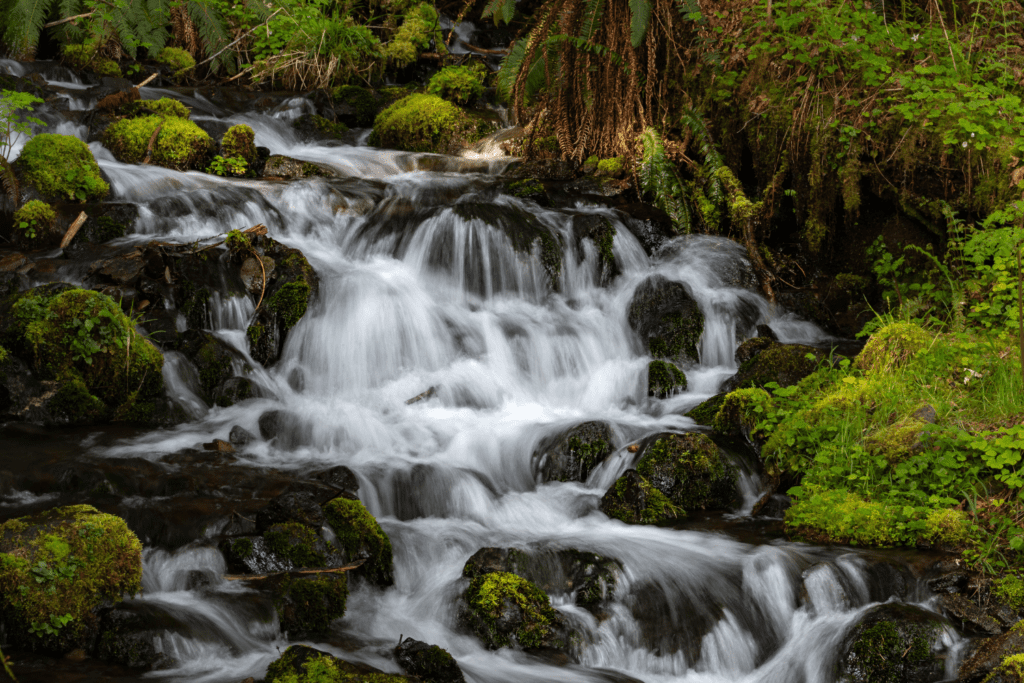 In Olympic National Park in Washington State, the Hoh Rainforest is well known for its abundance of waterfalls, each of which holds ecological significance alongside its natural beauty.
Marymere Falls: Marymere Falls is one of the most popular Hoh Rainforest waterfalls. A well-maintained trail leads to it, which is about 90 feet tall. The waters of Barnes Creek were what gave the falls their name, Marymere Falls, after Marymere Lake. In addition to its breathtaking beauty, this waterfall is important ecologically because it offers a special habitat for mosses and ferns that flourish in damp, misty environments.
Minerva's Falls: Minerva's Falls, a less well-known Hoh Rainforest waterfall, is about 20 feet tall and can be found alongside the Hoh River Trail. Its serene location in the rainforest, surrounded by lush vegetation and immaculate surroundings, adds to the area's overall beauty.
The Hoh Rainforest waterfalls are essential to preserving the ecosystem of the temperate rainforest. The lush vegetation, which is home to enormous Sitka spruce and western hemlock trees, receives moisture and nutrients from the falls' constant mist. You can consider Hoh Rainforest in November as an ecological hotspot because of the diversity of plant and animal species that can be found there.
Hiking Trails Near Hoh Rainforest Waterfalls
The Hoh Rainforest's waterfalls are fairly easy to reach thanks to nearby parking lots and well-marked trails.
Marymere Falls: Marymere Falls situated approximately 10 miles south of Forks, Washington, on Highway 101, the trailhead is close to the Storm King Ranger Station. The falls can be reached by a quick, 1.8-mile loop trail that is appropriate for most visitors as an easy hike. The area's noteworthy features include the verdant rainforest, quaint bridges, and trees covered in moss.
Minerva's Falls: This is a longer walk that is about 17 miles one way and is reachable from the Hoh Rainforest Visitor Centre via the Hoh River Waterfall. Typically, hikers undertake this strenuous backcountry hike as a multi-day backpacking excursion. The trail features old-growth trees, a variety of ecosystems, and chances to see wildlife.
Each offers a different experience in the Hoh rainforest waterfall, so you can opt for a shorter, easier walk to Marymere Falls or a longer, more daring trek to Minerva's Falls.
Mineral Creek Falls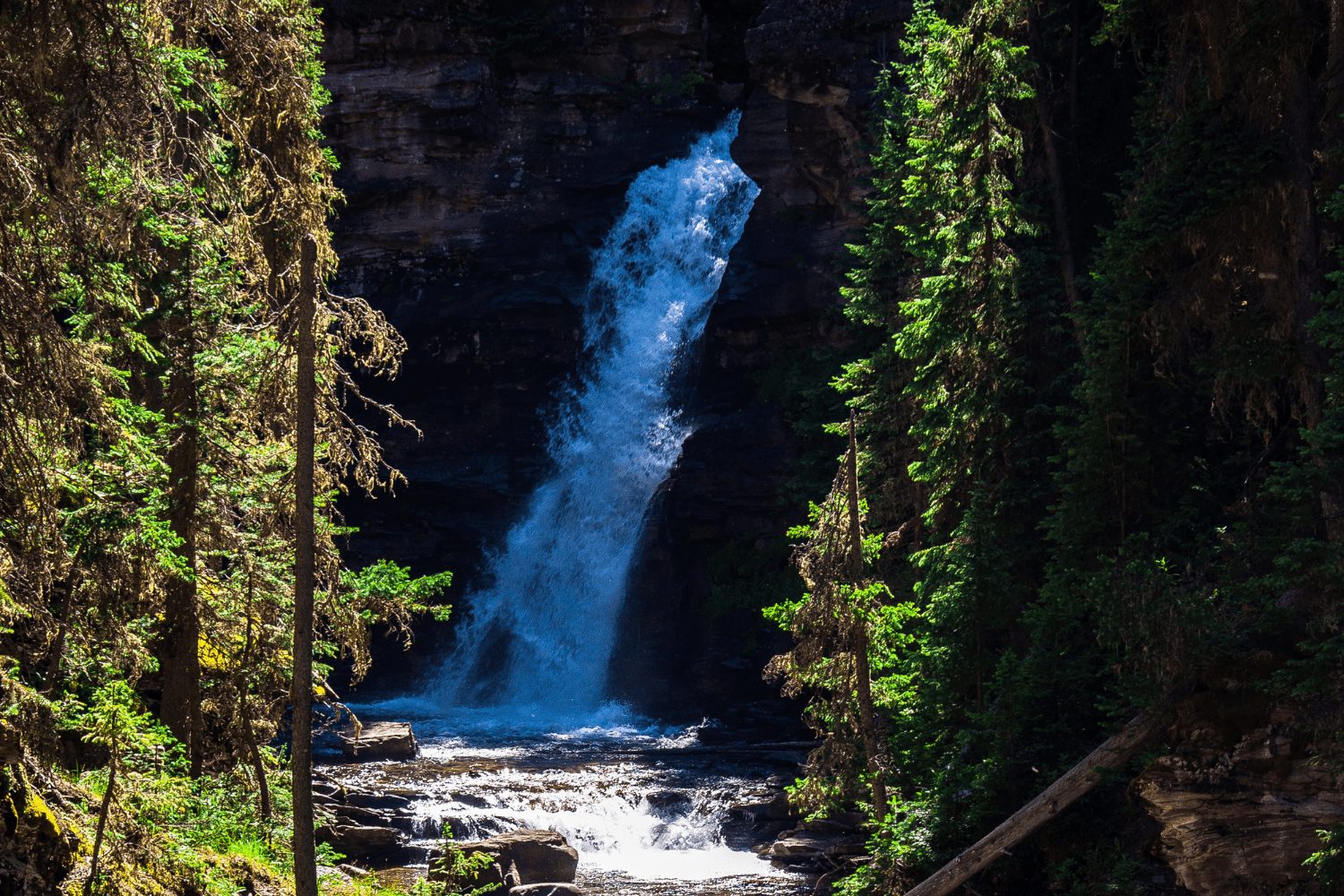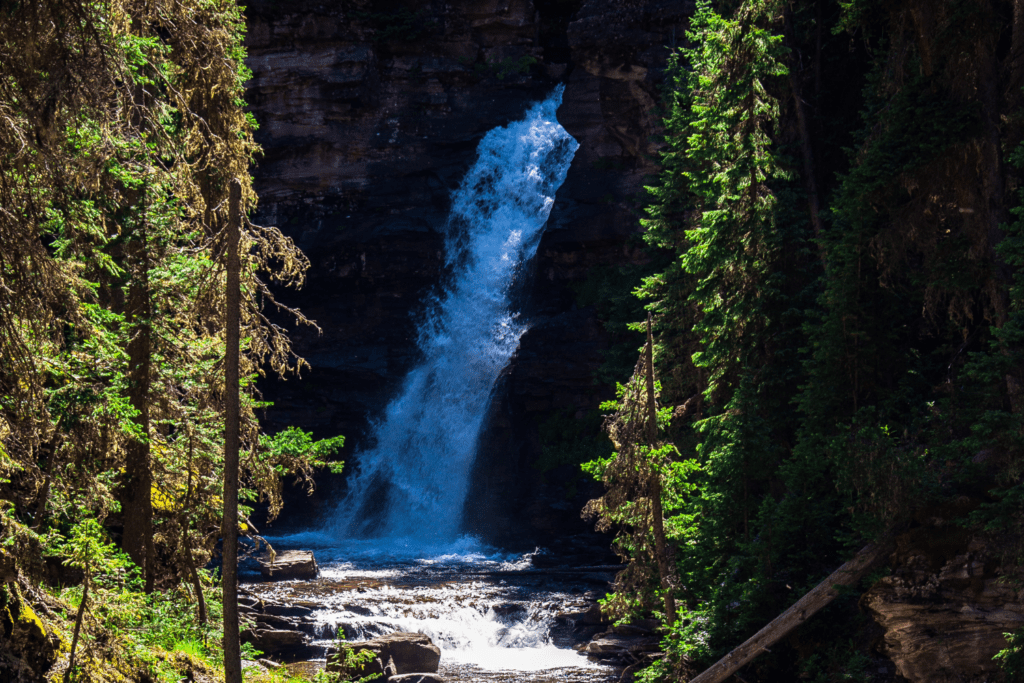 Mineral Creek Falls trail is ideal if you're searching for a place to get away from the bustle of the city and spend some time alone in the great outdoors. This area is thought to be the quietest in the United States mainland, especially when exploring the tranquil Hoh Rainforest waterfalls.
There's no law requiring backpackers to travel to Mount Olympus, but the Hoh River waterfall is a good place to start! Make plans for your backpacking trip with the Wilderness Information Centre if you decide to go.
The first part of the Hoh River trail is mostly level and often much quieter than other, busier areas of the park, with the only sounds being the rushing water and bird songs, making it a great choice for a serene out-and-back day hike. Look for Mineral Creek Falls, a stunning 60-foot (18-meter) cascade located 2.8 miles (4.5 km) in!
Other Olympic National Park Falls
See Olympic National Park's famous Sol Duc Falls. The only waterfall among Hoh Rainforest Waterfalls, that can be seen from above the tumbling water is this one. Enjoy a wonderful, family-friendly walk to Marymere Falls, which is close to Lake Crescent. Visit Bunch Creek Falls, one of the biggest waterfalls in the verdant Quinault Rain Forest, or admire Hood Canal's two-tiered Murhut Falls, an unexpected sight on the Peninsula's "drier" side. Before you see it, you will hear it.
Look for some hidden treasures throughout the route, such as Spoon Creek Falls on the Southern Loop. The lengthy drive is worthwhile. Reach the stunning Maple Creek Falls in the Hoh Rain Forest just by water by kayaking or rafting there. Hike the Enchanted Valley for a backcountry experience that involves lots of water. A popular destination in Olympic National Park, it's affectionately referred to as the "Valley of 10,000 Waterfalls" by locals. There is a short, paved trail in the Elwha Valley that makes it simple to reach Madison Falls in a wheelchair.
Other Nearby Waterfalls
Marymere Falls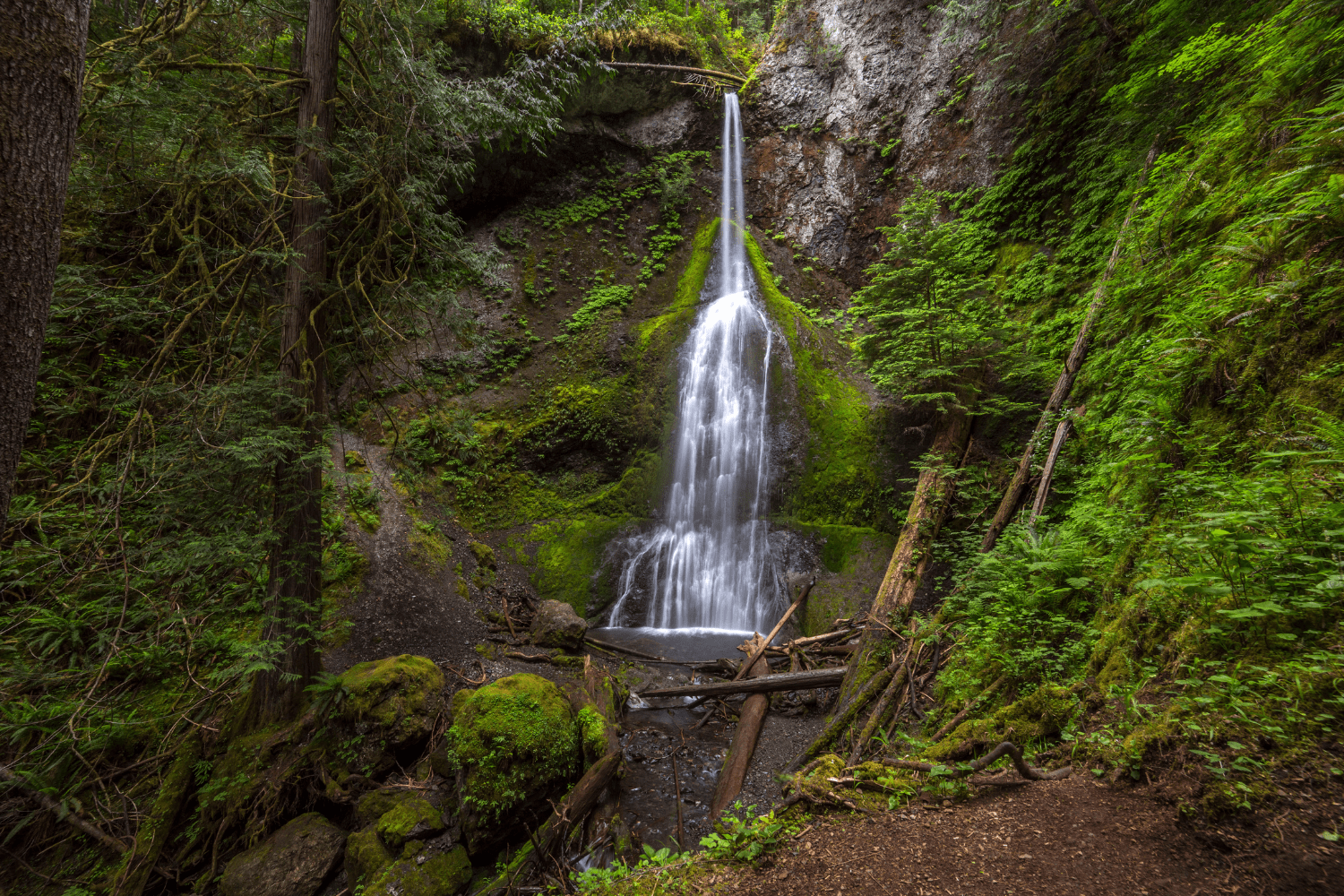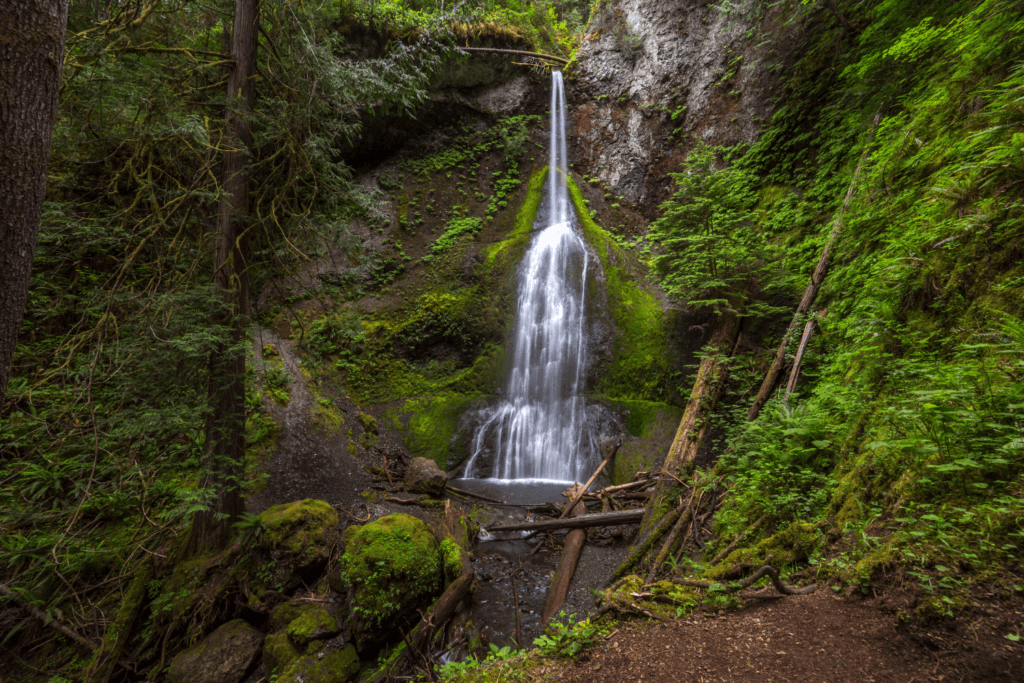 Marymere Falls is one of the well-known and visited nearby Hoh Rainforest waterfalls in Washington State's Olympic National Park. Named for Marymere Lake, these falls are easily reachable via a well-kept 1.8-mile loop trail. The waterfall cascades gracefully through lush surroundings, reaching a height of approximately ninety feet. The trail offers scenic bridges and viewpoints as it winds through a magnificent old-growth forest. Marymere Falls is a must-see destination in the Hoh River Rainforest waterfall region because of its breathtaking scenery, accessibility, and a chance to see moss-draped trees and calm forest settings.
Sol Duc Falls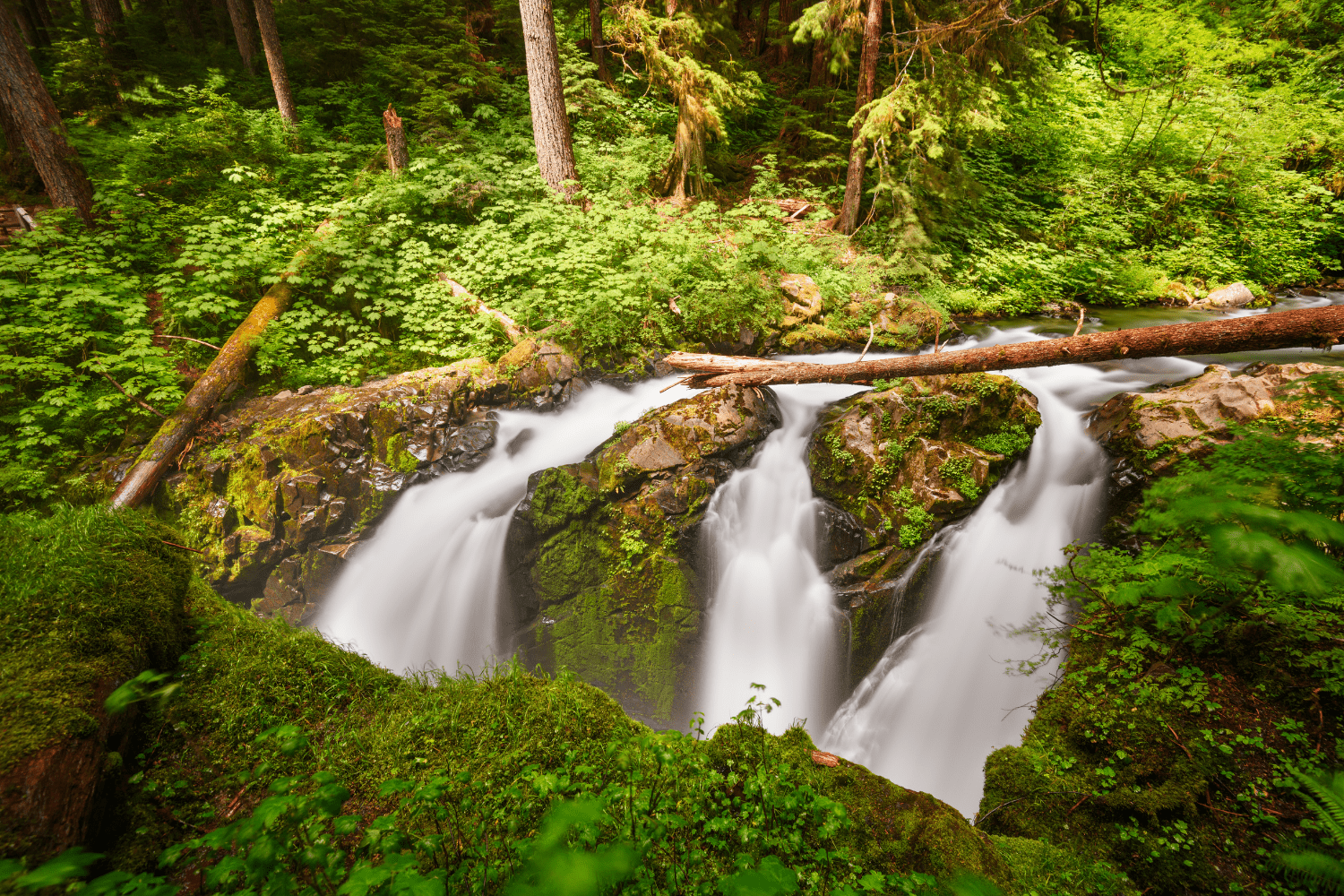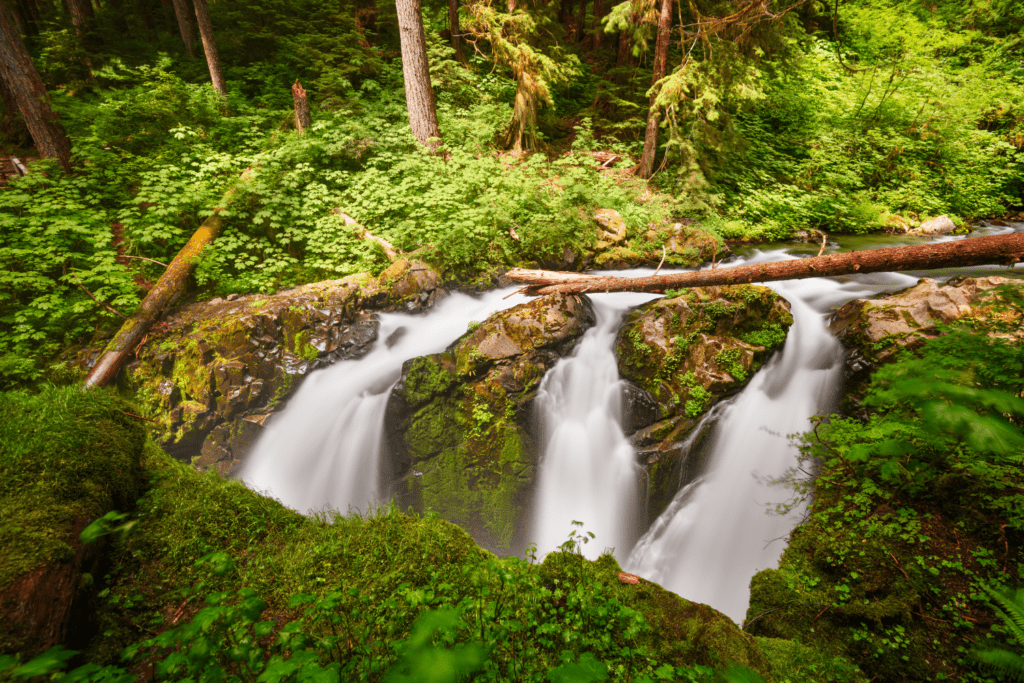 In Washington's Olympic National Park, there is a famous Hoh Rainforest waterfall called Sol Duc Falls. In the Quileute language, the name "Sol Duc" means "sparkling waters." The falls are made up of three different cascades, the biggest of which drops about 48 feet into a slender canyon. It's a short, easily navigable trail that's great for hikers of all ages. Throughout the journey, guests can take in the tranquil atmosphere of the old temperate rainforest. Surrounded by towering trees and lush, moss-covered rocks, the falls are especially captivating. This makes it a great place for photography and a cool natural haven within the park.
Madison Falls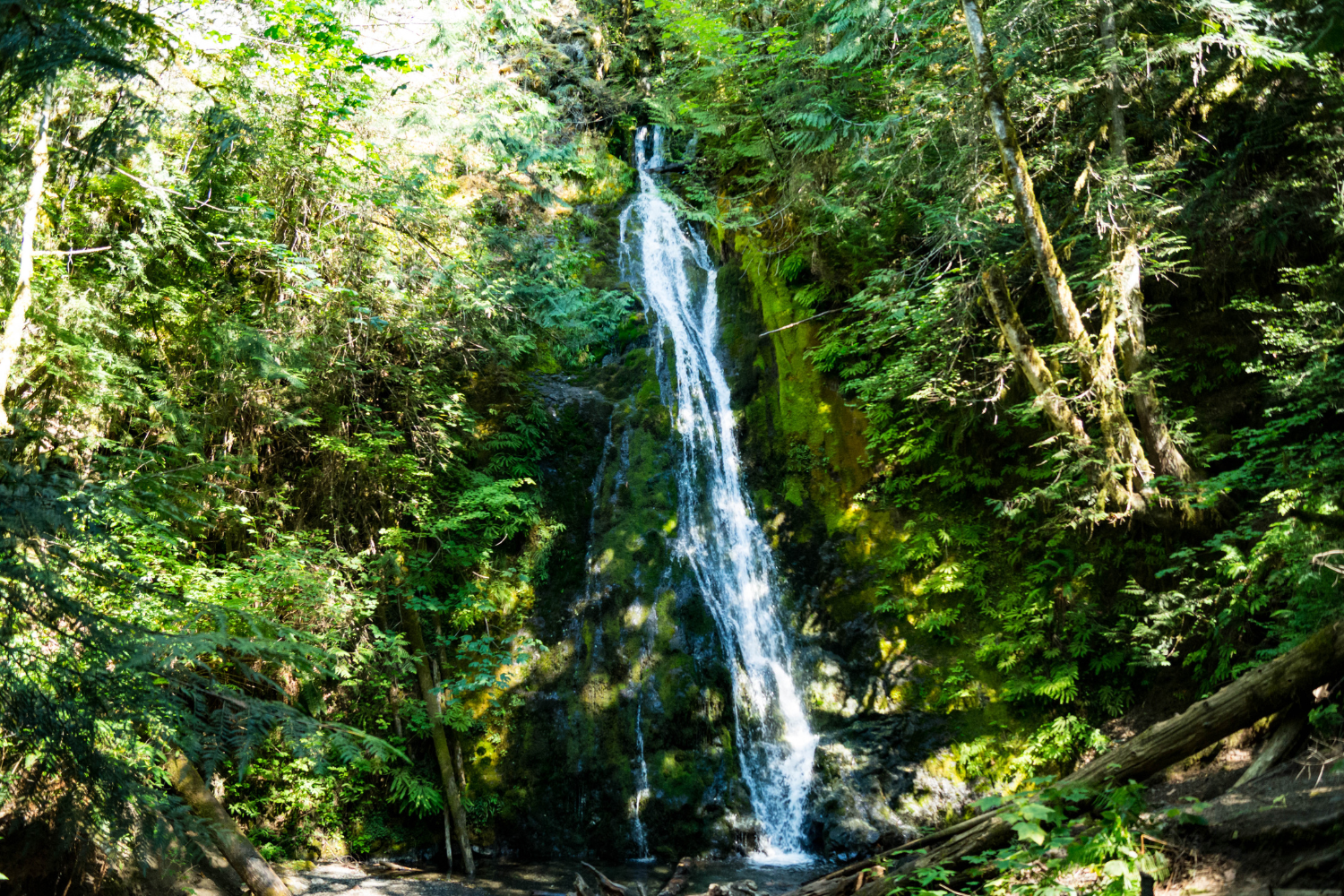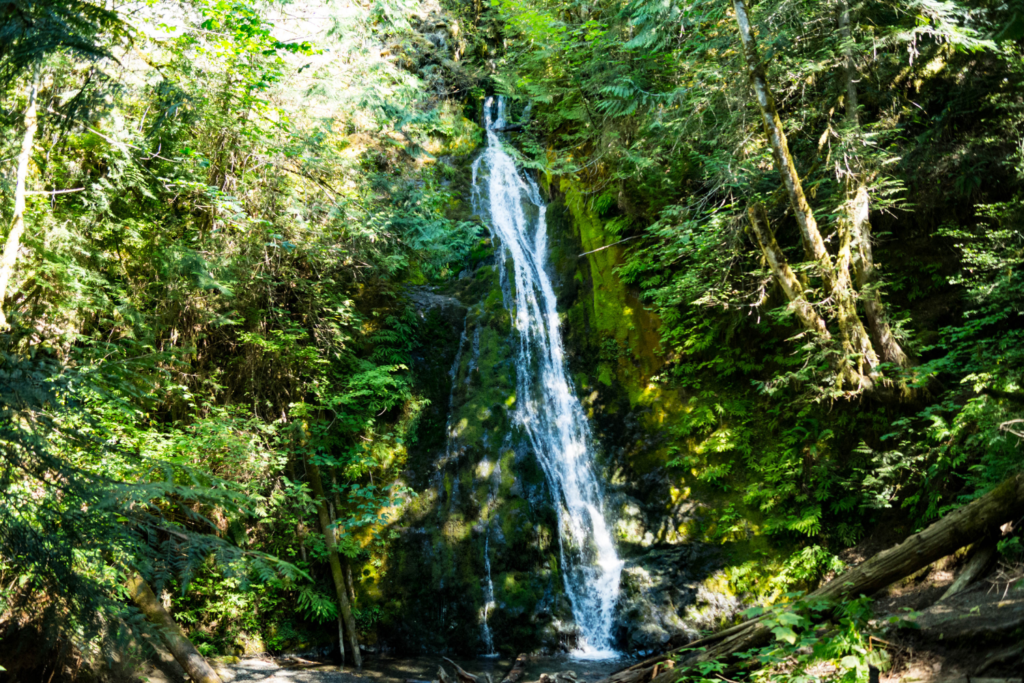 Madison Falls is a beautiful cascade in Olympic National Park that is well-known for being easily accessible. Wheelchairs and strollers can easily navigate the paved trail, which is a gentle 0.1 mile that leads to the falls. This Hoh Rainforest Waterfalls, which are roughly sixty feet tall, bear President James Madison's name.
Madison Falls is not as large as some of the other waterfalls in the park, but it is still a very tranquil experience. The viewing area is a great place for visitors to learn about the park's flora and fauna because it is furnished with benches and educational signs. Madison Falls is a well-liked destination for families and individuals looking for a quick, leisurely outdoor experience because of its easy hike and gorgeous surroundings.
Spruce Railroad Trail Falls
The Spruce Railroad Falls follows an abandoned railroad track that hugs the shore of Lake Crescent. Access to the trail is available via East Beach Road or Camp David Junior Road. It is the Olympic Discovery Trail's continuation.
The majority of this follow is now family-friendly and level. It is advisable to carry a torch for orientation purposes as there are multiple tunnels to navigate, and wearing reflective apparel is also advised for added safety. At the northeast end of the trail, in the parking lot off East Beach Road, there are spaces designated for people with disabilities. Paved asphalt and a wooden bridge (with partial railings) comprise the trail surface.
To ensure their safety, hikers utilizing wheelchairs, mobility aids, or strollers may require assistance when navigating the steeper sections. A portion of the route has picnic tables and benches for resting. The northeast end of the trail has restrooms that are accessible to wheelchair users.
Bunch Falls
Although Bunch Falls isn't one of the most striking Hoh Rainforest waterfalls I've ever seen, the surrounding area is breathtaking. Located in Olympic National Park, Bunch Falls boasts a stunning environment of a temperate rainforest. There are three prominent waterfalls along South Shore Road, the third of which is Bunch Falls.
You have to go on a more than passable gravel road to reach Bunch Falls. The road is somewhat small, though, and it's a few miles off US-101.
Alder Falls
Alder Falls, sometimes referred to as Marymere Falls, is a lovely waterfall found in the Hoh Rainforest of Olympic National Park. Encircled by lush greenery, it stands approximately 90 feet (27 meters) tall. Easily reachable via a well-kept 1.8-mile loop trail, this waterfall is regarded as one of the park's easier destinations. With its mossy trees and picturesque bridges, the trail displays the rich biodiversity of the rainforest. The falls, which get their name from Marymere Lake, are a well-liked destination for hikers of all experience levels who want to take in the breathtaking views of Marymere Falls and the splendor of the Hoh Rainforest waterfall.
Essential Tips for Visitors
Wear robust, water-resistant hiking boots with excellent traction for muddy Hoh Rainforest trails.
Dress in layers for changing temperate rainforest weather and pack rain gear.
Carry water, snacks, a first aid kit, and a map for your Hoh Rainforest adventure.
Stay on designated trails to protect delicate ecosystems and exercise caution near slippery rocks at Hoh Rainforest waterfalls.
Check the weather and inform someone of your plans before your trip.
Always adhere to park regulations, show consideration for wildlife, and pack out all trash for a safe and eco-friendly Hoh Rainforest experience.
Best Time to Visit THe Hoh Rainforest Waterfalls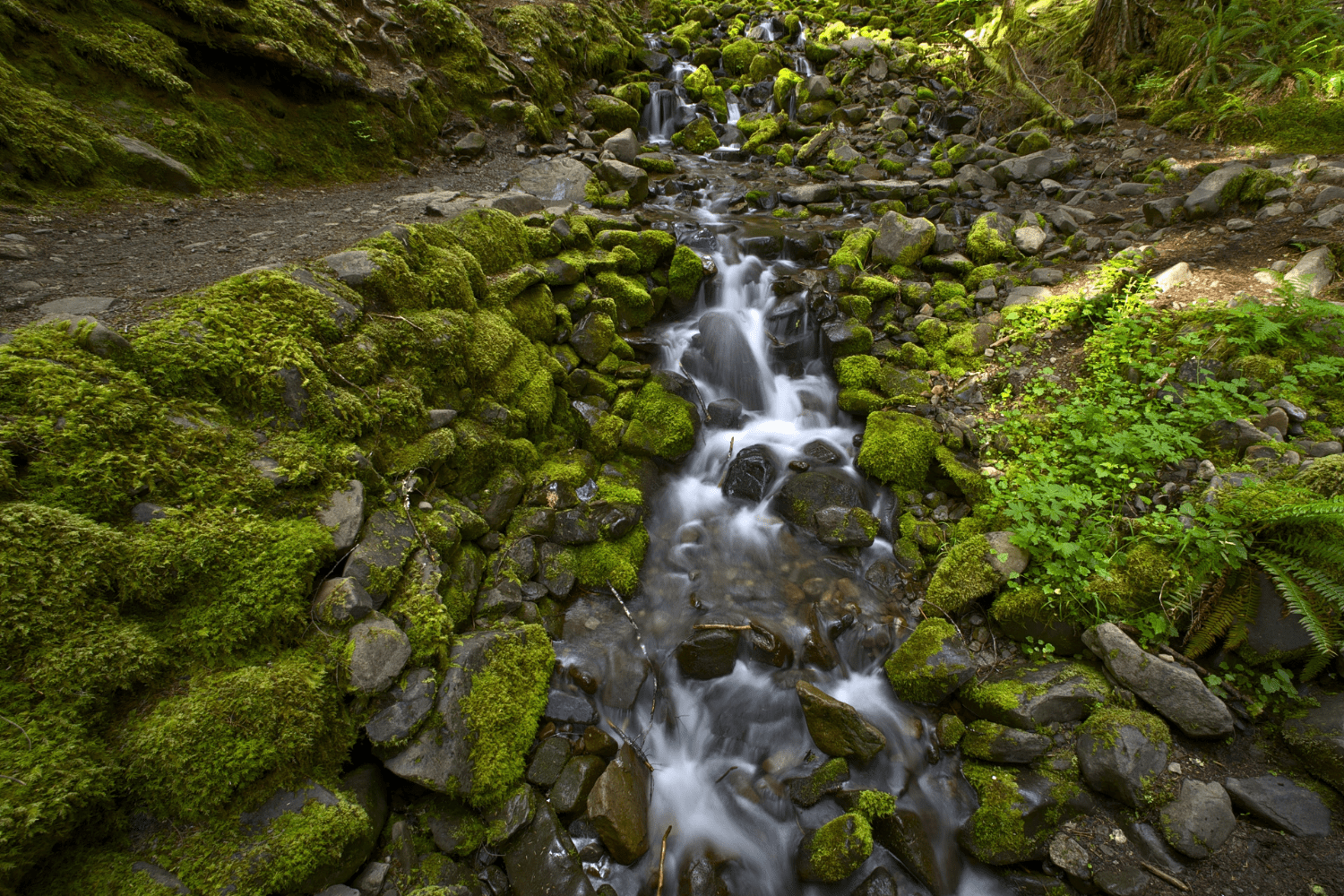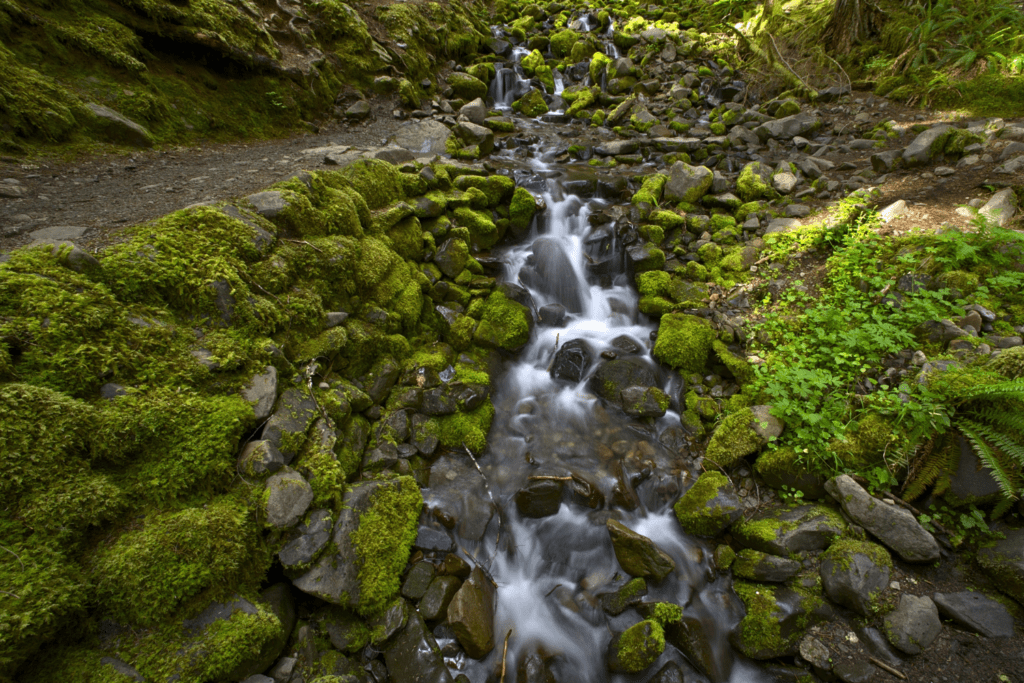 The best time to see the Hoh Rainforest waterfalls is in the spring and early summer, which is usually from April to June. Due to the heavy rainfall during this time, the water flow maximizes, enhancing the dramatic effect of the cascades. With peak ferns and mosses, the rainforest is a lush environment. Autumn is equally lovely with its changing foliage, and winter has a peaceful, hazy atmosphere. However, during this time of year, the rainforest can become quite wet and dark. Although every season has its special charm, the best times to see the Hoh Rainforest waterfalls are in the spring and early summer, when they are at their most beautiful and dynamic.
Photography Opportunities At Hoh Rainforest Waterfalls
There is great photographic potential at the Hoh Rainforest waterfalls. Use a tripod for stability when taking beautiful pictures. To produce a silky water effect, choose a slow shutter speed (between 1/10 and 1 second). A wide-angle lens accentuates the verdant surroundings of the rainforest. To create depth, try experimenting with various viewpoints and angles. To improve colors and lessen glare, use a polarising filter. Use natural light as much as you can, especially at dawn or dusk when it's softer and more golden. Finally, pay attention to the way the water, moss-covered rocks, and tall trees interact to create striking compositions. Take your time and exercise patience to capture the captivating beauty of the Hoh Rainforest waterfalls.
Conclusion
Enchanted by nature, the Hoh Rainforest Waterfalls, tucked away in the Hoh Rainforest of Olympic National Park, arouse feelings of peace and wonder as old trees covered in moss and colorful foliage surround them. Schedule your visit to experience the calm atmosphere, take in the breathtaking views of this temperate rainforest, and relax to the sound of cascading water. To truly immerse yourself in the magic of this pristine environment, explore the neighboring cascades and embark on leisurely hikes, including a visit to the enchanting "Hall of Mosses." The Hoh Rainforest Waterfalls offer an incredible, immersive experience in one of the most fascinating ecosystems on Earth, whether you're looking for breathtaking photography or just want to spend time in nature.
FAQs On Hoh Rainforest Waterfalls