Nestled within Washington's Olympic National Park lies the enchanting Hoh Rainforest, a place of unparalleled beauty and wonder. Here, towering trees adorned with moss, lush ferns, and vibrant underbrush create a landscape like no other. With an average annual rainfall of 140 inches, this rainforest boasts remarkable biodiversity, preserving a pristine, magical ecosystem. To fully embrace this natural gem, it's essential to plan your visit wisely. Be sure to make your Hoh Rainforest camping reservations in advance to ensure your place in this verdant paradise.
The Hoh Rainforest is home to a diverse array of wildlife. If you are lucky enough you can see black bears, mountain lions, Roosevelt elk, and several bird species. Visitors can often spot these creatures while meandering through the forest on the well-maintained hiking routes.
There are exceptional camping alternatives available for those who want to fully immerse themselves in this magical setting. It is best to make Hoh rainforest camping reservations in advance. In this way you can guarantee a position in one of the campgrounds.
Spending the night in this verdant wonderland is an amazing experience. You can camp by the Hoh River or deep within the rainforest. It enables you to completely enjoy the sights and sounds of this fascinating habitat.
Making Hoh Rainforest Camping Reservations
Securing your position at this popular destination requires making Hoh Rainforest camping reservations early, especially during high seasons. Hoh Rainforest camping reservations secure a spot at the well-liked Hoh Rainforest Campground amidst Olympic National Park's spectacular natural splendor.
When you visit the official Olympic National Park Service website, you can confirm the campsite availability. Planning ahead is essential because the campground can quickly reach its capacity, especially during the vibrant summer season. By making reservations early, you ensure a spot in the Hoh Rainforest, a popular destination.
You can also contact the National Park Service directly for information about Olympic National Park and to make Hoh rainforest camping reservations. You can reach them at +1 360-565-3130
To assist you in reserving a space at the Hoh Rainforest Campground, consider the following advice:
Reserve Early: Make your Hoh Rainforest camping reservations well in advance. The Hoh Rainforest Campground is usually busy from late spring to early autumn.
Adaptability: To avoid the crowds, try to visit during the shoulder seasons or on weekdays if at all possible.
Verify Availability: Keep a careful check on the availability of campsites. Be ready to book as soon as a spot becomes available.
Follow these tips to make your hotel reservations as soon as possible. This ensures a simple and pleasurable camping trip in the Hoh Rainforest. Don't miss the chance to completely immerse yourself in this amazing rainforest; reserve your spot in advance.
Exploring Hoh Rainforest Campground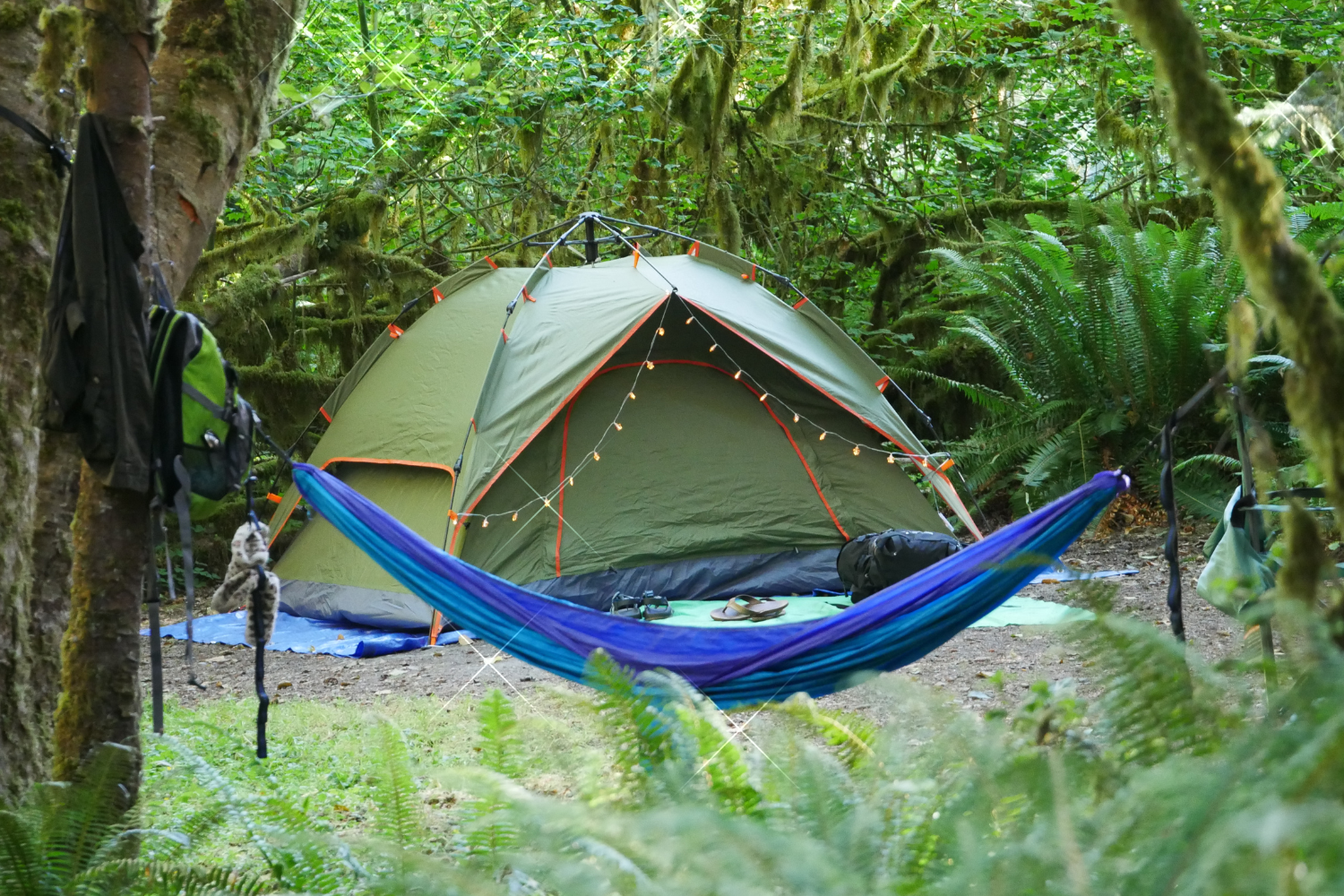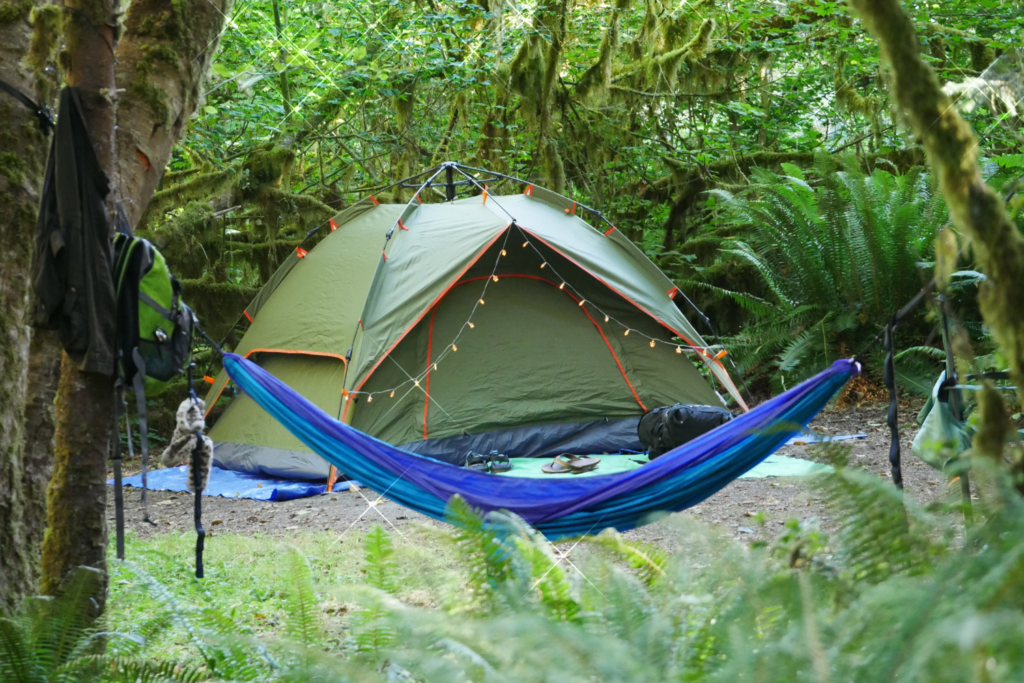 The Hoh Rainforest Campground unique location known for its unspoiled beauty and plethora of wildlife. It resides within Olympic National Park in Washington.
Location: This campground has unmatched access to the captivating Hoh Rainforest and is located on the Olympic Peninsula, about 30 miles south of Forks, Washington.
Amenities: To ensure campers' comfort, the Hoh Rainforest Campground offers basic amenities like potable water and flush toilets. Even though there are no connections or showers, the charm of camping among old trees makes up for these small drawbacks. Every campground has a fire ring and picnic table, which creates a nice ambiance for eating and stargazing.
Activities: Camping in the Hoh Rainforest is a highly sought-after experience due to the multitude of available activities. It is the starting point for a plethora of hiking paths that offer amazing natural views, including the Hoh River Trail and the Hall of Mosses. There are chances to see Roosevelt elk, deer, and a variety of bird species due to the rich animal habitat. It's also a great place to stargaze because of the peaceful atmosphere and starry nights.
Options for Camping: Tent camping and RV camping are two of the many camping alternatives available at the Hoh Rainforest Campground. It is perfect for larger gatherings, couples, and lone explorers because it also has group camping areas.
To guarantee a spot in this enthralling rainforest wonderland, we strongly advise making Hoh Rainforest camping reservations, especially during busy seasons. The Hall of Mosses, a highlight of the rainforest, offers an opportunity to establish a genuine connection with the natural world and recognize the need to protect this unique ecosystem
Hoh River Campground
The Hoh River Campground is an interesting option for camping near the Hoh Rainforest, offering a distinct camping experience from the Hoh River Rainforest Campground.
Location: The Hoh Rainforest Campground, nestled in the heart of the lush rainforest, is a short drive from the Hoh River Campground, situated next to the river. It provides opportunities for riverside relaxation and fishing in a riverbank setting.
Amenities: Compared to the Hoh Rainforest Campground, the Hoh River Campground has fewer amenities. The park provides pit toilets and potable water, but it does not offer flush toilets and showers. More basic campsites are available for those looking for a more straightforward experience.
Activities: Excellent fishing on the Hoh River is accessible from the Hoh River Campground, especially for steelhead and salmon. It is a well-liked option among fishermen. It also acts as the starting point for the Hoh River Trail, a trekking route with beautiful views of the river.
Special Attractions: The Hoh River Campground's main attractions are its closeness to the Hoh River and the great fishing it offers. With the tranquil sound of running water providing a steady background, it's the perfect place for anyone looking for a riverside camping experience.
Hoh River Campground is a great option for anyone who wishes to mix their experience in the rainforest with riverfront leisure and fishing chances, even if each campground has its distinct charm. Whether you choose to camp by the river or in the rainforest, Hoh Rainforest camping reservations can guarantee your spot at any campground. Plus, don't forget to explore the captivating Hoh Rainforest waterfalls during your visit.
Minnie Peterson Campground
Nature enthusiasts seeking a closer connection can enjoy a more rustic and immersive camping experience at this campground located within the Hoh Rainforest. It provides a peaceful retreat and the opportunity to enjoy the natural wilderness as an alternative to the main Hoh Campground.
This basic campground has fewer amenities than the major Hoh Campground. Basic amenities for campers include drinkable water and pit toilets, but no flush toilets or showers. Here, it's all about appreciating the rustic charm of camping in a jungle, where the surrounding scenery is the main attraction.
However, the less crowded area of this modest campground is one of its main benefits. It's a great option for people looking for a more sedate and peaceful camping experience amidst the verdant surroundings of the Hoh Rainforest because it's usually less crowded than the larger Hoh Campground.
Choosing the campground of your choice when you make Hoh Rainforest camping reservations ensures that your experience is one to remember. You may immerse yourself in the enchanted world of the rainforest, with its old trees, moss-covered landscapes, and the calming sounds of nature, whether you choose the more developed main Hoh Campground or the more rustic option.
Conclusion
A unique and amazing adventure awaits campers in the Hoh Rainforest, a verdant natural wonderland adorned with mossy trees and home to a vast array of wildlife. It's recommended to make Hoh Rainforest camping reservations far in advance to guarantee your spot at this popular destination. There are several campgrounds to choose from, each with its special charm, ranging from the main Hoh Campground to the more rustic option.
The Hoh Rainforest's unmatched beauty, with its lush foliage and peaceful atmosphere, draws outdoor enthusiasts and nature lovers. In the Hoh Rainforest, you are guaranteed a close relationship with nature, as hiking paths lead to beautiful viewpoints and there is plenty of wildlife to see.
Arrange your camping trip in this immaculate paradise. Make Hoh Rainforest camping reservations, gather your belongings, and explore the fascinating rainforest environment. Discover the beauty of nature and create lifelong memories by venturing into the Hoh Rainforest for yourself. Your journey through the jungle is waiting for you; start now to explore this amazing natural beauty.
FAQs On Hoh Rainforest Camping Reservations