Adventurers are irresistibly drawn to the enchanting allure of the Hoh Rainforest, a gem nestled within Olympic National Park. For those seeking a truly immersive experience, Hoh Rainforest backpacking offers the perfect opportunity. It allows you to explore the stunning, temperate rainforest's intriguing wonders. Here, a cathedral-like atmosphere unfolds as towering moss-draped trees, some stretching beyond 300 feet in height, create a majestic canopy. Underfoot, the forest floor is a tapestry of lush ferns and colorful wildflowers. It sets the stage for an extraordinary journey through this unique natural wonderland.
Backpacking enthusiasts can get an immersive experience in the Hoh Rainforest backpacking. Trekking the Hoh River Trail will take you by several ecosystems. See pure rivers, surreal fog, and the breathtakingly gorgeous Hall of Mosses. It's an opportunity to get in touch with nature, with wilderness camping choices available.
Enjoy the rush of being surrounded by lush wildness while taking in the calming melody of the Hoh rainforest. An adventure into the core of a live, breathing ecosystem. The Hoh Rainforest backpacking trip captivates the spirit of any outdoor enthusiast. Its beautiful and ancient surroundings add to the allure.
Discovering the Hoh River Trail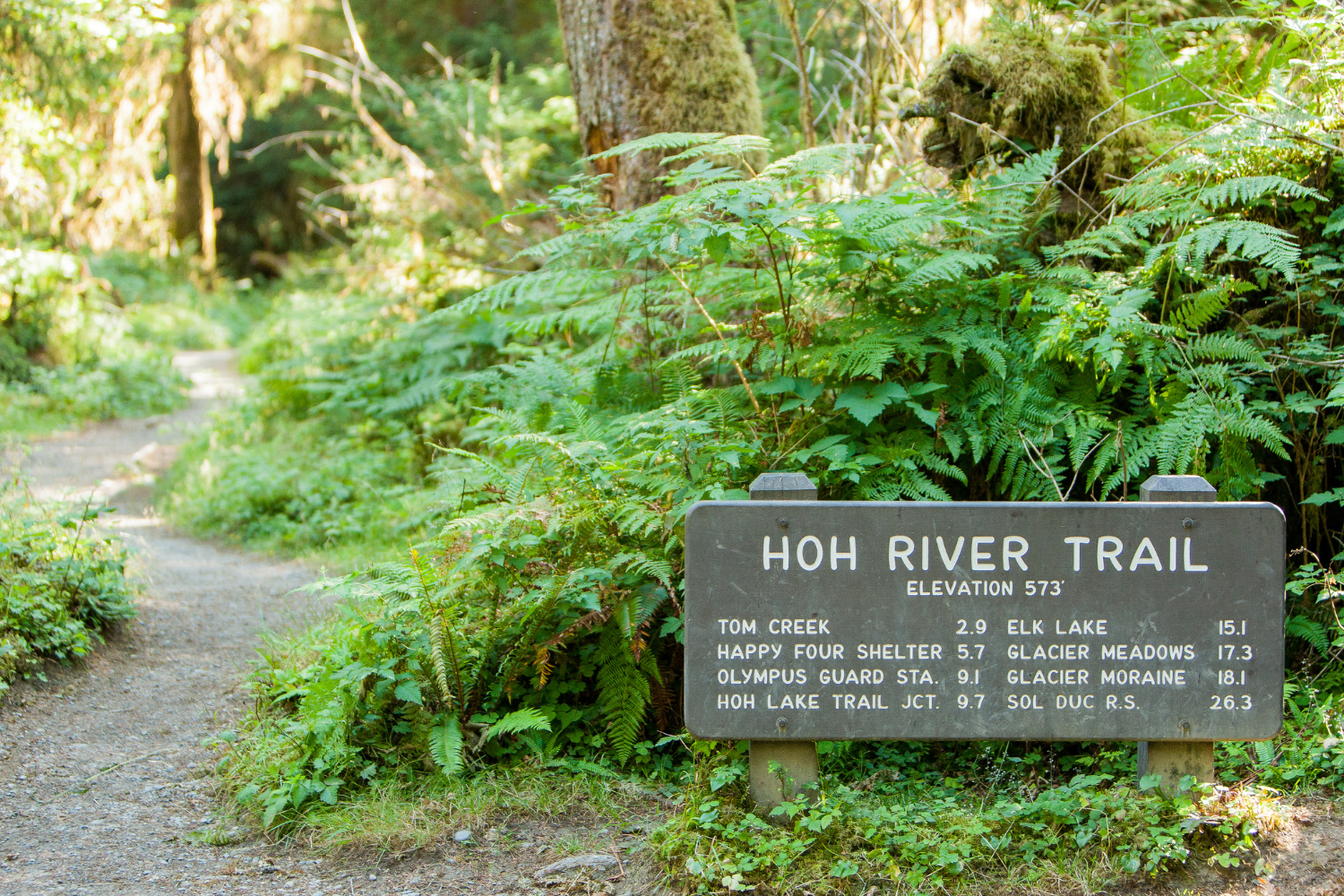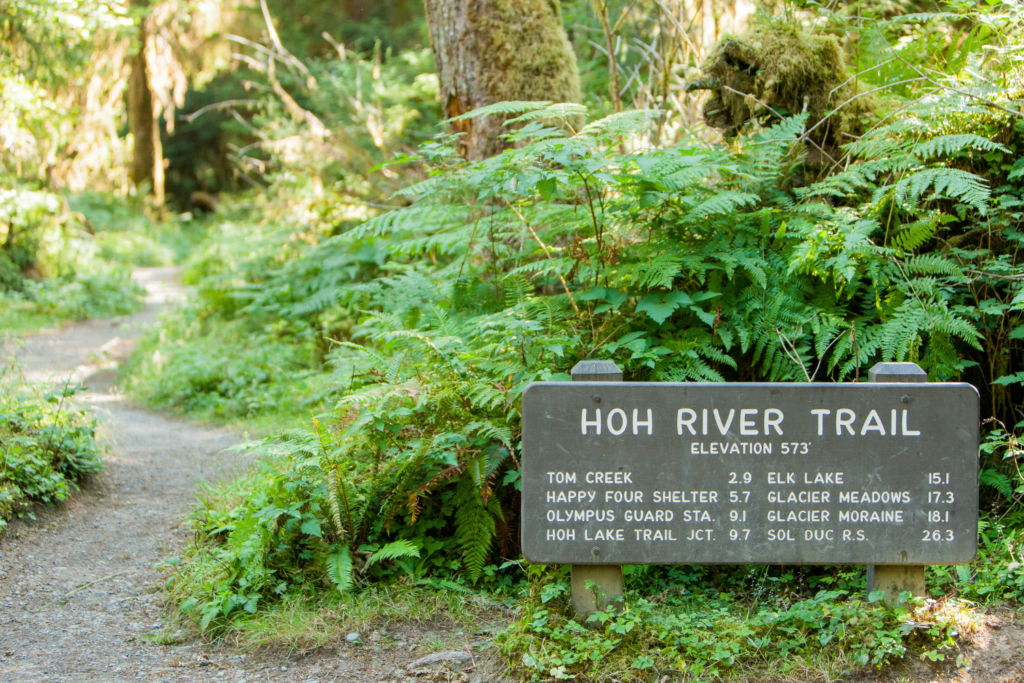 One of the most well-known backpacking routes in Olympic National Park, Washington State, is the Hoh Rainforest Backpacking. The Hoh River Trail begins at the Hoh Rainforest Visitor Centre. It extends all the way to the source in the Olympic Mountains. The trail spans approximately 17.4 miles (27.9 km) in one direction.
There are various reasons why this route is important. It is a hike through one of the last few temperate rainforests on Earth. It offers hikers a chance to witness this luxuriant, pristine habitat. The journey passes through old-growth forests and crosses many glistening streams. It also comes across a variety of species, such as black bears and Roosevelt elk. The Hoh Rainforest Backpacking is an excellent option for multi-day backpacking trips because it provides an abundance of backcountry campsites.
Native American tribes once inhabited the Hoh River Valley. The trail follows the path of the first settlers and explorers. The trailhead, conveniently near Highway 101, provides an ideal starting point. Hikers have a remarkable opportunity to explore the Hoh Rainforest. They can immerse themselves in the surrounding environment.
As you explore the Hoh Rainforest, it's important to note the visitor center hours to plan your visit effectively. Please check with the Hoh Rainforest Visitor Centre Hours of operation to make the most of your immersive experience in this remarkable environment.
Five Mile Island: Hoh Rainforest Backpacking
Situated in the Hoh Rainforest along the Hoh River Trail, Five Mile Island is a fascinating site you must visit. About 5 miles from the trailhead, this beautiful island is a sanctuary for nature lovers and travelers.
The topography, which contrasts sharply with the surrounding dense rainforest, is a blend of old-growth forest and lush meadows. Vibrant wildflowers greet visitors in the spring and early summer, while the tall trees offer peace and shade. The Hoh River's glistening waters enhance the island's natural beauty. Backpackers are welcome to camp at designated locations and enjoy the peace of being in the woods.
Please Note: Certain rules apply to protect this unique area, so make sure you secure the proper permissions before going on a Hoh rainforest backpacking trip at Five Mile Island. Remember to "Leave No Trace", take bear canisters and other necessities with you, and dress in layers of clothing for unexpected weather. If you want to see the rainforest up close in Olympic National Park, this is a fantastic place to go.
Lewis Meadow Campsite: Hoh Rainforest Backpacking
The Hoh Rainforest in Olympic National Park is a great place for hikers to stop over at Lewis Meadow Campsite. It offers a tranquil and lovely location for an unforgettable camping experience, tucked away amid the beautiful Hoh rainforest backpacking. Although there are no showers or electrical hookups, the campsite has basic amenities including pit toilets and potable water. The Hoh River's soothing sounds and the tall trees serving as your background create a serene atmosphere. To secure your spot, check out 'Hoh Rainforest camping reservations.'
It is necessary to make reservations, and it is best to do so well in advance, particularly during the busiest summer months. Convenient trailheads, like the Hoh River backpacking, which leads to well-known rainforest sights like the Hall of Mosses and Marymere Falls, are ideal for backpackers. Trailhead Lewis Meadow Campsite is a great place for hikers to see the captivating beauty of the Hoh Rainforest, with a thriving environment and a wealth of species.
Navigating the Hoh River Trail
You can get thorough trail maps of Olympic National Park's Hoh Rainforest by contacting the Hoh Rainforest Visitor Centre or by visiting the official National Park Service website. They offer a range of resources and maps for trails. The Hoh River Trail is the most well-liked Hoh Rainforest backpacking route.
The Hoh River Trail has obvious signs and trail markers along its course, making navigation rather simple. It is difficult to get lost along the Hoh River route.
Before you begin your journey, pick up a trail map at the visitor center.
Usually well-maintained, trail markings and signage should be followed.
Junctions should be avoided as some side trails may lead to vistas or campsites.
Never go hiking alone, and always let someone know when you expect to return.
In the jungle, be ready for a wide range of weather conditions.
You can have a rewarding and safe Hoh River Rainforest backpacking adventure if you keep yourself educated and follow the route markings.
Exploring Blue Glacier in Olympic National Park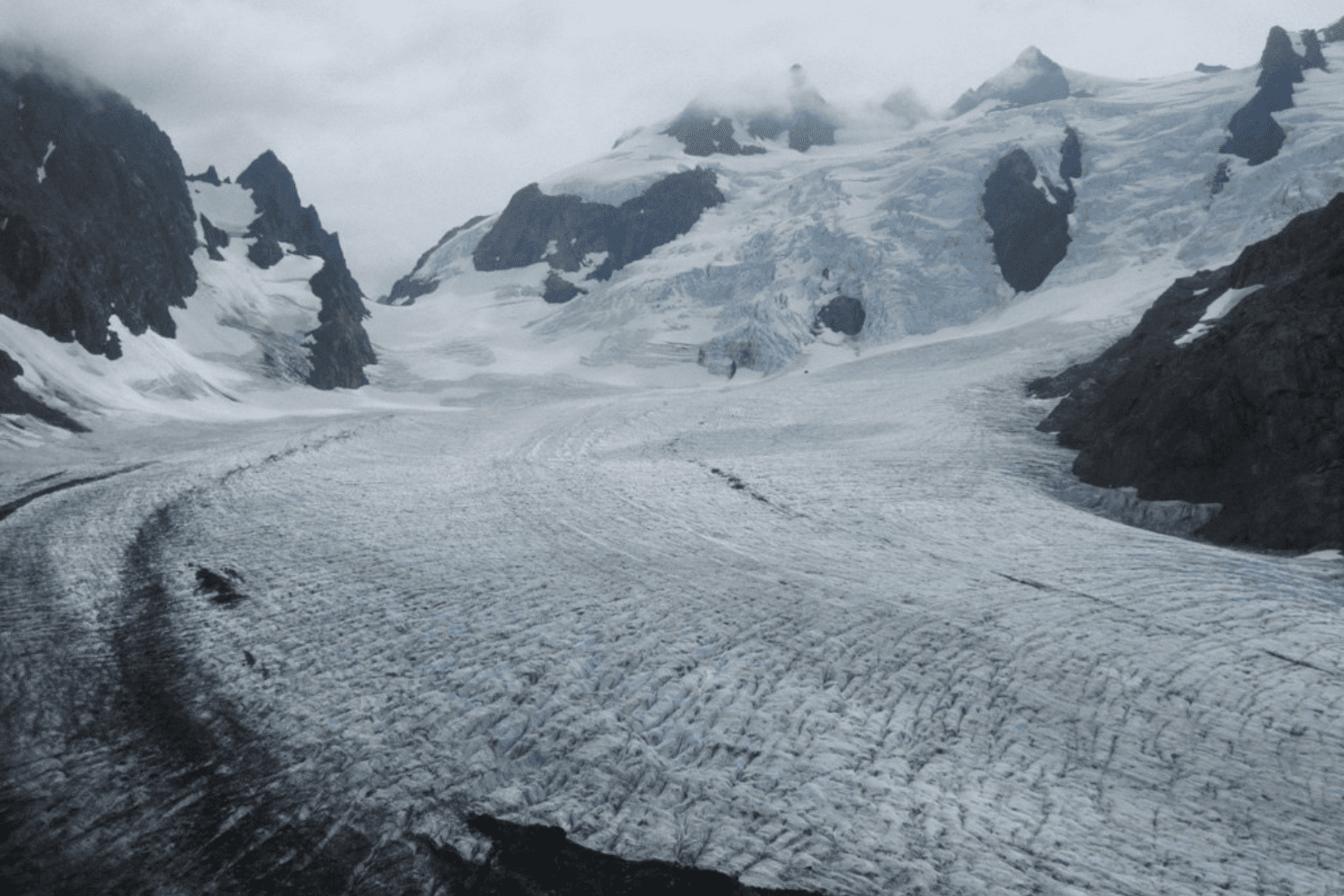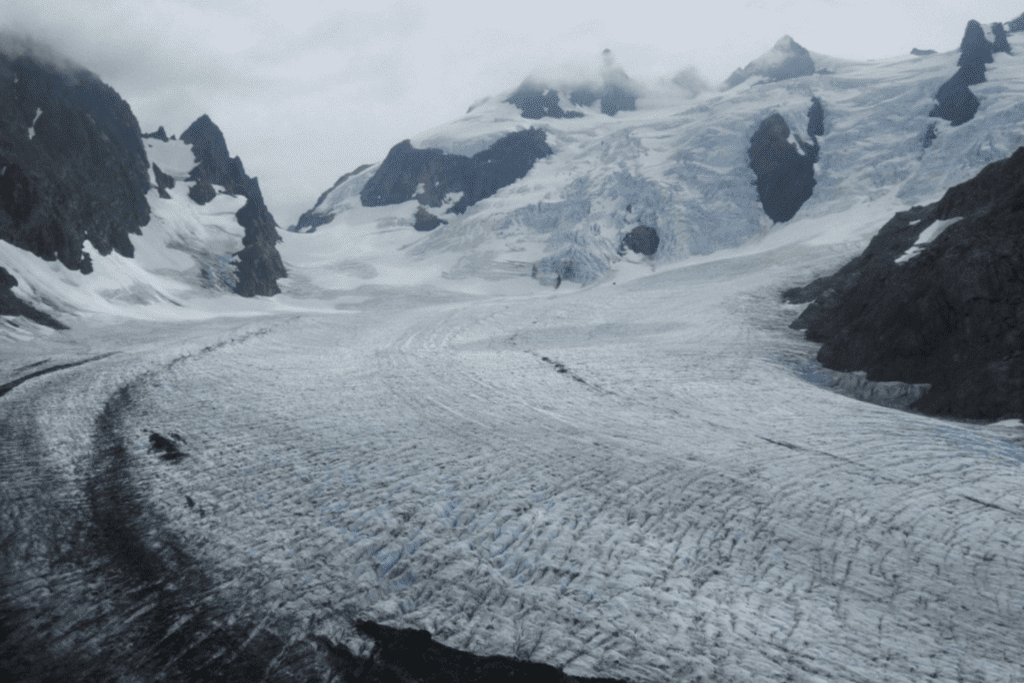 Image Credits: Washington Trails Association
Olympic National Park's Blue Glacier is noteworthy for its enormous size, breathtaking beauty, and geological past. This glacier feeds the Hoh River with water and is an important component of the vast Hoh Rainforest ecosystem. It has been applied to research climate change and glacier recession.
At around 2.6 square miles, Blue Glacier is one of the park's largest glaciers. It is imperative to verify current circumstances and safety requirements before embarking on a walk to the glacier, nevertheless, because of the continuous retreat of glaciers.
Due to the difficult terrain and considerable elevation gain, the climb to Blue Glacier is only appropriate for seasoned hikers. With the right equipment and navigational abilities, hikers should be well-prepared.
Visitors must follow the "Leave No Trace" guidelines to preserve the fragile ecosystem, and permits may be needed for this area. It's a rewarding but challenging walk for those who are well-prepared to explore this natural treasure, with stunning views, alpine meadows, and distinctive flora to be found along the way.
The Beauty of Hoh River Valley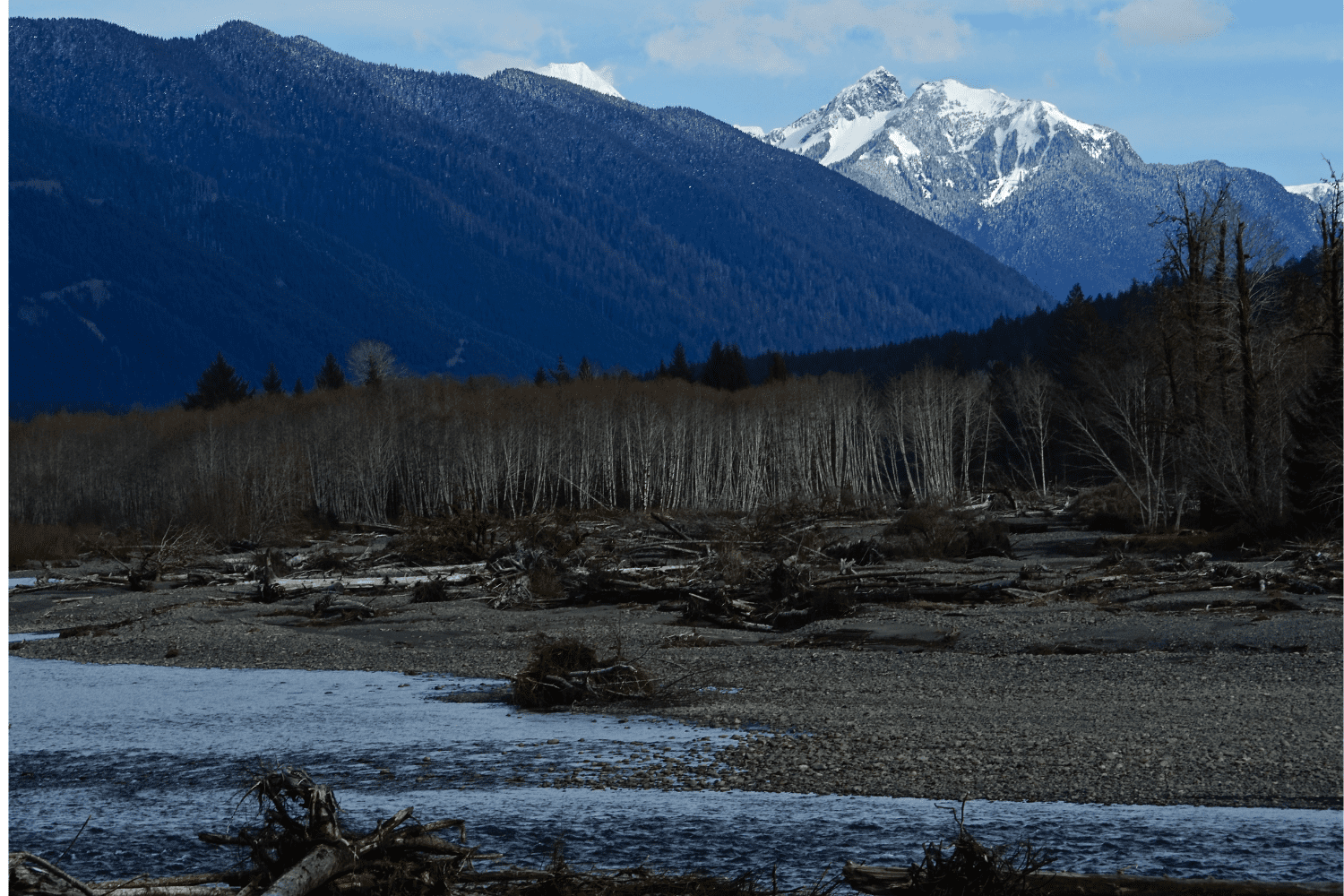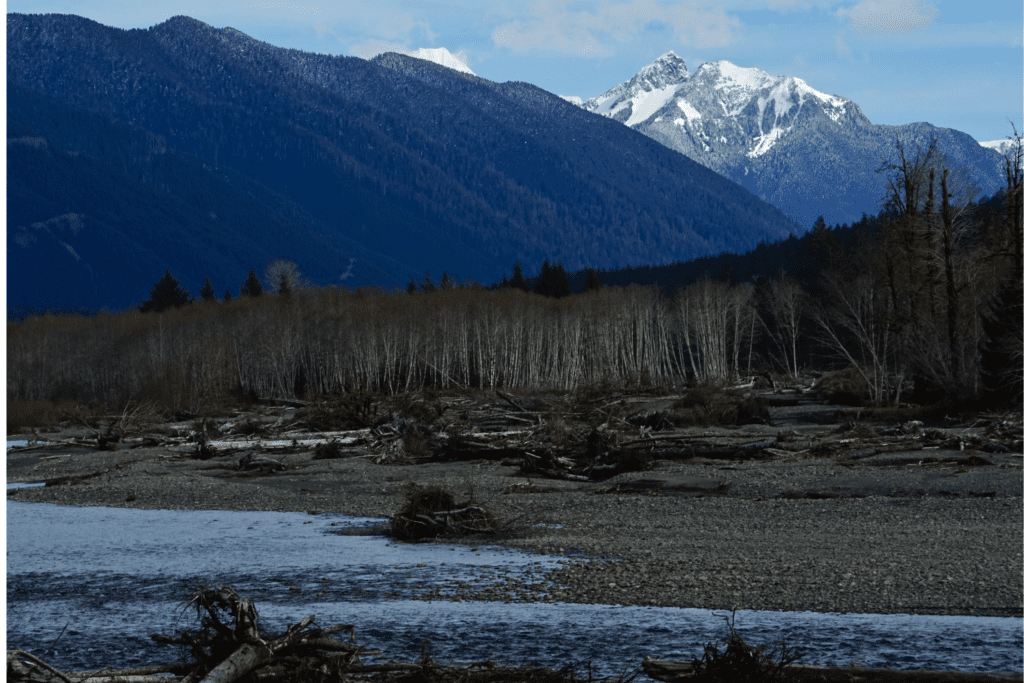 Nestled within Olympic National Park, the Hoh River Valley is a nature lover's dream come true. It's especially enchanting to visit the Hoh Rainforest in November. It is well known for its breathtaking natural beauty, which makes it the perfect place for enthusiasts of wildlife, hikers, and photographers.
There are plenty of possibilities to see wildlife, including black bears, cougars, Roosevelt elk, and other bird species. With its vast network of trails winding through towering trees covered in moss, and thick ferns, and alongside the scenic Hoh River, is a pure paradise for Hoh Rainforest backpacking.
The mystical splendor of the rainforest, with its foggy, moss-draped trees, tumbling waterfalls, and brilliant vegetation, provides photographers with boundless inspiration. The Olympic Peninsula's luxuriant, verdant, and immaculate surroundings offer a vivid backdrop on which to depict the wonder of the region.
In this breathtaking, pristine wilderness, the Hoh River Valley showcases the interdependence of nature by inviting people to understand the intricate balance of its ecosystem. You can establish a genuine connection with the untamed core of the Pacific Northwest here.
Essential Tips for Your Hoh Rainforest Backpacking Adventure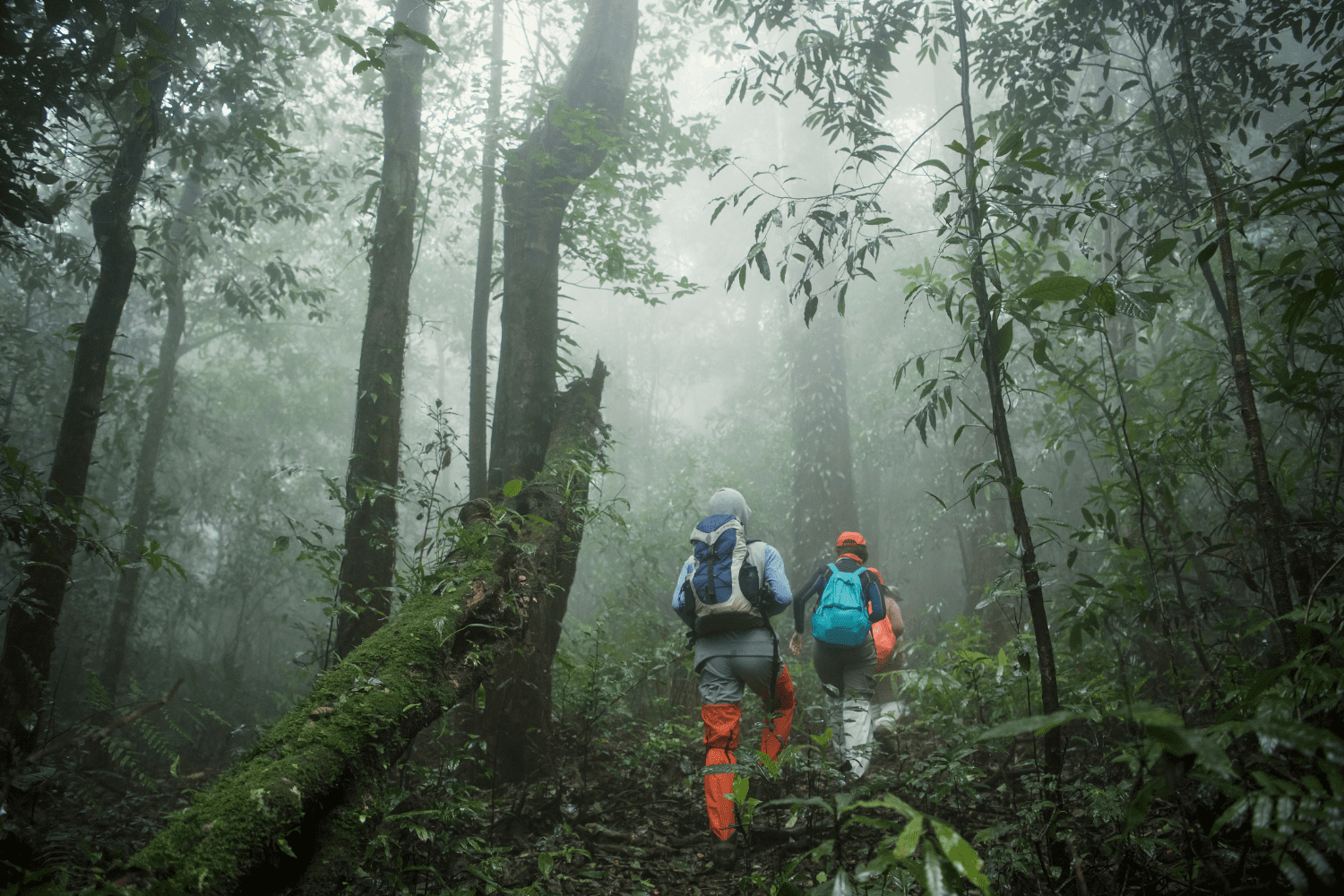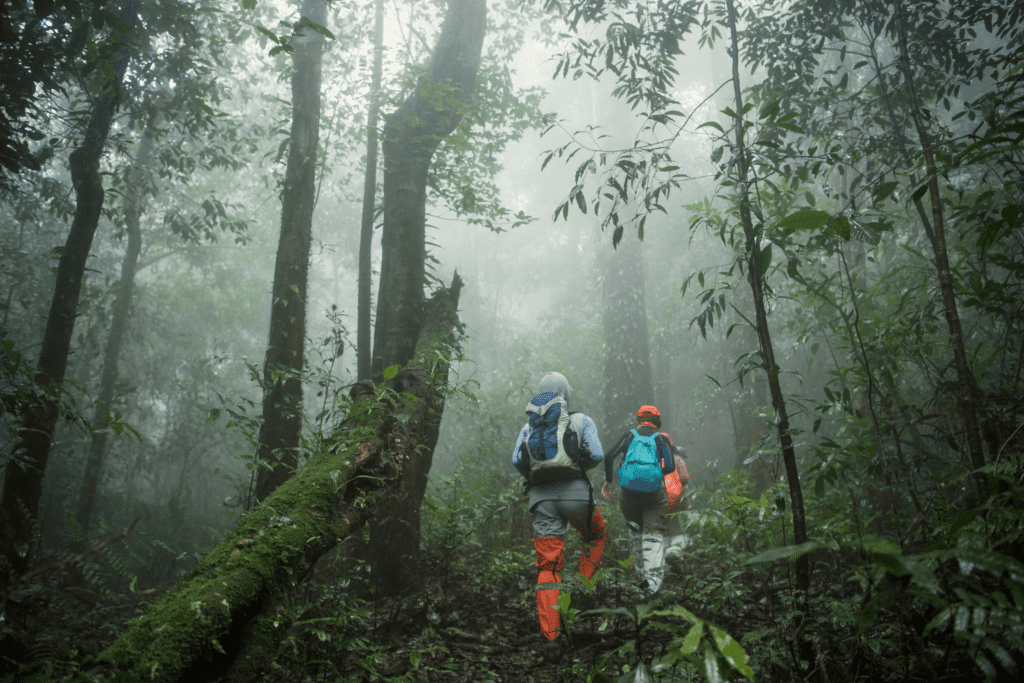 Embarking on a backpacking adventure in the lush and challenging terrain of the Hoh Rainforest calls for careful planning and packing. To ensure a successful journey through this unique environment, let's delve into the essential packing considerations and valuable tips for your expedition.
Packing Essentials
When preparing for a backpacking trip in the Hoh Rainforest, it's vital to equip yourself with the right gear. The rainforest's incessant drizzle, abundant moisture, and muddy trails demand specific essentials. Here's what you'll need:
Waterproof Gear: Ensure your backpack, clothing, and other critical gear are waterproof. This is your first line of defense against the ever-present rain.
Sturdy Hiking Boots: The rainforest's muddy terrain necessitates robust, waterproof hiking boots that provide traction and keep your feet dry.
Shelter: Invest in a lightweight, four-season tent with a reliable rainfly to protect you from frequent showers and ensure a comfortable night's rest.
Campfire and Sleeping Bag: Carry a compact campfire for warmth and a cozy sleeping bag to stay comfortable during the chilly nights.
Food and Water: Bring sufficient food supplies, a method for purifying water from natural sources, and a compact first-aid kit for minor injuries.
Insect Repellent: With the rainforest's thriving mosquito population, insect repellent is a non-negotiable item to keep those pesky bugs at bay.
Bear Canister: To ensure your safety and that of the local wildlife, a bear canister is essential for storing food securely.
Navigation Tools: Equip yourself with a map, compass, and a dependable GPS unit to stay on the right path in this dense wilderness.
Tips for Reducing Backpack Weight
The key to a fulfilling experience in the Hoh Rainforest lies in traveling as lightly as possible. Here are some tips to help you shed unnecessary weight:
Prioritize Necessities: Pack only what is essential, giving priority to versatile gear and necessities.
Opt for Lightweight Equipment: Invest in lightweight equipment to reduce the overall weight of your backpack.
Effective Meal Plans: Plan your meals efficiently and include non-perishable items in your diet to minimize food weight.
Quick-Drying Clothing: Choose clothing that dries quickly to stay comfortable in the damp environment, and use smaller containers for toiletries.
Water Sources: Utilize the water sources along the trail rather than carrying excessive water with you.
Regular Equipment Check: Periodically check your equipment to ensure you're carrying everything correctly and efficiently.
Conclusion
Hoh Rainforest Backpacking is a life-changing experience that enables us to establish a connection with the natural world. We explore a pure, old ecosystem with moss-draped trees, shimmering Hoh Rainforest waterfalls, and the calming sounds of the Hoh River, creating a magical setting. You can get away from the bustle of the outside world, see verdant surroundings, and see a variety of wildlife when you go on a Hoh Rainforest backpacking trip. A deep respect for nature, personal development, and a lifelong bond with an area of unmatched beauty and peacefulness are all created by this experience.
FAQs On Hoh Rainforest Backpacking