The Hall of Mosses is a magnificent emerald treasure of nature located within Washington's Olympic National Park. Here, we reveal a wonderful world hidden behind imposing old trees. Its distinctive feature is the thick, green moss that covers everything in sight, including the trees, rocks, and even the air you breathe. The majority of the trees, covered in moss with a velvety, fairy-tale-like sheen, are made up of Bigleaf maples and Sitka spruces.
A gentle, almost otherworldly glow of filtered sunshine will meet you as you stroll along the small, twisting pathways. Through the lush woodland, bright streams trickle, reflecting the mossy beauty above. The smell of moist moss and leaves penetrates the air, which is clear and crisp. With their roots intertwined with the forest floor, towering trees push for the sky.
It's difficult to put into words the sensation of amazement that The Hall of Mosses inspires. It's as if you've entered a prehistoric forest, where time has stood still and nature's magnificence is on full show. You can't help but be in awe of the uncomplicated but deep magnificence of the natural world there.
Exploring the Hall of Mosses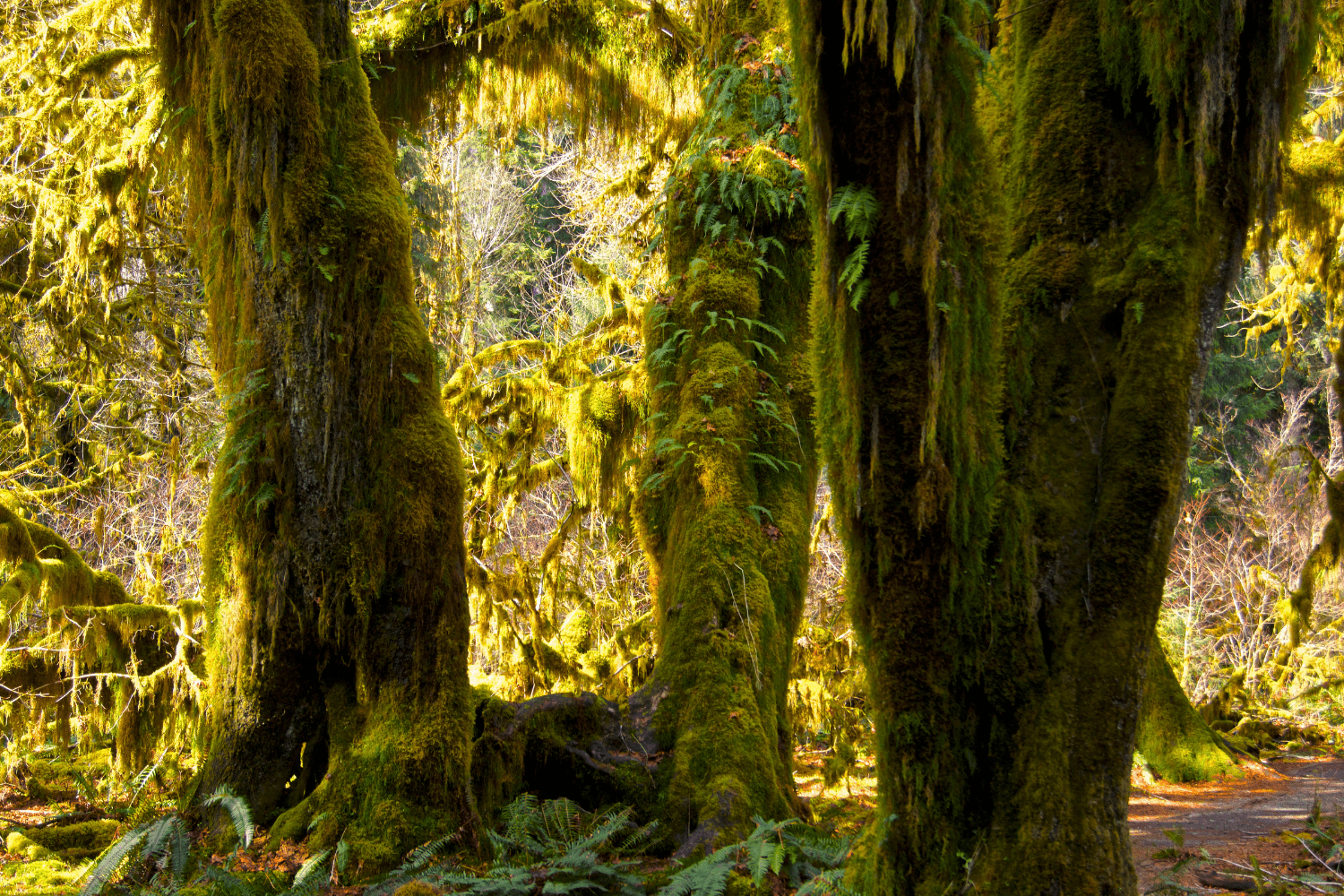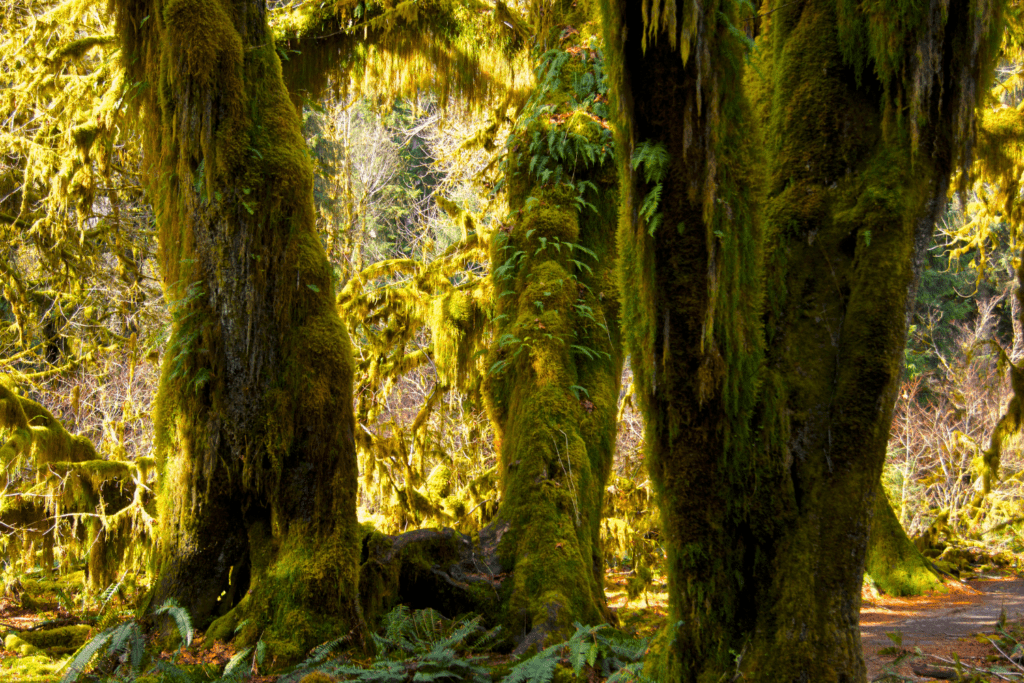 In the beautiful Hoh Rainforest, a component of Washington's Olympic National Park is a mesmerizing jewel called The Hall of Mosses. Start at the trailhead, which is conveniently accessible at the Hoh Rainforest Visitor Center, to begin your trip into this lush wilderness.
The Hoh Rainforest's enchanted atmosphere will meet you as you start your trek. Bigleaf maples and Sitka spruces, which are mostly covered in moss, form the bulk of the canopy, which casts a soft, greenish glow over everything. Comparable to strolling in an emerald fantasy. The moss-covered trees look as though they are dripping with wetness, lending the woodland a mysterious air.
With ferns covering the forest floor and crystal-clear streams babbling alongside the route, the surroundings are a symphony of the beauty of nature. Huge ferns, colorful wildflowers, and soaring trees are among the diverse flora. Look for the recognizable "nurse logs," which are dead trees that are used as plant nurseries. Moreover, wildlife is abundant. Elk, deer, and many birds, notably the diversified thrush with its characteristic cry, may be seen.
The Hall of Mosses walk is a little circle that is about 0.8 miles long, making it ideal for a family outing. The topography is quite simple, with some mild hills and well-kept walkways. For the occasional muddy or uneven part, it's best to wear sturdy, comfortable footwear. The Hoh Rainforest is renowned for its regular drizzles, so don't forget your rain jacket.
You may completely lose yourself in the serene splendor of this distinctive rainforest by visiting the Hall of Mosses, which is a fascinating experience. A beautiful, green paradise may be found there, where you can get in touch with nature and experience its breathtaking magnificence.
Discovering the Enigma of Hall of Mosses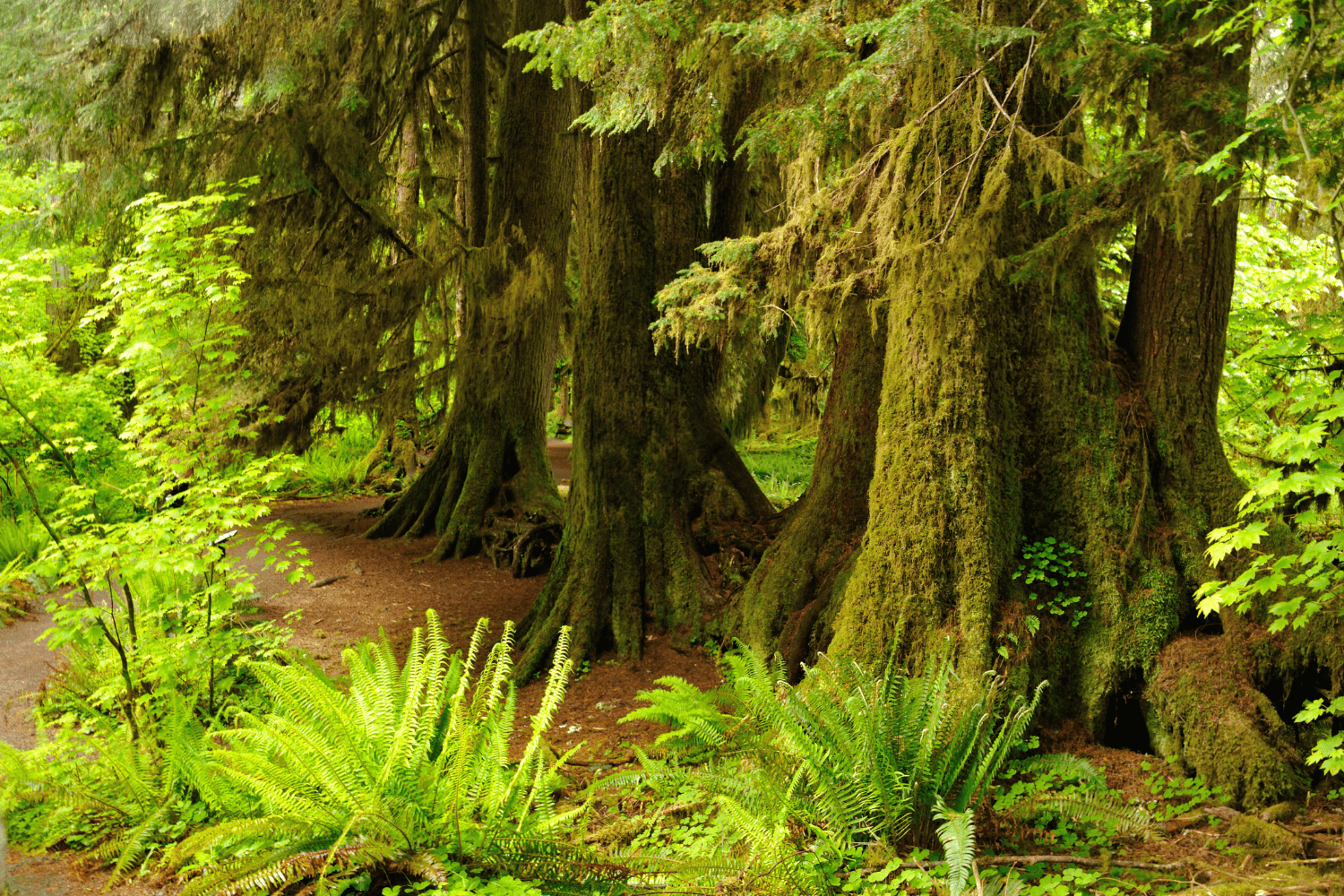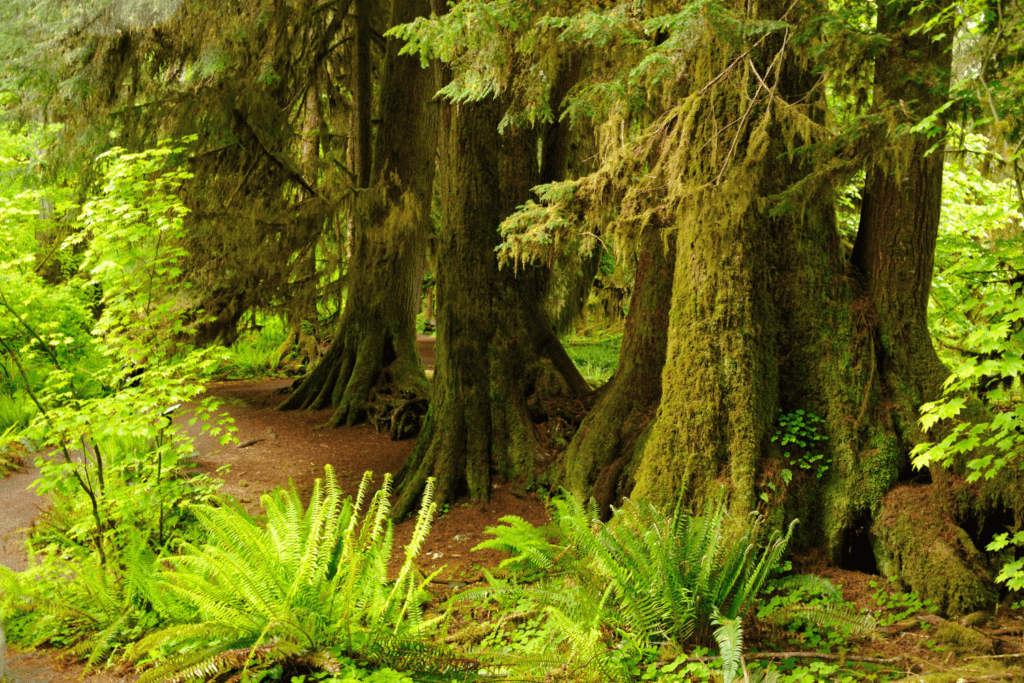 One of the most interesting rainforests in the world, the Hoh Rainforest is a natural wonder known for its distinctive features. It stands out for several reasons and is situated within the Olympic National Park in Washington.
Annual Rainfall: With an average annual rainfall of 140 to 170 inches, the Hoh Rainforest gets an astounding quantity of precipitation. The copious rains nourish the rich vegetation and mosses that cover every surface, transforming the area into a true temperate rainforest.
Moss-Covered Trees: Moss coats the Sitka spruces and bigleaf maples in particular, making them a distinguishing feature of the Hoh Rainforest. The velvety, green moss that covers these trees gives the area a fantastical and alluring atmosphere.
Rich Biodiversity: Numerous different plant and animal species may be found in the jungle. You can find the Roosevelt elk, deer, and numerous bird species there, along with rare mosses, ferns, and tall trees.
Hoh Rainforest Trail Details
Length: The Hall of Mosses Trail is a brief, 0.8-mile circle that offers a brief yet breathtaking glimpse into the rainforest.
Elevation: The path is accessible to walkers of all fitness levels because it is largely level and has very slight elevation fluctuations.
Difficulty: The trail is regarded as being family- and beginner-friendly. A pleasant and secure walk is guaranteed by its well-kept walkways and wooden boardwalks.
Hiking Tips
The trail might get muddy, especially during the wet season, so wear strong, waterproof footwear.
Even on bright days, remember to pack a rain jacket since in the jungle, it might rain at any time.
Watch out for wildlife and enjoy the breathtaking mossy landscape, but stay on the designated route to preserve the fragile environment.
Are dogs allowed in the Hall of Mosses?
Dogs are not allowed in the Hall of Mosses in the Hoh Rainforest. This policy is in place to protect the fragile ecosystem and wildlife in the area. Visitors to the Hall of Mosses are encouraged to be respectful of the park's rules and regulations to help preserve its natural beauty.
What to Expect Along the Hall of Mosses Trail?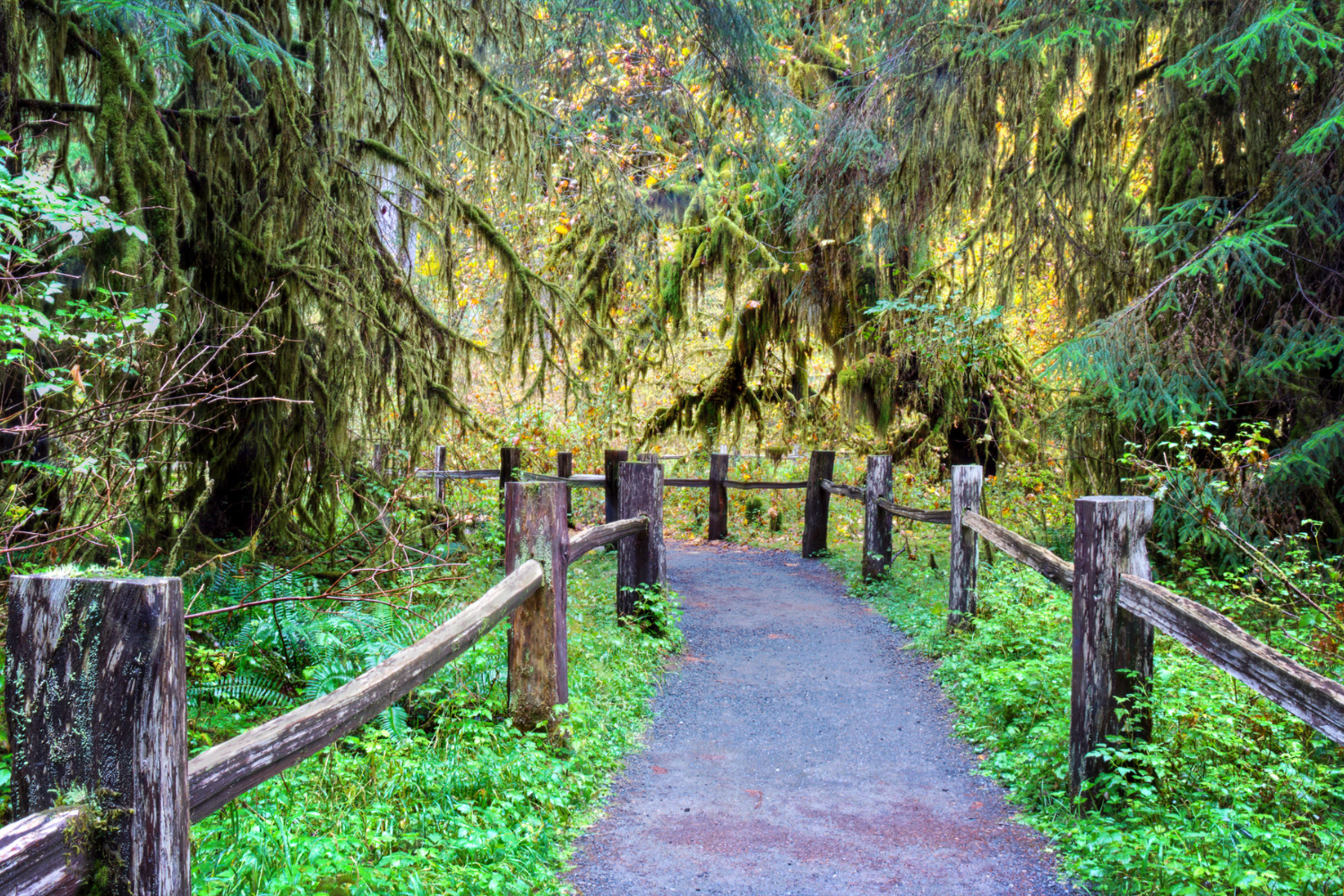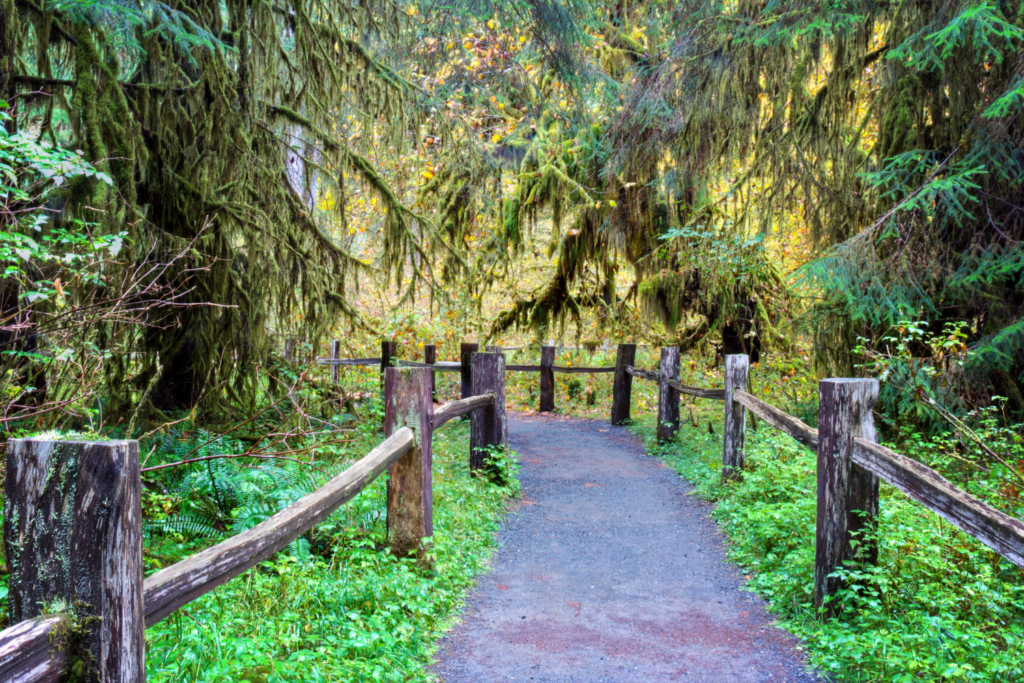 The Hall of Mosses route is an adventure through a world straight out of a fairy tale, complete with enchanted route features, lush vegetation, and moss-covered trees. Look closely at this:
Mossy Canopy: The canopy of moss-covered trees, mostly bigleaf maples and Sitka spruces, is the area's most alluring feature. A soft, mossy environment is produced by the way it elegantly hangs from tree trunks and branches.
Gurgling Streams: Along the walk, crystal-clear streams meander, providing quiet areas to stop and enjoy the meditative sound of running water.
Nurse Logs: The cycle of development and decay in the forest is demonstrated by fallen trees, known as nursing logs, which are covered with moss and act as nurseries for new plant life.
Giant Ferns: Huge ferns with rich green fronds adorn the woodland floor, contributing to the environment's lushness.
Wildlife Encounters: In this mossy wonderland, visitors to the Hall of Mosses may be fortunate to see a variety of animal species. Regular encounters consist of Roosevelt Elk, these magnificent creatures may frequently be spotted grazing in the meadows and on the margins of the forests. Black-tailed Deer, and numerous bird species, like the diverse thrush with its characteristic cries, are found in the jungle.
Safe Wildlife Viewing Practices
Keep a safe distance from wildlife to prevent stress or putting both you and the animals at risk. Maintain a respectful distance.
Use binoculars and zoom lenses to get up-close views of wildlife without getting too near to it.
Keep still and quiet, and avoid making loud noises or making quick movements to avoid frightening animals.
Avoid feeding wildlife since it might alter their normal diet and behavior, and it's frequently forbidden in national parks.
To help safeguard the species and their environment, abide by all park laws and regulations regulating wildlife observation.
How to Get to the Hall of Mosses?
The Hall of Mosses is a natural beauty in Washington's Olympic National Park, and getting there isn't too difficult.
From Seattle (Approximately 150 miles, 4-5 hours):
Go north on I-5 to begin.
Take exit 104 to join WA-101 North and go towards Aberdeen/Port Angeles.
For another 120 miles, keep driving north on WA-101.
Take a left onto Upper Hoh Road (Hwy 101) and proceed as directed towards the Hoh Rainforest.
The Hall of Mosses Trailhead is located near the Hoh Rainforest Visitor Centre, which is reached after continuing on Upper Hoh Road for about 18 kilometers.
The last portion of the trip comprises a twisting route, making the travel to the Hoh Rainforest a bit tedious. Due to the region's reputation for precipitation, be ready for rapidly changing weather, especially rain. Although paved, the road to the Hoh Rainforest can sometimes be congested. Drive cautiously since the road may be slick during the wet season. Animals like elk may cross the road, so keep a watch out for them.
Best Time to Visit the Hall of Mosses Trail
Late Spring (May – June): The late spring season in the Hoh Rainforest is a wonderful time to explore the Hall of Mosses Trail. The rainforest bursts to life with vibrant vegetation and wildflowers. During this period, you can expect daily highs between 13°C and 21°C, providing a warm and pleasant climate for your visit.
Summer (July – August): Summer is the peak season, and for good reason. The weather is at its most reliable, with warm temperatures ranging from 18°C to 24°C. Longer daylight hours allow ample time for exploration, and the rainforest is in full splendor. This is also when the trail experiences its highest visitation.
Early Autumn (September – October): Early autumn offers a quieter, yet equally enchanting experience. With temperatures ranging from 10°C to 21°C, the weather remains pleasant. This season also brings a touch of color to the mossy green landscape as the leaves change.
The Hoh Rainforest receives substantial annual rainfall, with the wettest months being November through March. During this period, the trails can become slippery and muddy. However, it's this consistent precipitation that gives the rainforest its lush and ethereal appearance. To ensure a pleasant visit, to the Hoh Rainforest in November, it's essential to stay informed about the weather conditions. Checking resources like "Olympic National Park weather by month" can provide you valuable insights. Packing appropriate rain gear is a must, as drizzles or light showers are possible even during the supposedly drier months.
While the summer months are busier, they offer more consistent weather, making it the peak season for the Hall of Mosses Trail. Early autumn and late spring are ideal for a more serene visit with fewer crowds, despite the possibility of some rain, thanks to the favorable weather conditions.
Packing Essentials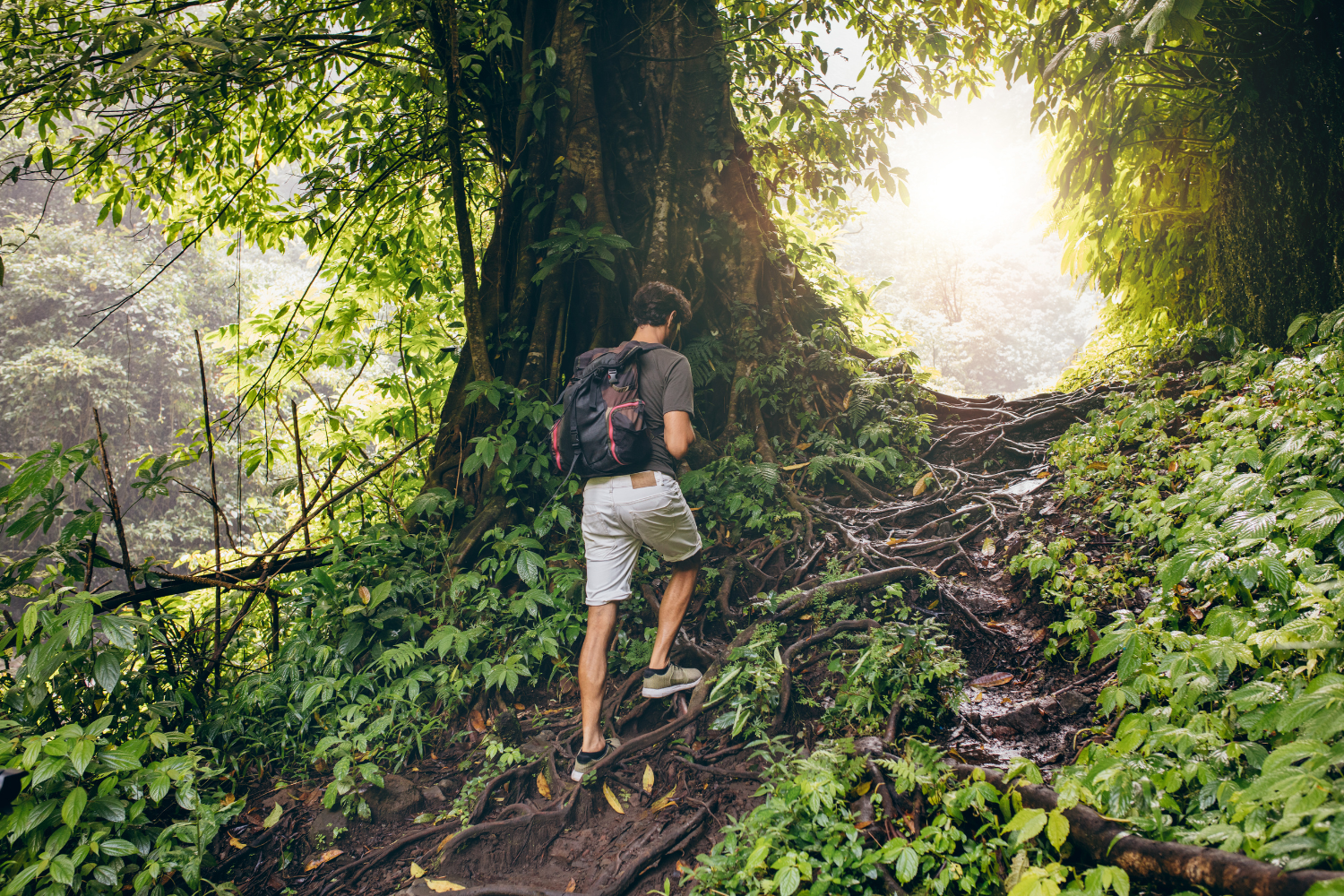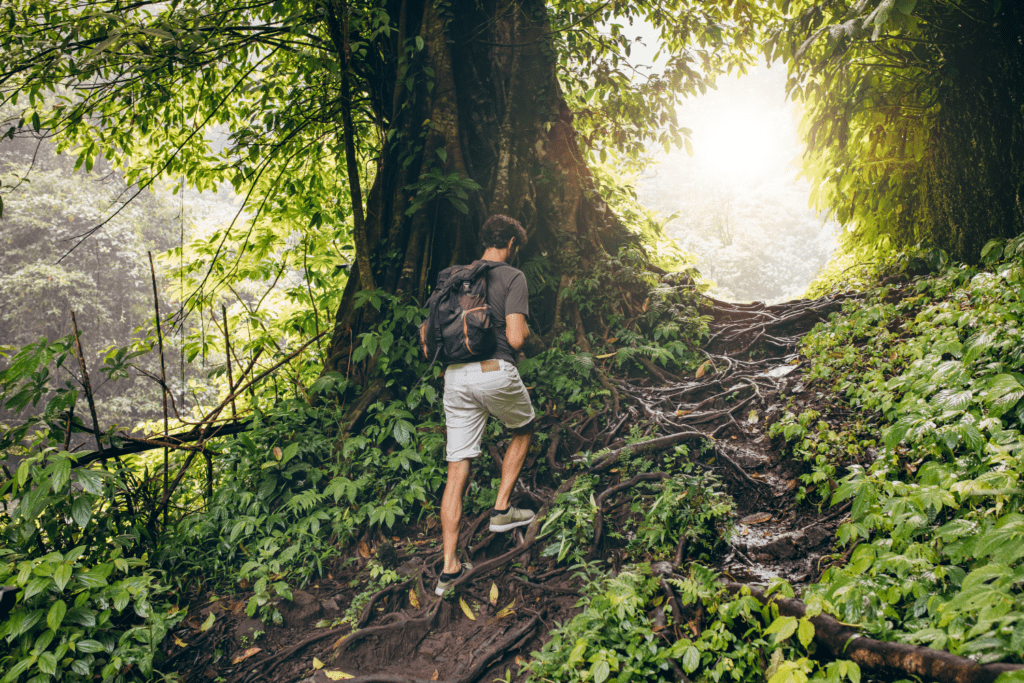 Sturdy, waterproof hiking boots or shoes with strong grip are recommended for crossing muddy or slippery terrain.
Layers, with a base layer that wicks away moisture, a warm insulating layer, and an upper layer that is waterproof and breathable. Remember to include your gloves and cap.
A dependable rain jacket and pair of rain trousers are essential for staying dry in the humid jungle climate.
A compact backpack for carrying necessities like additional clothing, drinks, and snacks.
To keep hydrated, always have a water bottle or hydration kit with you.
Snacks, energizing foods including fruits, energy bars, etc.
Even though the Hall of Mosses trail is designated, it is still wise to have a map, compass, or GPS device.
An essential item for treating minor injuries or emergencies is a first aid pack.
You can meet mosquitoes depending on the season, therefore insect repellent might be helpful.
Binoculars are useful for seeing wildlife without getting too near to the creatures.
Camera, to record the mesmerizing splendor of the jungle.
Hall of Mosses Entrance Fee & Permits
You must pay an entrance fee at Olympic National Park to access the Hoh Rainforest and the Hall of Mosses Trail. Information about parking permits and entrance requirements is provided below:
Vehicle Entry Fee: The entrance fee for a vehicle to access the National Park is $30, but it is waived if you have an America the Beautiful Pass.
Annual Pass: If you want to visit Olympic National Park several times a year, an annual pass can be a wise purchase. It costs $55 and provides access for a full year.
Interagency Annual Pass: Consider the Interagency Annual Pass, which covers admission costs to all national parks and federal recreation sites for $80 if you often visit different national parks.
These passes are available for purchase at several access points around Olympic National Park, online through the National Park Service website, and in the Hoh Rainforest Visitor Centre.
Hoh Rainforest Visitor Center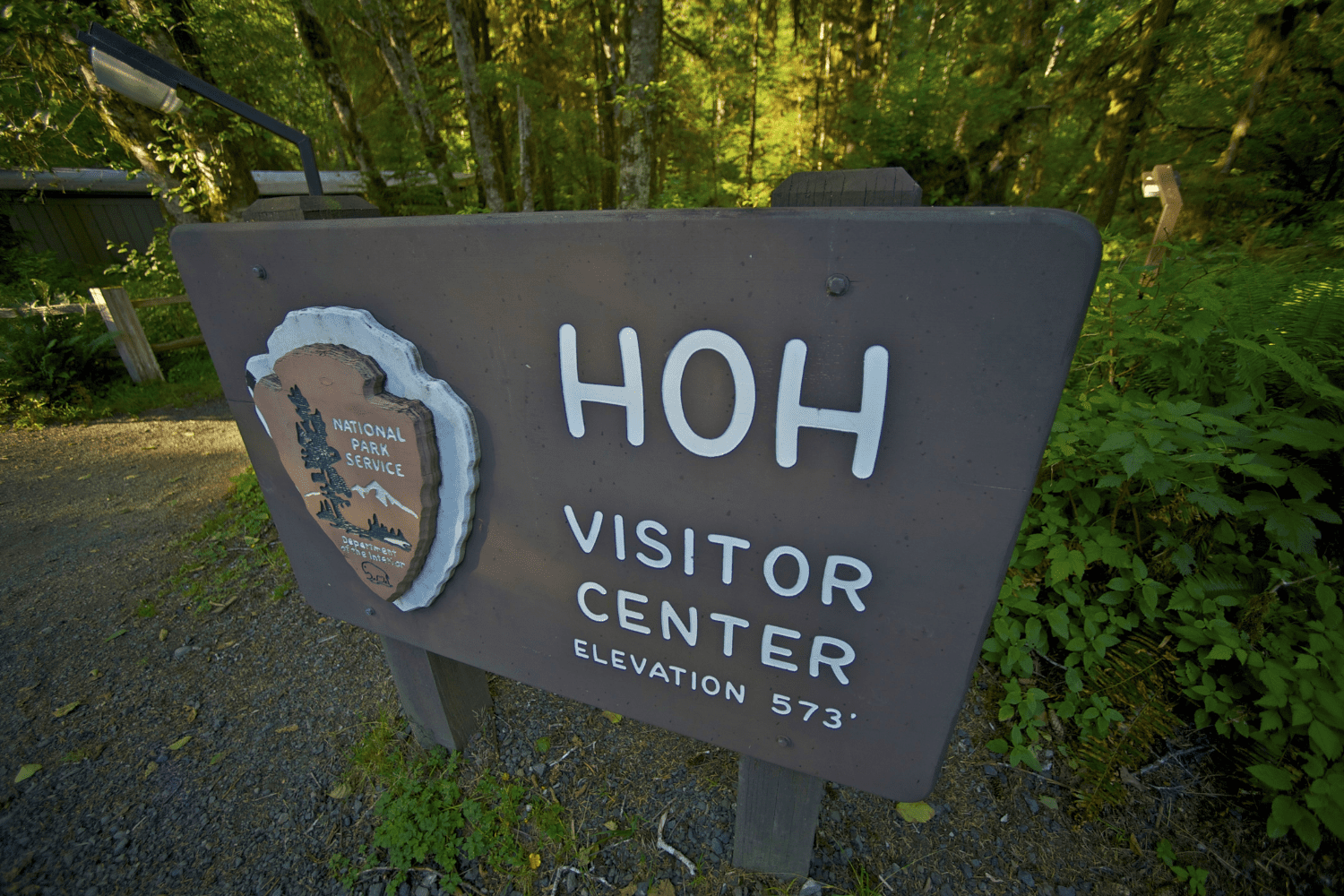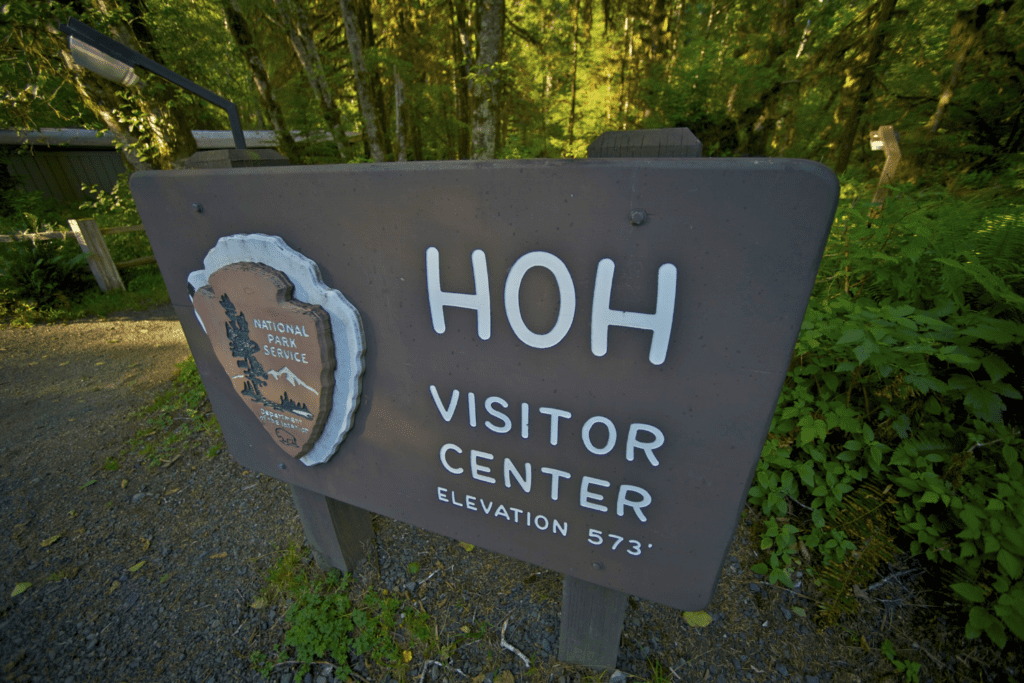 Your experience of the rainforest will be greatly improved by visiting the Hoh Rain Forest visitor center next to the Hall of Mosses Trail.
The tourist center is a veritable knowledge vault. You may obtain maps, trail guides, and useful advice on the rainforest, including recommendations for identifying wildlife and security advice.
The helpful park rangers are available to respond to your inquiries and share insightful information on the rainforest. They can provide you with information on when is ideal to trek and what to watch out for.
Exhibits regarding the ecology, history, and significance of the rainforest may be found inside the visitor center. Before your excursion, it's a terrific location to study.
You'll normally find pristine facilities at the trailhead. These are necessary for a relaxing trip, especially for families and people who intend to walk for an extended period.
You may visit the gift store here, which frequently sells books, nature-themed products, and more if you want to bring home a keepsake or a reminder of your time in the rainforest.
Hoh Rainforest Visitor Center Hours
The Hoh Rainforest Visitor Center Hours of operation are as follows. The Visitor Center welcomes visitors from 10 AM to 4:30 PM every Friday to Sunday. However, it remains closed during the months of January and February. In the summer season, the center extends its services to a daily basis.
It's important to be aware that the visitor center's hours can fluctuate with the changing seasons, so checking the most up-to-date schedule on Hoh Rainforest Visitor Center's official website or contacting them directly is advisable to ensure your visit aligns with their hours of operation.
Where to Stay Near the Hoh Rainforest?
You may discover lodging alternatives in and close to the Hoh Rainforest region to suit a variety of tastes and budgets:
Hotels and Lodges: Small, rustic lodges and inns that are closest to the Hoh Rainforest provide an intimate and authentic experience. Although frequently straightforward, you'll like being close to the splendor of nature.
Resorts: You can look into resorts in other towns if you would like a little bit more opulence and services. Some provide visitors with cozy lodging, dining options, and entertainment.
Camping: Consider setting your tent in one of the official campgrounds in Olympic National Park, like the Hoh Campground, for a more thrilling experience. Remember that at busy times, reservations are frequently needed.
Cabins and Vacation Rentals: In the neighborhood, you may discover cottages or holiday rentals. With this choice, you'll have greater privacy and a home-away-from-home feeling.
It's crucial to prepare ahead for your Hoh Rainforest lodging, especially during peak periods when options may be few. You may explore the Hall of Mosses and the Hoh Rainforest while taking advantage of your selected degree of luxury and convenience, whether you decide to stay in a cozy lodge, a relaxing resort, or spend the night in a tent.
Other Rainforests in Olympic National Park
In addition to the Hoh Rainforest, the Pacific Northwest is home to several additional stunning rainforest regions:
Quinault Rainforest
Quinault Rainforest, another treasure in Olympic National Park, is renowned for its tranquil Lake Quinault, moss-covered trees, and alluring paths like the Quinault Loop Trail.
Queets River Forest
The Queets River Rainforest is a natural wilderness with deep valleys, old-growth woods, and an abundance of species, and it is located on the park's western border. Even if it's a little harder to get there, it provides a chance for distant exploration.
Columbia River Gorge
The lush Columbia River Gorge, a rainforest-like region with waterfalls, green vistas, and hiking paths, may be found further south. Eagle Creek and Multnomah Falls are two well-liked vacation spots.
waterfalls in the Hoh Rainforest
Several famous Hoh Rainforest waterfalls that enhance the area's allure:
Minerva`s Falls: This adorable waterfall is modest in size but is exquisitely concealed in the lush forest. It's a calm area where you may listen to the sound of water running.
Moss Creek Falls: This waterfall contributes to the mystic atmosphere of the jungle as it cascades down a moss-covered rock wall. It is a lovely sight to see while hiking the Hall of Mosses Trail.
Hoh River: A beautiful view of the water is provided by the Hoh River itself as it meanders through the tropical jungle, surrounded by moss-covered trees. It's a captivating water feature even if it's not a typical waterfall.
Hoh Rainforest Backpacking
An amazing trip that allows you to fully immerse yourself in this lush, verdant paradise is backpacking in the Hoh Rainforest. Some of the highlights of a backpacking trip in the Hoh Rainforest are as follows:
Five Mile Island: Backpackers and hikers enjoy traveling to Five Mile Island. It provides lovely camping along the Hoh River and is about 5 miles from the Hoh Rainforest Visitor Centre. The fairly difficult Five Mile Island route is rewarded with peaceful river vistas and old-growth woodland. It is a great starting point for further jungle exploration.
Lewis Meadow Campsite: Lewis Meadow, which is around 9 miles from the tourist center, is another fantastic backpacking location. The campground is tucked away in a beautiful meadow surrounded by tall trees. It's a tranquil spot to unwind and enjoy the splendor of the jungle.
Blue Glacier: For seasoned hikers and backpackers, the path ascends further into high-alpine territory until it reaches Blue Glacier, which is a portion of Mount Olympus. Despite being challenging and requiring many days of hiking, the route to Blue Glacier rewards hikers with breathtaking vistas of glaciers, snowfields, and stunning landscapes.
Hall of Mosses: Hoh Rainforest in November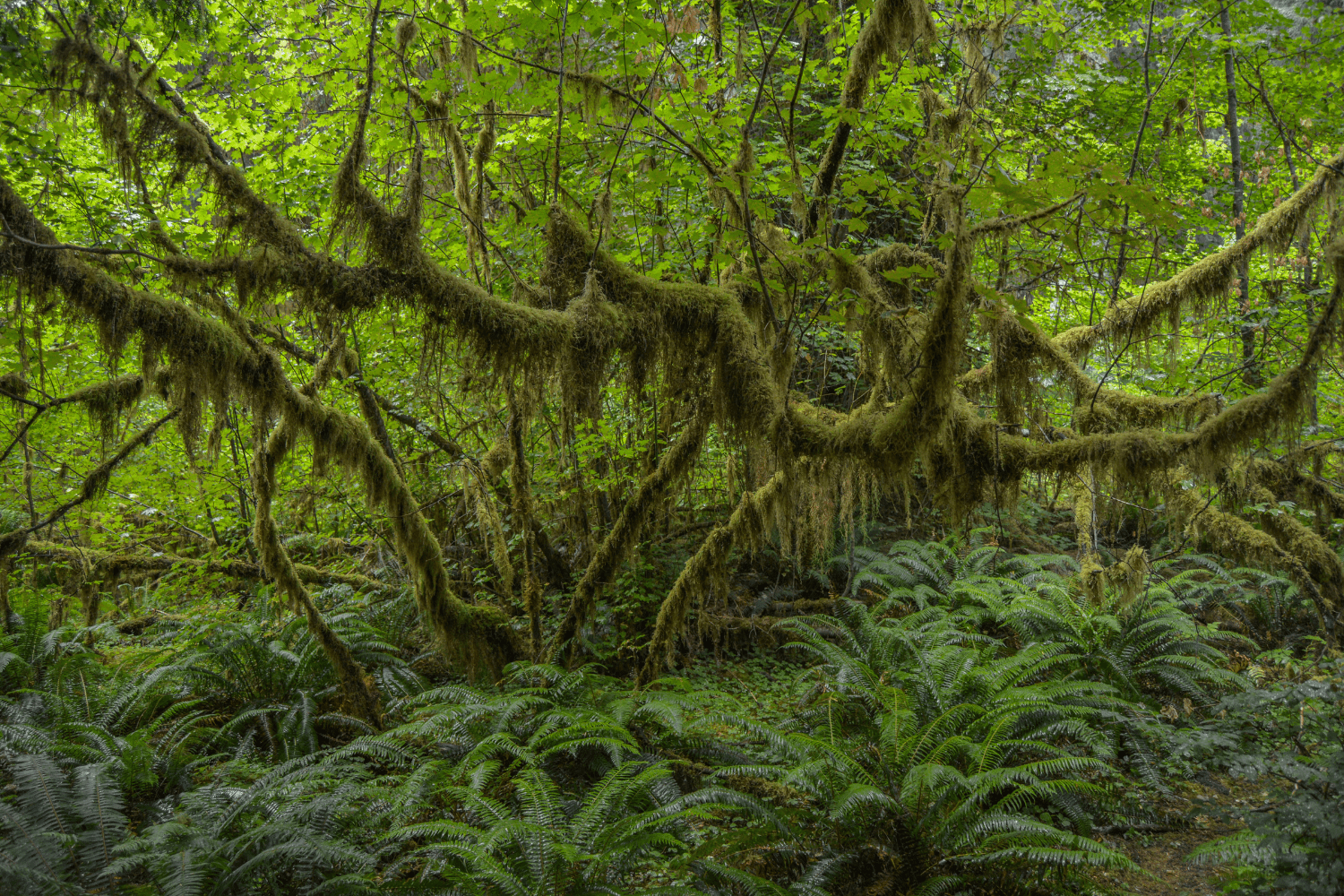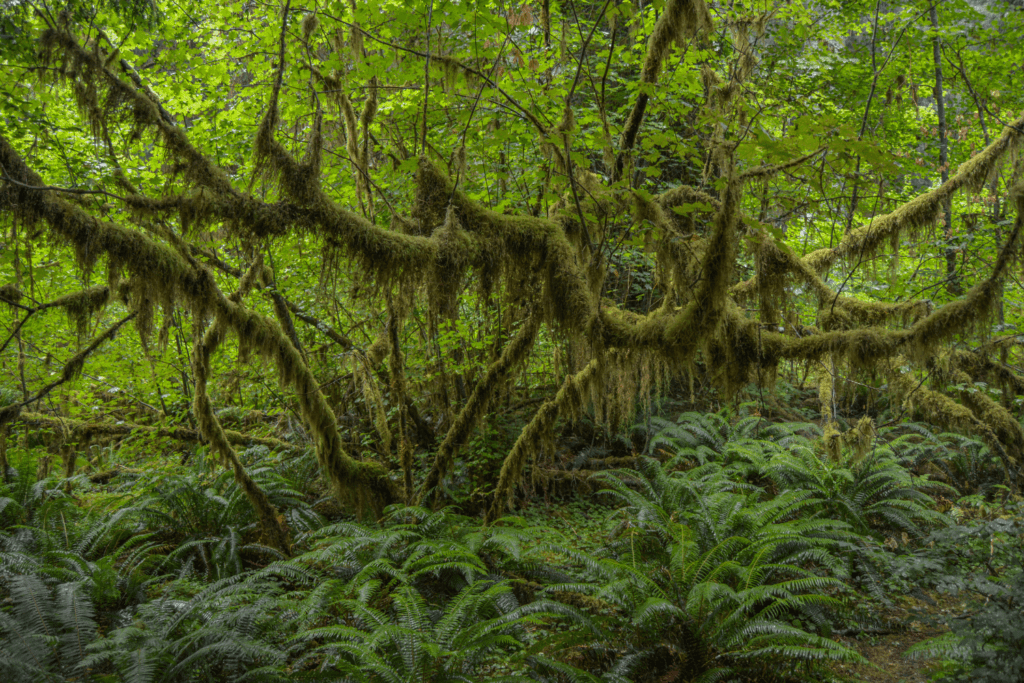 In the Hoh Rainforest, November is the start of the wet season and one of the wettest months of the year. Expect cloudy skies and periodic showers. To remain dry when visiting, be sure to carry dependable rain gear, such as a waterproof jacket and trousers.
Although the rainforest is still lush and green, November's heavy rains and shorter days might cause more muted hues than the summer's vivid green. Nonetheless, the moss-covered trees and magical atmosphere of the Hall of Mosses are still breathtaking.
In the Hoh Rainforest, November is not the busiest month for visitors. Since there may be fewer people around, hiking through the jungle paths may be more peaceful and alone.
Watch out for wildlife since certain species, like elk, become more active when it rains. Numerous species can find refuge and food in the underbrush.
Due to the rain in November, the paths may be more muddy and hazardous. For a secure and pleasant walk, it's essential to wear sturdy, waterproof footwear with sufficient grip.
Remember that November has reduced daylight hours. To get the most out of your time in the jungle, plan your trip appropriately.
Things to Do in Hall of Mosses Olympic National Park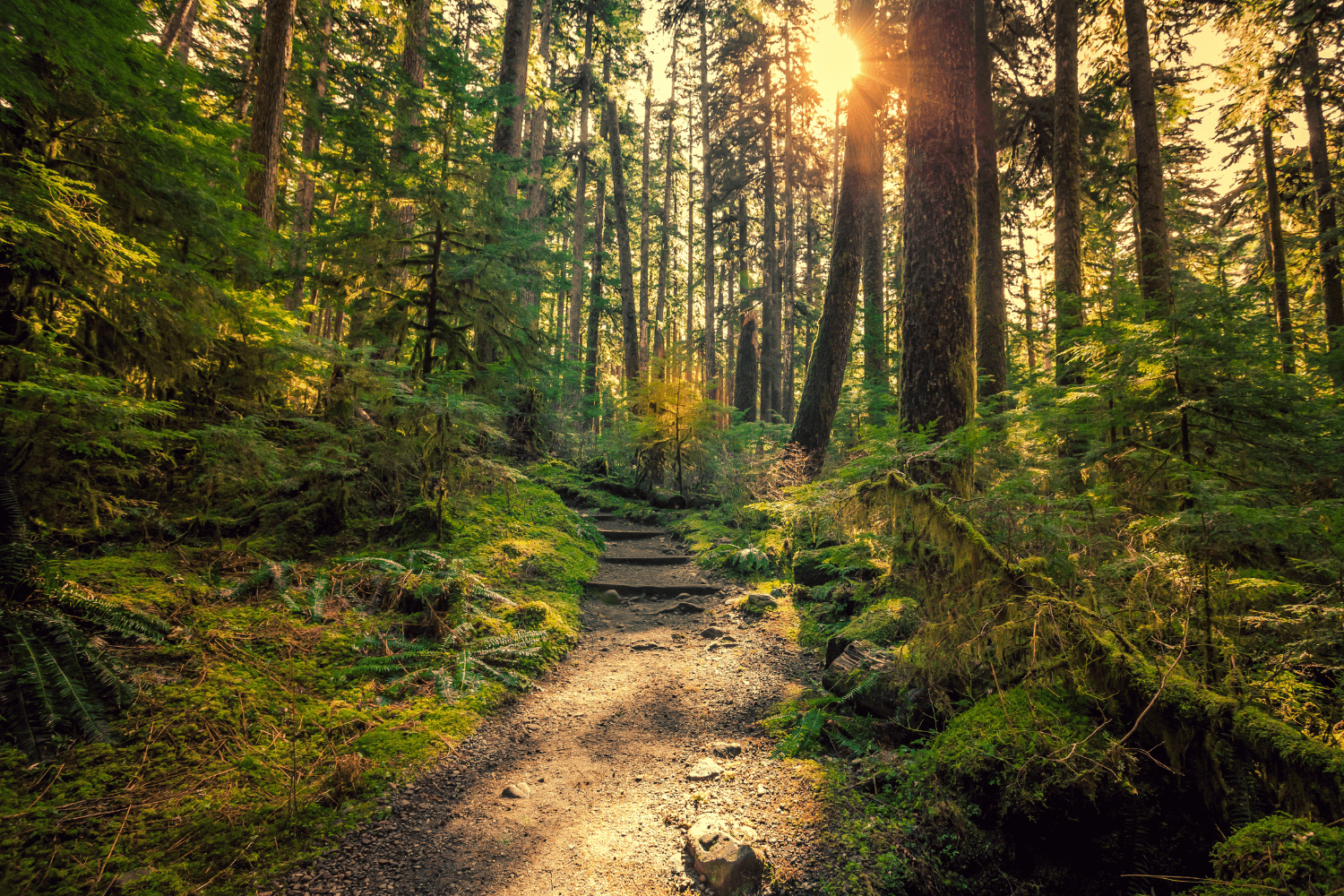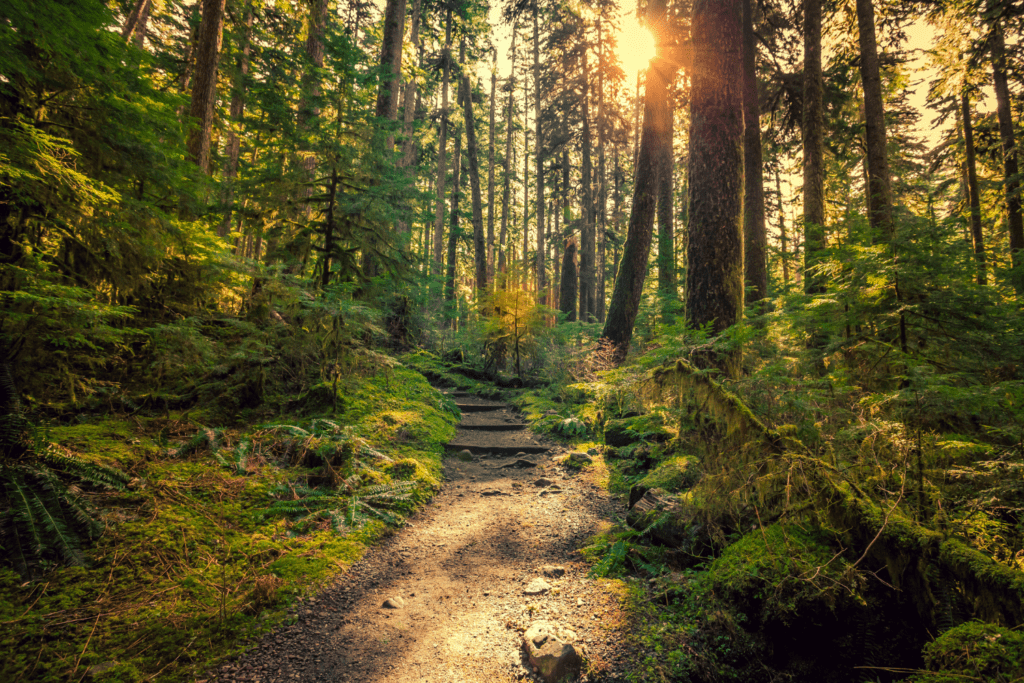 Tourists enjoy the various landscapes of Olympic National Park in Washington State through a variety of activities and attractions. Exploring the Hall of Mosses is one of the many exciting things to do in Olympic National Park. Following are a few of the park's most popular events and attractions:
Hiking: Discover more than 600 miles of routes, including those through high alpine meadows, stunning coasts, and lush rainforests. The Hoh Rainforest, Hurricane Ridge, and the seaside Second Beach Trail are all well-liked paths.
Scenic Drives: Drive through picturesque routes including Hurricane Ridge Road, the Hoh Rainforest Road, and the Quinault Rainforest Loop Drive to enjoy the breathtaking vistas of the park's many ecosystems.
Wildlife Viewing: Numerous species of animals, like as deer, elk, black bears, and mountain goats, may be found in Olympic National Park. Birdwatchers can see unique species like the northern spotted owl and the marbled murrelet.
Camping: Camp in the backcountry or one of the park's campsites. During busy times of the year, reservations can be necessary.
Mount Olympus: Mount Olympus provides difficult alpine climbing routes, such as the Blue Glacier route, for experienced climbers.
Best Entrance to Olympic National Park
Your interests and the regions you want to visit will play a big role in determining which park entrance is best for Olympic National Park. Here are a few choices of best entrance to Olympic National Park, each of which provides access to various park areas:
Port Angeles Visitor Center
Near Port Angeles, this gate provides access to Hurricane Ridge, one of the park's most popular destinations for stunning mountain and alpine vistas. For those who want to hike and take in expansive views, it's a fantastic option.
Hoh Rainforest Visitor Center
This entry, situated right in the middle of the Hoh Rainforest, grants access to both the Hall of Mosses and the Hoh Rainforest Trail. Visitors who wish to enjoy a beautiful, temperate rainforest and its distinctive environment should go there.
Staircase Ranger Station
Access to the Staircase region, famous for its hiking routes along the North Fork of the Skokomish River, pristine Lake Cushman, and the Staircase Rapids Loop Trail, is provided through this entry. For individuals who enjoy hiking and water sports, it's a good option.
Olympic Peninsula Loop Map
The Olympic Peninsula Loop Map showcases the diverse beauty of Washington's Olympic Peninsula. Highlighting scenic routes, charming towns, and iconic landmarks, the map guides explorers through lush rainforests, rugged coastlines, and picturesque mountains, promising an unforgettable road trip experience in the Pacific Northwest.
Best Day Hikes Olympic National Park
Day hikes in the Hall of Mosses Olympic National Park are diverse and varied. Among the greatest choices, these best day hikes Olympic National Park offers, stunning landscapes and diverse ecosystems.
1. Hurricane Ridge: An iconic option featuring expansive vistas of the mountains and fields of wildflowers.
2. Hoh Rainforest Hall of Mosses: Discover a verdant, old rainforest with trees covered in moss.
3. Sol Duc Falls: A quick stroll brings you to this stunning waterfall.
4. Rialto Beach to Hole-in-the-Wall: A walk along the coast featuring tide pools and sea stacks.
5. Mount Storm King: The hike is strenuous and offers amazing views of Lake Crescent.
6. Olympic Hot Springs: An enjoyable walk to a natural hot spring.
7. Beach Shi Shi: Take in the breathtaking sunsets and unspoiled coastal wilderness with sea stacks.
Hall of Mosses Weather by Month
The weather in Olympic National Park, Hall of Mosses varies greatly from month to month.
Summer (June to August): This is the ideal season to visit, with pleasant temperatures in the 60s to 70s °F (15-25 °C). Days should be dry and sunny, but popular trails may get crowded.
Fall (September through November): Cool and clear, with lows in the 50s and 60s °F (10–20 °C). There are gorgeous autumn foliage colors, and it's less crowded.
Winter (December to February): Mild and rainy, with lower elevations experiencing temperatures in the 40s to 50s °F (4-15 °C). In higher altitudes, snowfall is frequent.
Spring (March to May): Mild and chilly, with highs of 40 to 50 °F (4 to 15 °C). Wildflowers in lowland areas are in bloom.
Hall of Mosses: Forest Near Seattle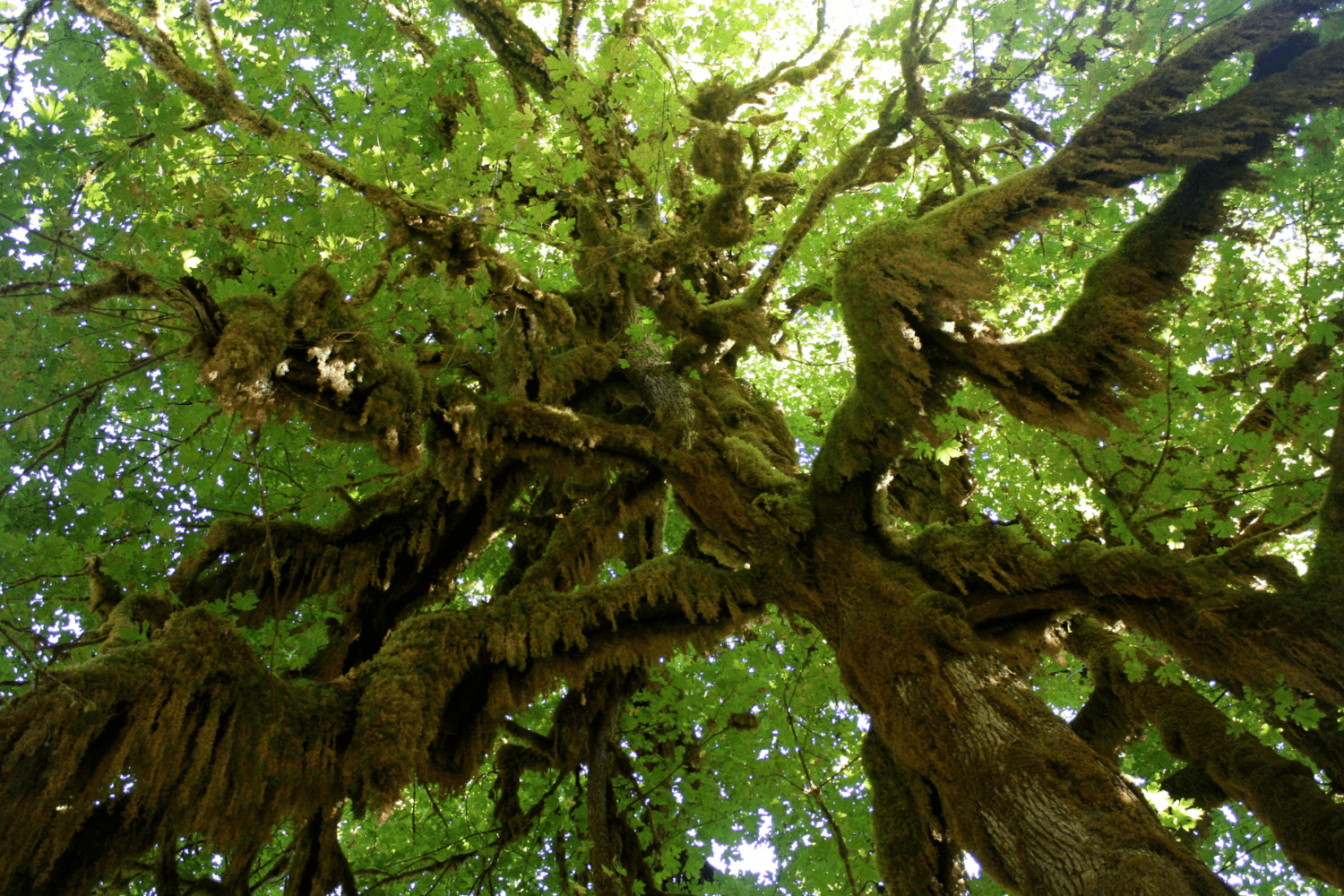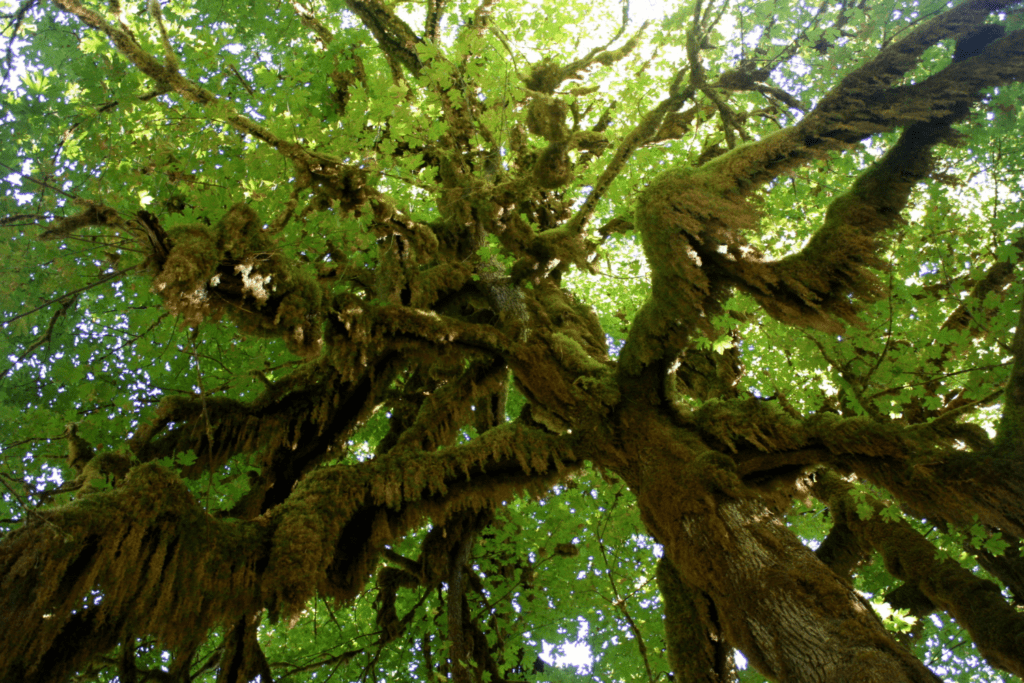 The Hall of Mosses lies in the Hoh Rainforest, part of Olympic National Park on the Olympic Peninsula in Washington State, approximately 216 miles from Seattle. This rainforest is well-known for its old, lush temperate rainforest with towering, hundreds-year-old trees covered in moss. The "Hall of Mosses," a short, 0.8-mile loop trail that winds through this enthralling forest near Seattle, displays the amazing ferns, moss-covered maples, and spruces, inviting guests to explore the enchanting beauty of the Pacific Northwest. The Hall of Mosses offers a captivating and enchanted glimpse into the distinct natural splendor of the Pacific Northwest.
Hoh Rainforest Camping Reservations
To reserve a campsite in Olympic National Park's Hoh Rainforest's, take a look at 'Hoh Rainforest camping reservations' before you go.
1. Go to recreation.gov or the National Park Service website.
2. Look for campgrounds in the Hoh Rainforest, like the Hoh River Trailhead Camp or the Hoh Campground.
3. Choose your campsite and confirm that your desired dates are available.
4. Complete the reservation form by entering your payment information and personal information.
5. Obtain your permit and confirm your reservation.
6. To present your permit at the campground, print or save it.
7. To guarantee a safe and enjoyable stay in this pristine rainforest, be aware of the park's specific regulations, including camping fees and safety guidelines.
Jungle in the USA
A singular and breathtaking experience can be had by visiting a rainforest in the United States, like the Hall of Mosses in the Hoh Rainforest of Olympic National Park. The atmosphere created by the ancient trees covered in vibrant ferns and mosses is mystical and otherworldly. The thick canopy of the rainforest, which is teeming with life, offers the opportunity to see a variety of species, including banana slugs and Roosevelt elk.
The aroma of rich vegetation and damp earth fills the air. These Jungle in USA, are a haven for biodiversity, providing an unmatched chance to get in touch with the natural world, investigate thriving ecosystems, and appreciate the profound beauty of temperate rainforests within your own borders.
Nearby Day Trip Destinations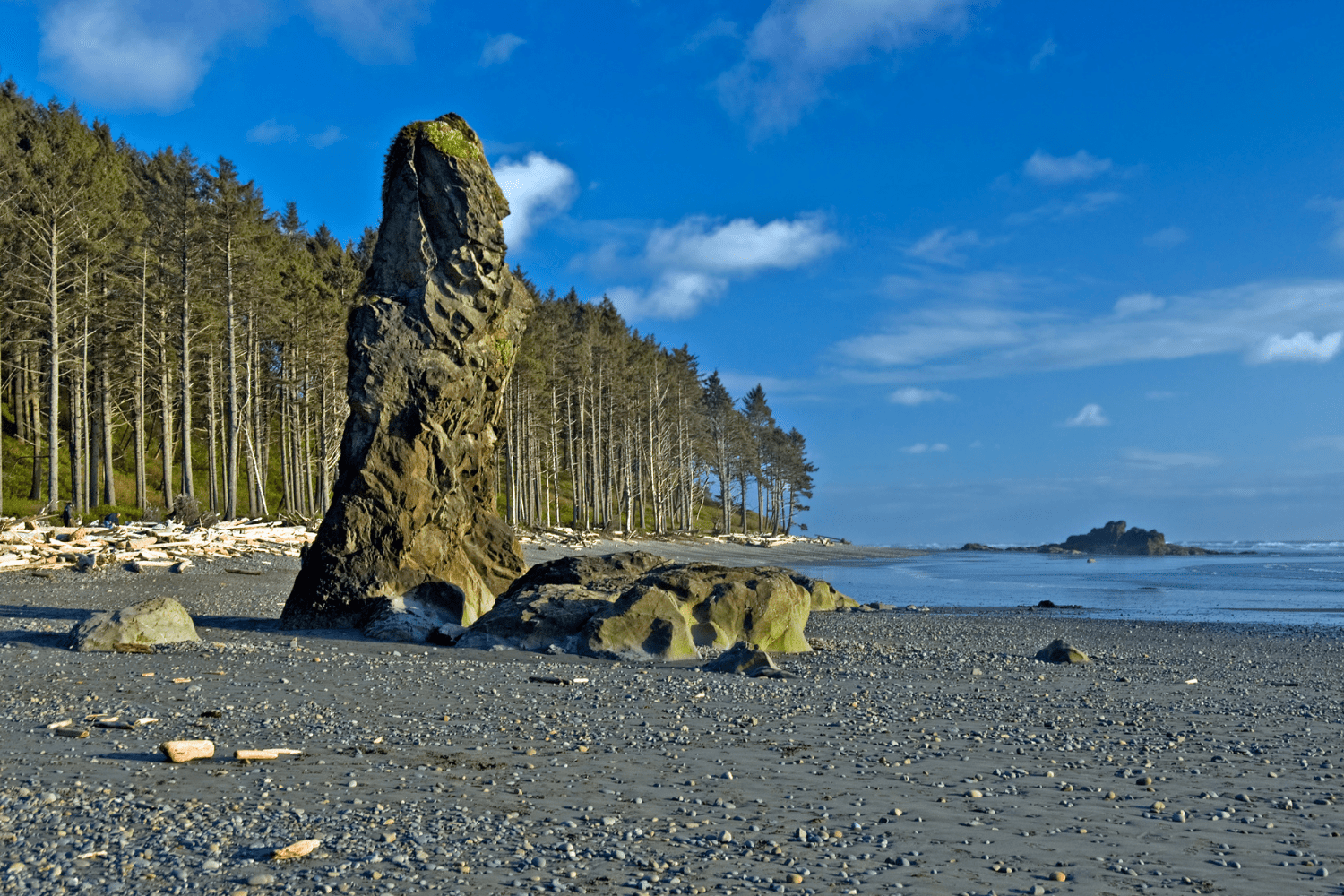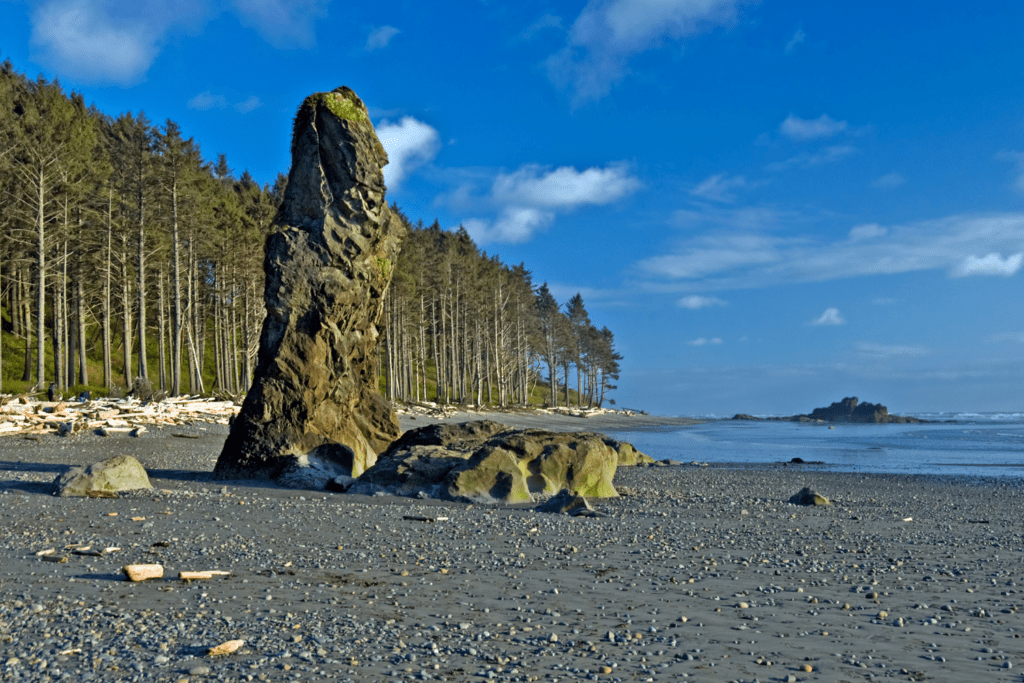 From the Hall of Mosses in the Hoh Rainforest, you can travel to a number of fascinating locations in a single day's time:
Ruby Beach: This untamed coastal location offers dramatic views, tide pools, and sea stacks. The special combination of sandy beach and rocky shoreline makes photography and beachcombing possible. Awe-inspiring sunsets and tide pool life can be seen.
Sol Duc Hot Springs: The ideal place to unwind is these naturally occurring hot springs situated within Olympic National Park. Soak in pools rich in minerals, encircled by old-growth forest. It's a great way to relax after a day of rainforest hiking.
Lake Quinault: This calm lake has beautiful rides, hiking trails, and water sports all around it. A thick rainforest surrounds it. Discover gorgeous trees, cascades, and a variety of wildlife on the Quinault Rainforest loop drive.
Forks: Well-known for its ties to the Twilight novel series, Forks WA Forest provides fans and those with an interest in local history and culture with a distinctive experience.
Conclusion
One of Olympic National Park's most fascinating locations is the Hall of Mosses in the Hoh Rainforest. It features enormous, old trees covered in vibrant mosses that give the place an ethereal feel. Take a leisurely stroll along the 0.8-mile loop trail to experience the tranquil atmosphere and verdant surroundings. Exhibiting rare plants and animals, the Hall of Mosses is home to massive ferns and massive trees such as Sitka spruce and western hemlock. In this enchanted setting, you are guaranteed to encounter wildlife, from elk sightings to admiring the colorful feathers of local bird species. Make plans to visit this temperate rainforest, a genuinely amazing natural wonder, to witness its timeless beauty and peaceful magic.
FAQs