If you're looking for a food haven in Mumbai, look no further than Ghatkopar's Khau Galli. This bustling street food market is a pure delight for foodies, with its variety of mouth-watering dishes and vibrant atmosphere. But before you visit, let's explore what makes Ghatkopar Khau Galli so special and why you should definitely add it to your foodie bucket list.
First things first, let's define what a Khau Galli is. In Marathi, "khau" means food, and "galli" means street; hence, the term Khau Galli refers to a street food market. It's a hub of small stalls, food carts, and kiosks serving up various delicacies, including Indian, Chinese, and street foods.
Why Ghatkopar's Khau Galli is the Best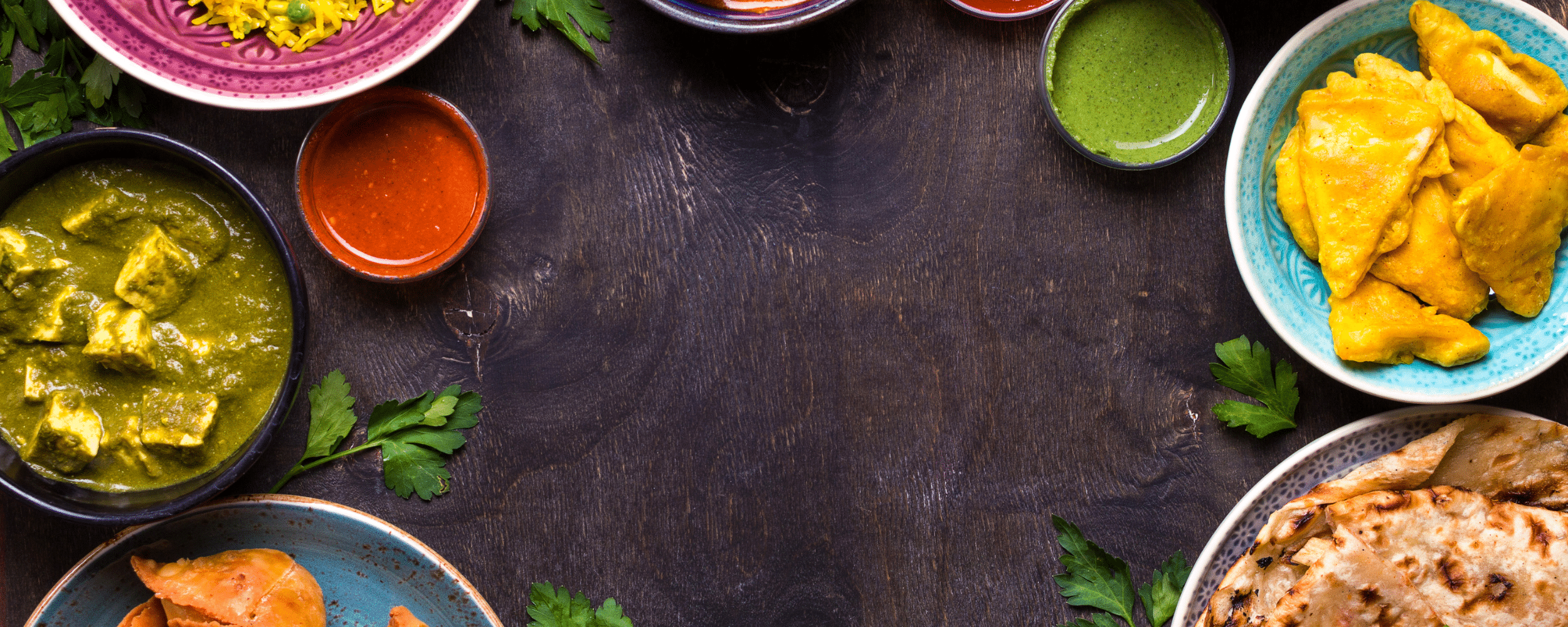 While there are numerous Khau Gallis in Mumbai, Ghatkopar's Khau Galli stands out from the rest. Here's why:
Historical Perspective:
Ghatkopar Khau Galli has been around for decades and has become an integral part of the local food scene. Over the years, it has evolved to include a wider range of food options and attract both locals and tourists. Travel to the past Ghatkopar Khau Galli is a food street located in the heart of the city of Mumbai. This street offers more than just delicious food. Discover the stories behind the food and the influences that have shaped this street over the years. Let's take a quick trip down memory lane. Explore the cultural significance and the culinary legacy of Ghatkopar Khau Galli that make this street a must-see destination for foodies and history buffs.
Origin of Khau Gallis in Mumbai:
Mumbai is known as the "food capital of India," and it's no wonder why – it's a bustling city with a huge variety of cuisines. But there's one thing that stands out – the Khau Galli. These vibrant food streets are synonymous with the street food culture in Mumbai, and they offer something for everyone. But did you ever wonder how these amazing hubs of flavors got their start? Let's take a trip down memory lane and find out! The Khau Galli in Mumbai has its roots in the city's history and the influence of immigrants. It's a place of tradition, innovation, and a mix of flavors that will blow your mind!
Overview of Ghatkopar Khau Galli:
In the heart of Mumbai's bustling suburbs lies a culinary paradise that draws foodies from all over the world. Ghatkopar Khau Galli is a vibrant street food destination that caters to the appetites of both locals and visitors. As you walk through the narrow streets, you'll be overwhelmed by the irresistible smells and the sizzling spices that are expertly blended into every dish.
Whether you're an experienced foodie or you're just looking for a taste of the city's street food culture, you're in for a treat. From mouth-watering street snacks like Vada Pav, Pav Bhaji, and Dosas, to mouth-watering chaat dishes and delicious desserts, there's something for everyone.
So, if you're looking for the best street food in Mumbai, you've come to the right place. Prepare yourself for a culinary journey that will take you on the adventure of a lifetime.
Experience the Vibrant Crowd:
The vibrant and lively crowd at Ghatkopar Khau Galli of food lovers from all over the city of Mumbai can be found on the bustling food street known for its delicious street food. Upon entering this culinary paradise, visitors will be immersed in a buzzing atmosphere, filled with the sounds, sights, and smells of food. We invite you to join us in exploring the energetic crowd, which adds an extra element of excitement and vitality to the experience of dining on the street.
Witness the Khau Galli also via this captivating video Best of GHATKOPAR KHAUGALLI 🤩🔥 WTC Pasta, Pizza Shots, Rollercoaster Ice-cream & much more 📣
Famous Eateries in Ghatkopar Khau Galli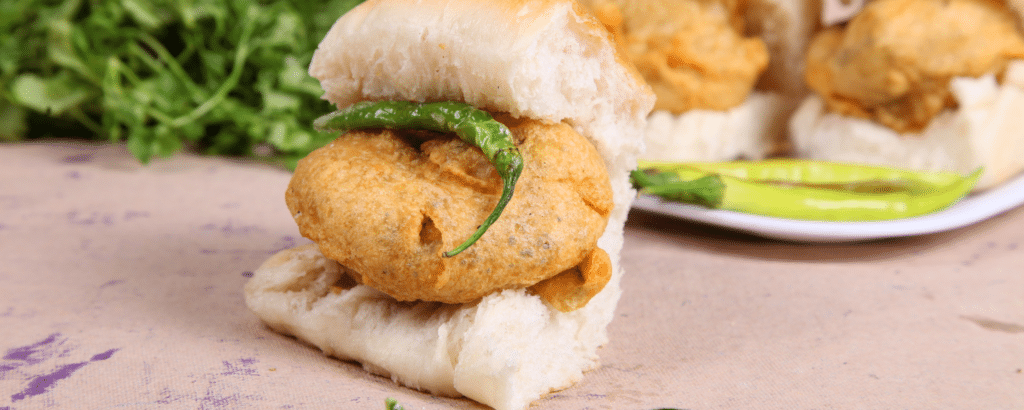 1) WTC Pasta:
It is known for its delicious pasta dishes. Whether you're looking for a classic Italian pasta dish or a creative fusion, you're sure to find it at WTC Pasta. Their pasta dishes are made with fresh ingredients and a combination of rich sauces and a sprinkle of cheese.
2) Manohar Pav Bhaji:
Manohar Pav Bhaji is one of the most popular bhajis in Mumbai. It's a mouth-watering mixture of mashed vegetables simmered in spices and topped with buttery puffs of bread (pavo rolls). The Manohar bhajis are known for their well-rounded flavors and buttery puffs.
3) Bhagat Tarachand:
If you're looking for a classic Indian vegetarian meal, you've come to the right place! Bhagat Tarachand has been serving up delicious dal fry and paneer dishes for ages, and you won't want to leave. It's a great place to eat if you're looking for authentic Indian food.
4) Shree Krishna Fast Food:
The name alone says it all. Shree Krishna fast food is one of the best places to grab a quick bite and satisfy your craving for street food. Whether you are after a crunchy vada pav or a spicy chaat, you will find a variety of savory snacks on the menu that will satisfy your hunger pangs.
5) Jayshree Sandwich:
If you're a fan of sandwiches, Jayshree Sandwich is the place to go! They've got a huge selection of sandwiches loaded with fresh veggies, cheese, and all kinds of yummy sauces. Plus, they've got vegan and vegetarian options too, so you can find something that suits your taste.
6) Khichdi The Global Food:
Khichadi is a classic Indian comfort food that's been around for a long time. But now there's a new way to enjoy it. Khichdi The Global Food has a huge selection of delicious khichdi dishes that are packed with different flavors and ingredients from all over the world. Plus, they're super healthy and delicious!
7) Bhau Vada Pav:
The classic Indian street food dish, vada pav, is one of the most sought-after dishes in Mumbai. Bhau Vada Pav is renowned for its crispy and savory potato fritters, served on a soft bun and complemented with tangy chutneys, creating a delightful combination of flavors that leaves you wanting more.
8) Jain Sweets:
At Jain Sweets, you'll find a wide selection of traditional Indian sweet treats and desserts, all made with care and high-quality ingredients. From tempting jalebis to delicious pedas, there's something for everyone at Jain Sweets.
9) Agarwal Juice Center:
Agarwal Juice Center is one of the go-to places when it comes to refreshing drinks. From fresh fruit juices to milkshakes and smoothies, they have something for everyone. Not only are they delicious, but they're also a great way to beat the summer heat and cool off while walking around Ghatkopar Khau Galli.
10) Pooja Malai Gola:
If you're a dessert lover, you've got to check out Pooja Malai Golas. It's a dessert made from shaved ice, syrups flavored with different flavors, and a big scoop of condensed milk. It comes in all kinds of flavors, so it's sure to be a sweet and cooling treat.
11) Radhe Radhe Snacks Center:
Whether you're looking for a quick grab-and-go snack or a delicious evening snack, you won't find a better selection of vegetarian snacks than at Radhe Radhe Snacks Center. From crunchy samosas to succulent chaat, the menu at Radhe Radhe is packed with savory flavors and snack options with a hint of Indian street food magic.
12) Gupta Chat Centre:
Gupta Chat Centre chaat dishes are one of a kind. From pani puri which is tangy and spicy to bhel puri which is crispy and full of flavor, Gupta Chat Centre has a chaat dish that will have your taste buds dancing.
Must try foods at Ghatkopar Khau Galli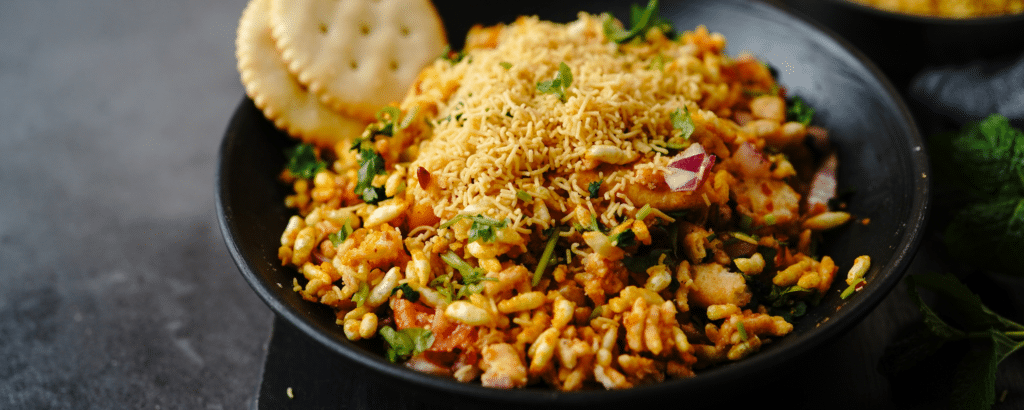 1) Ragda Patties:
A well-known street food meal made out of fried potato patties topped with a variety of chutneys, onions, and sev and served with a fiery white pea curry. It delivers a delicious blending of flavors and textures.
2) Pav Bhaji:
A traditional street cuisine of Mumbai, pav bhaji is a tasty buttery vegetable curry that is eaten with tender bread rolls. The bhaji is a well-liked comfort food that is often prepared with a variety of mashed vegetables cooked in flavorful spices.
3) Vada Pav:
Known as the signature street cuisine of Mumbai, vada pav is made up of a deep-fried potato fritter (vada) that is served inside a pav bun with chutneys and hot garlic powder. It's a flavorful snack that's straightforward but fulfilling.
4) Sandwiches:
There are many different sandwich options available at Ghatkopar Khau Galli, from classics like grilled cheese and vegetable sandwiches to creative concoctions like paneer tikka and corn mayo sandwiches. They are ideal for a quick and satisfying snack.
5) Dosa:
Treat yourself at Ghatkopar Khau Galli to the South Indian specialty of crispy, thin rice crepes (dosa), which can be filled with a variety of ingredients including masala, cheese, paneer, or even chocolate. It comes with chutneys and the lentil soup sambar.
6) Chaats:
Pani puri, sev puri, bhel puri, and dahi puri are just a few of the mouthwatering chaat selections available at Ghatkopar Khau Galli. A combination of crispy puris, potatoes, chutneys, and a burst of flavors that will tempt your taste buds are used to make these sour and spicy appetizers.
7) Pizza Dosa:
Pizza Dosa is a unique take on the traditional dosa that combines Italian and South Indian cuisines. Pizza sauce, cheese, and different toppings are spread over a dosa base and baked till cheesy and delicious.
8) Khichdis:
Try the Khichdis available in Ghatkopar Khau Galli for a hearty and cozy lunch. These one-pot meals are prepared with rice, lentils, and savory spices and provide a filling and delicious meal.
9) Kulfis:
In Ghatkopar Khau Galli, a delicious variety of kulfis are available to help you beat the heat. These frozen dairy sweets are the ideal sweet treat, coming in a variety of flavors like paan and mango as well as more unusual choices like malai and kesar pista.
10) Golas:
Golas, or shaved ice sweets, are colorful and savory ways to cool off. These frozen sweets are flavored with a variety of syrups, including rose, kala khatta, and lemon, and provide a cool rush of flavor on a hot day.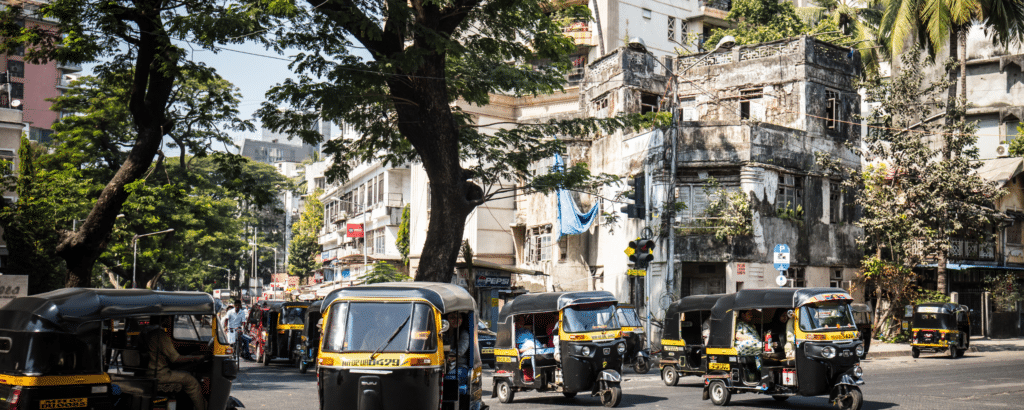 Other Things To Keep In Mind While Visiting Ghatkopar Khau Galli
Food Quality and Hygiene Practices:
When it comes to street food, cleanliness is one of the most important things to keep in mind. You can expect to find top-notch food with a level of hygiene that can rival that of a restaurant.
The food served at Ghatkopar khau galli is fresh and made with quality ingredients. Most of the restaurants use locally produced products, giving you an authentic dining experience.
Eating establishments in Ghatkopar Khau Galli adhere to strict hygiene standards, which include frequent hand washing, covering of food, and the use of high-quality cooking oil.
Price Guide for an individual:
Are you considering visiting Ghatkopar Khau Galli and curious how much the delicious street cuisine there will set you back? There's no need to look any further! Here, you may indulge in a variety of delectable street food treats without breaking your wallet. Food at Ghatkopar Khau Galli is reasonably priced, making it an affordable street food destination. On average, the cost of one person's meal is around Rs. 200.
Group Discounts and Bargaining Tips:
Check out meal deals or group discounts at the Ghatkopar Khau Galli restaurants. Even though negotiating over food may not be common, you could ask for a discount if you're making a bulk purchase or going with a group. These suggestions can help you maximize your spending while enjoying the flavors of this culinary paradise.
Understanding the Crowd and Rush Hours:
To really appreciate your Ghatkopar Khau Galli experience, it's essential to understand the crowds and peak hours. Ghatkopar Khau Galli is the busiest during weekends and festivals.
It's recommended to avoid going during peak hours if you're hoping for a more calm experience. Weekdays are less congested than weekends, making it simpler to explore and try out different establishments.
Best Time to Visit:
Since most restaurants are open in the evenings and late afternoons, these are the ideal times to visit Ghatkopar Khau Galli. During rush hours, the streets might get chaotic, but if you have patience and a sense of adventure, you can easily find your way around.
Where to Sit while enjoying your Food:
The majority of the restaurants in Ghatkopar Khau Galli have their own seating areas. However, you can head to nearby Kamala Nehru Park if you'd rather sit somewhere more serene.
Atmosphere and Entertainment:
The lively atmosphere at Ghatkopar Khau Galli provides a glimpse of Mumbai's vibrant street food scene. Along with the meal, you may also take in local artists' street performances to enhance the overall experience.
Talking with the vendors:
Don't be shy at Ghatkopar Khau Galli about engaging the food vendors in conversation. They are frequently welcoming and devoted to what they do, and you can pick up a few tips on regional culinary customs.
How to Reach Ghatkopar Khau Galli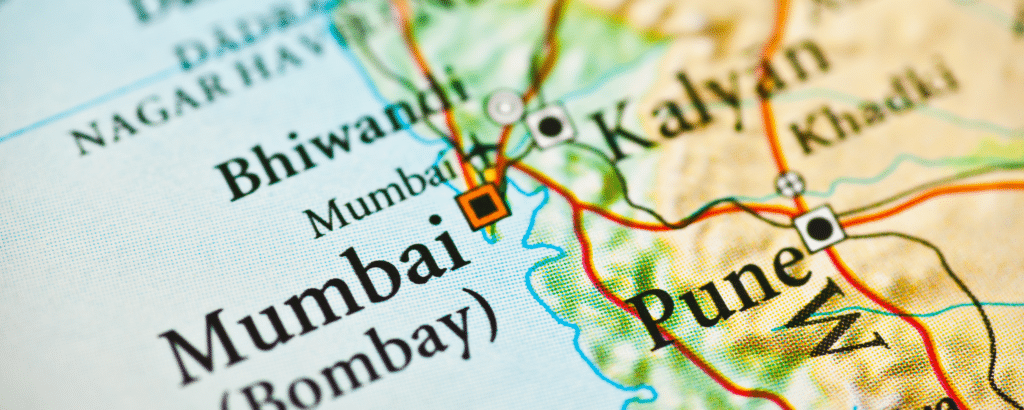 Ghatkopar Khau Galli is located in the heart of Ghatkopar West, a bustling suburb in Mumbai. The area is well-connected by trains and buses, making it easy to reach. If you're wondering how to get to Ghatkopar Khau Galli, here are some options:
By Train: Mumbai's suburban rail system is a reliable and well-liked means of transportation. The closest railhead to Ghatkopar Khau Galli is the Ghatkopar railway station, a significant junction on the Central Line. The busy food street is only a short walk or rickshaw ride away from there.
By Metro: Another simple way to go to Ghatkopar Khau Galli is to take the Versova-Andheri-Ghatkopar Metro Line, also referred to as Metro Line 1. It is conveniently located near the Ghatkopar Metro Station, making it accessible to commuters coming from all regions of Mumbai.
By Bus: Mumbai has a robust bus network that offers seamless citywide connectivity. Ghatkopar Khau Galli is reachable for individuals who favor taking buses because it is on several routes. You may reach the bustling food street by getting off at the Ghatkopar Bus Depot or any other nearby bus station and walking a short distance.
By car or cab: Ghatkopar Khau Galli is easily accessible by main roads and highways if you would rather drive or hire a cab. To get to the food street quickly, you can either use a GPS navigation system or one of the well-known ride-hailing services. Consider that parking may not always be available, and make your plans accordingly.
Consider the various transportation options as you prepare for your trip to Ghatkopar Khau Galli and select the one that best meets your needs and interests.
Tips and Precautions to Take in Ghatkopar Khau Galli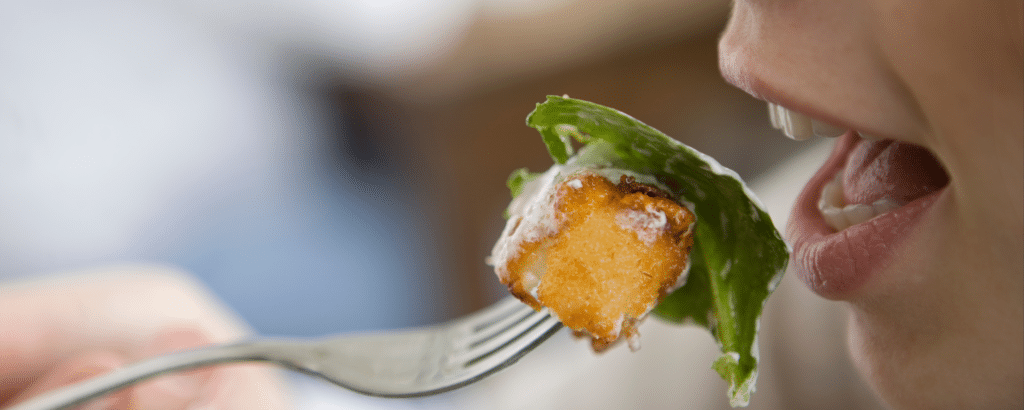 Pick clean and hygienic food stalls: Seek out food stands that place a strong emphasis on cleanliness and hygiene. Choose vendors in Ghatkopar Khau Galli who follow safe food handling procedures, such as using clean utensils, wearing gloves, and offering freshly prepared food.
Go for well-cooked food: Choose well-cooked food to lower your chance of contracting a foodborne illness. Aim for fully cooked meat, poultry, and seafood, and steer clear of dishes that contain raw or undercooked foods.
Water Caution: Take care of the water you drink. Stick with bottled water or prepackaged drinks to prevent any possible contamination. Avoid drinking unfiltered tap water or ice that has been produced with it.
Moderately spicy and oily foods: Spicy and fatty foods might occasionally cause stomach pain. If you have a sensitive stomach, you might want to limit your consumption of these foods or opt for milder substitutes.
Stay Hydrated: Staying hydrated is important, especially in hot temperatures. Bring water with you so you can stay hydrated and feel refreshed. Fluid intake can also help with digestion.
Practice Portion Control: Ghatkopar Khau Galli has a lot of mouthwatering foods to choose from; however, it's best to exercise portion control. Your intestines may be strained if you overeat. Eat less and relish the flavors without filling your tummy to capacity.
Be Aware of Allergens: Let the food providers know if you have any specific food allergies or intolerances by outlining your dietary needs. Ask what ingredients were used in the food, and stay away from anything that could cause an allergic reaction or discomfort.
Carry Medicines: It may be prudent to carry required drugs, such as antacids or digestive enzymes, as a preventative measure if you have a history of stomach problems or digestive sensitivities.
Final Thoughts
Ghatkopar Khau Galli is a mouthwatering example of Mumbai's thriving street food scene. You are immediately taken to a world of flavors, fragrances, and culinary innovation the instant you set foot in this gourmet heaven. For every food fan, the bustling environment, the sizzle of grills, and the colorful assortment of dishes combine to produce an amazing experience.

Ghatkopar Khau Galli is a feast for the senses, whether you're a resident of Mumbai or a foreign visitor. Enjoy renowned street food classics like Ragda Pattice, Pav Bhaji, and Vada Pav, or discover the combination of traditional and cutting-edge cuisine that highlights the vendors' creative culinary skills.
Though it is more than simply a food street, Ghatkopar Khau Galli. People from all walks of life go there to celebrate their love of cuisine in this melting pot of cultures. It's a setting where strangers, friends, and family come together over cheerful chats and shared plates.

Whether you're a seasoned eater or a first-time visitor, Ghatkopar Khau Galli will leave an everlasting impression on both your taste senses and your emotions. So enter this culinary wonderland, discover the many options, and savor each taste. Ghatkopar Khau Galli is a call to embrace the beauty of street cuisine and to immerse yourself in a mouthwatering culinary journey.
FAQs