Nestled in the heart of the Pacific Northwest, the Forks, WA Forest is an enchanting natural wonder. It beckons all who seek unspoiled beauty and tranquility. Here, ancient trees loom tall, dense undergrowth teems with life. A tranquil ambiance lures nature lovers and adventurers from far and wide. However, Forks is more than just a haven for outdoor enthusiasts. It's a town that holds a special place in the hearts of "Twilight" fans, as the iconic backdrop to the beloved book and movie series.
In this blog, we embark on a journey into the heart of the Forks, Wa forest. We shall delve into its enchanted allure and its significance for travelers in search of an immersive natural experience. We'll venture into the diverse ecosystems, observe the local fauna, and explore the recreational possibilities that this hidden gem of the Pacific Northwest has to offer. From the mystical, moss-draped trees of the Hoh Rainforest to the thundering beauty of Sol Duc Falls in Olympic National Park. Forks, Washington, promises a once-in-a-lifetime forest adventure, tailored to your hiking expertise filled with unforgettable outdoor experiences.
Exploring the Forks, WA Forest
Forks, Washington, and its surrounding areas are celebrated for their lush and remarkably diverse forests. This region's breathtaking landscapes include old-growth rainforests, dense woodlands, and pristine wilderness. Towering trees, vibrant flora, and a rich ecosystem create an environment that captivates nature enthusiasts. It offers a unique opportunity to explore the wonders of the Pacific Northwest.
1. Hoh Rainforest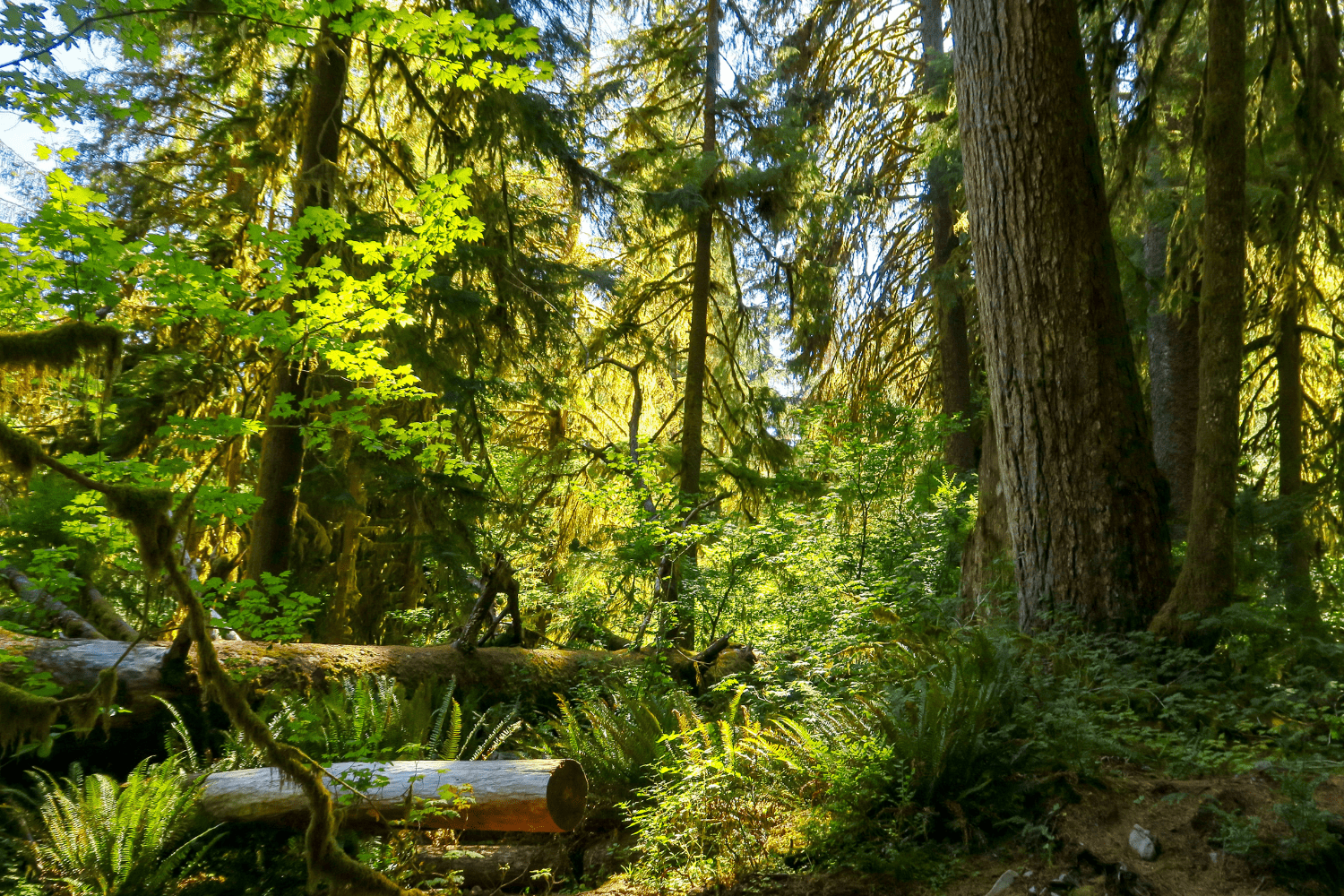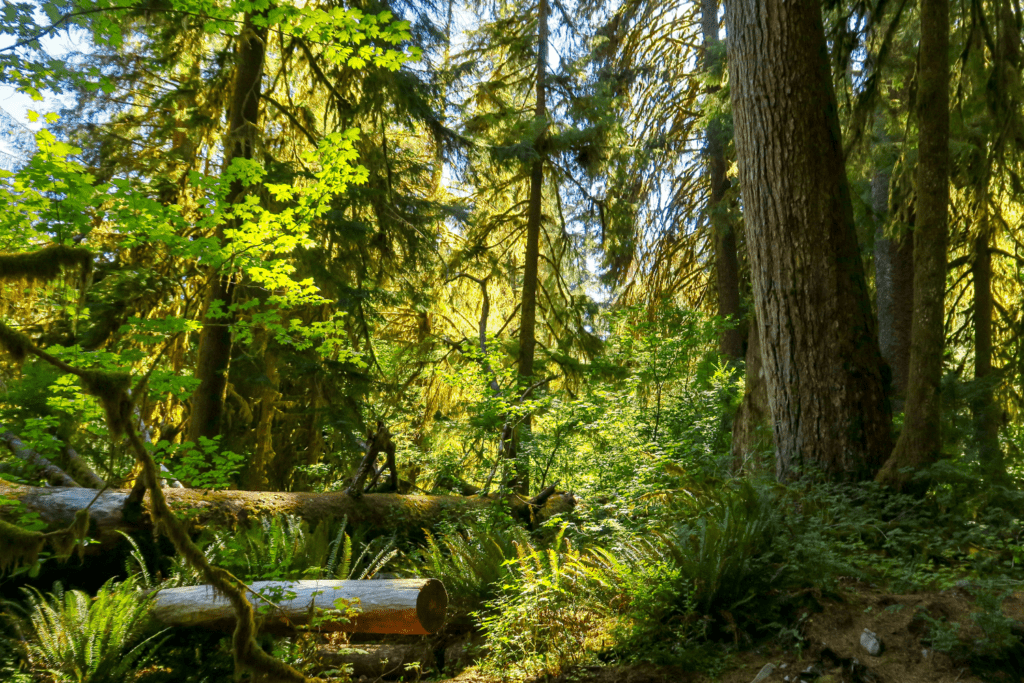 The village of Forks is only a short drive away from the Hoh Rainforest. It is situated on Washington's Olympic Peninsula. It's an easy location for travelers, with US Highway 101 providing easy access. This moderate rainforest is well known for its distinct and alluring characteristics. Vibrant mosses and ferns cover towering old trees, such as Sitka spruce and western hemlock, forming a thick canopy of greenery. Experiences like this may be had on peaceful paths like the Spruce Nature Trail and the Hall of Mosses.
Outdoor enthusiasts can enjoy photography, hiking, camping, and wildlife observation in the Hoh Rainforest. Explore the Hoh River Trail for trekking adventures. Secure your spot with Hoh Rainforest camping reservations at Hoh and Olympus campsites, surrounded by natural splendor. Keep an eye out for banana slugs, Roosevelt elk, and diverse bird species.
It is advised to pack layers to accommodate the changing weather, sturdy hiking boots, and waterproof clothing for a comfortable visit. For those who enjoy the outdoors, the Hoh River Rainforest is an incredible find. It offers a chance to get up close and personal with the untainted Forks, Wa Forest.
2. Quinault Rainforest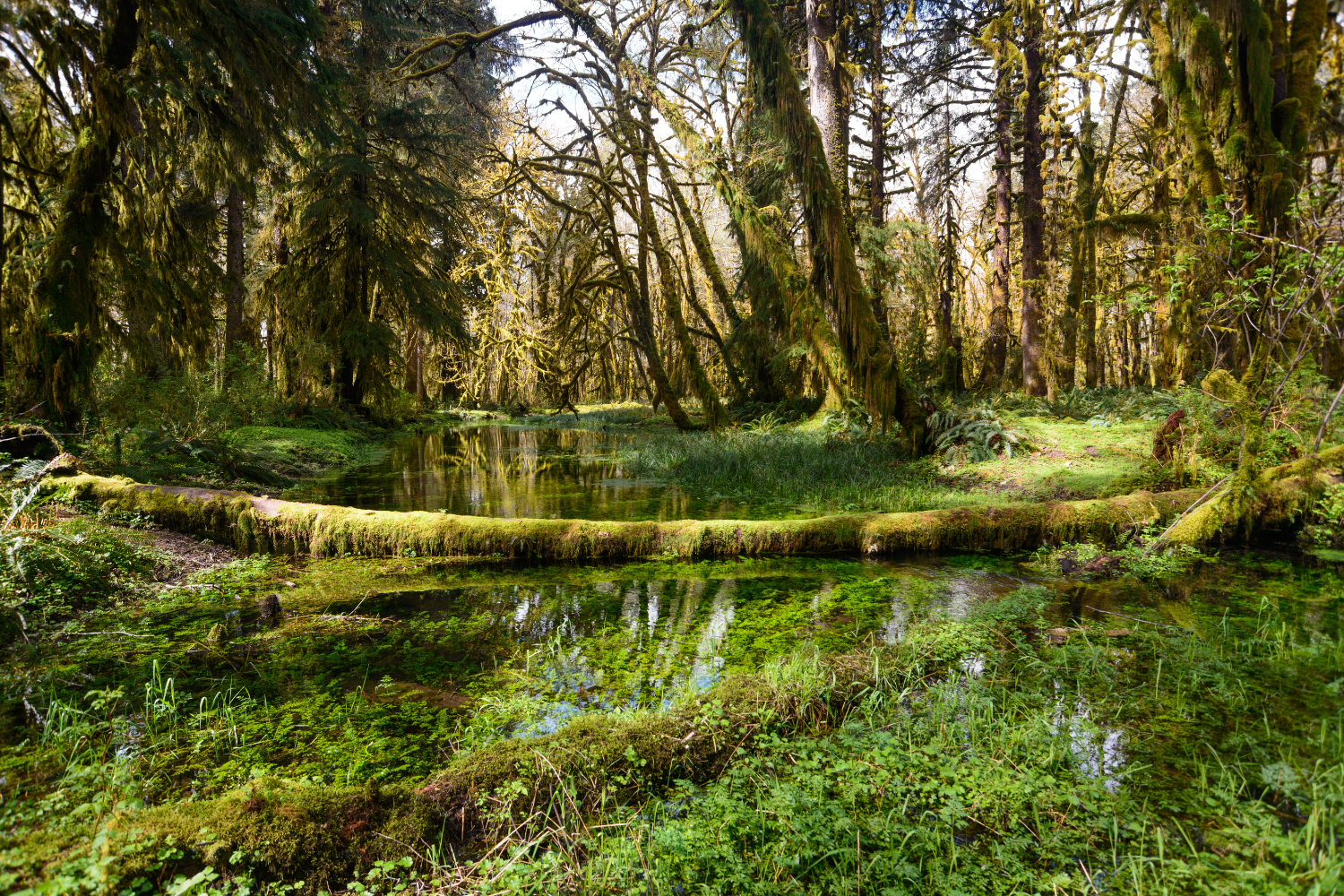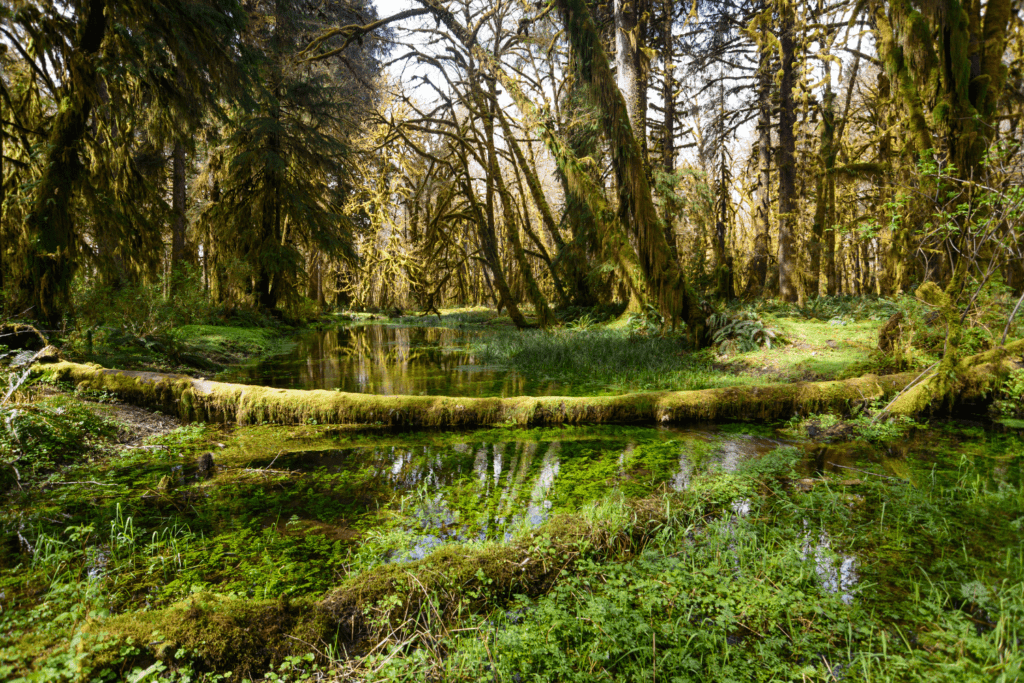 Situated on Washington's Olympic Peninsula, the Quinault Rainforest is around thirty miles south of the town of Forks. Due to its convenient road access, this beautiful rainforest is a well-liked stop for tourists venturing into the Forks, Wa forest region.
The Quinault Rainforest is characterized by its towering Sitka spruce and Douglas fir trees, rich vegetation. Its peaceful pathways that meander through its enchanted vistas. Outdoor activities available to visitors include hiking on well-trod paths, camping in approved locations, seeing wildlife, and taking pictures of the breathtaking environment.
It is important to pack rain clothing, wear sturdy, waterproof footwear, and be ready for any weather changes when exploring the rainforest. A wide range of bird species, black bears, and Roosevelt elk are among the area's notable animal observations. Nature lovers should not miss the Quinault Rainforest since it provides an immersive natural experience.
3. Bogachiel State Park
Forks Wa forest region is home to Bogachiel State Park, which is conveniently located near the town of Forks. For residents and tourists alike, its handy location makes it simple to get there.
The Forks, WA Forest boasts rich vegetation, tall old-growth trees, and peaceful paths winding through lush surroundings. Moss-covered trees, glistening streams, and a calm atmosphere envelop each visitor. It showcases the growing beauty of nature in this serene place.
Bogachiel State Park offers a variety of outdoor activities for visitors visiting the Forks Wa forest. The well-maintained paths that lead to picturesque views and riverbanks will be appreciated by hikers. Camping in the park's campgrounds allows visitors to enjoy the tranquil surroundings. Photographers and wildlife aficionados will be able to see a variety of animals, such as bald eagles, black bears, and deer.
Bring a camera to record the amazing view of the forest. Also bring rain clothing, and sturdy hiking boots for the best possible experience. A classic Pacific Northwest forest experience may be had in Bogachiel State Park, whether you're hiking, camping, or just taking in the scenery.
4. Sol Duc Valley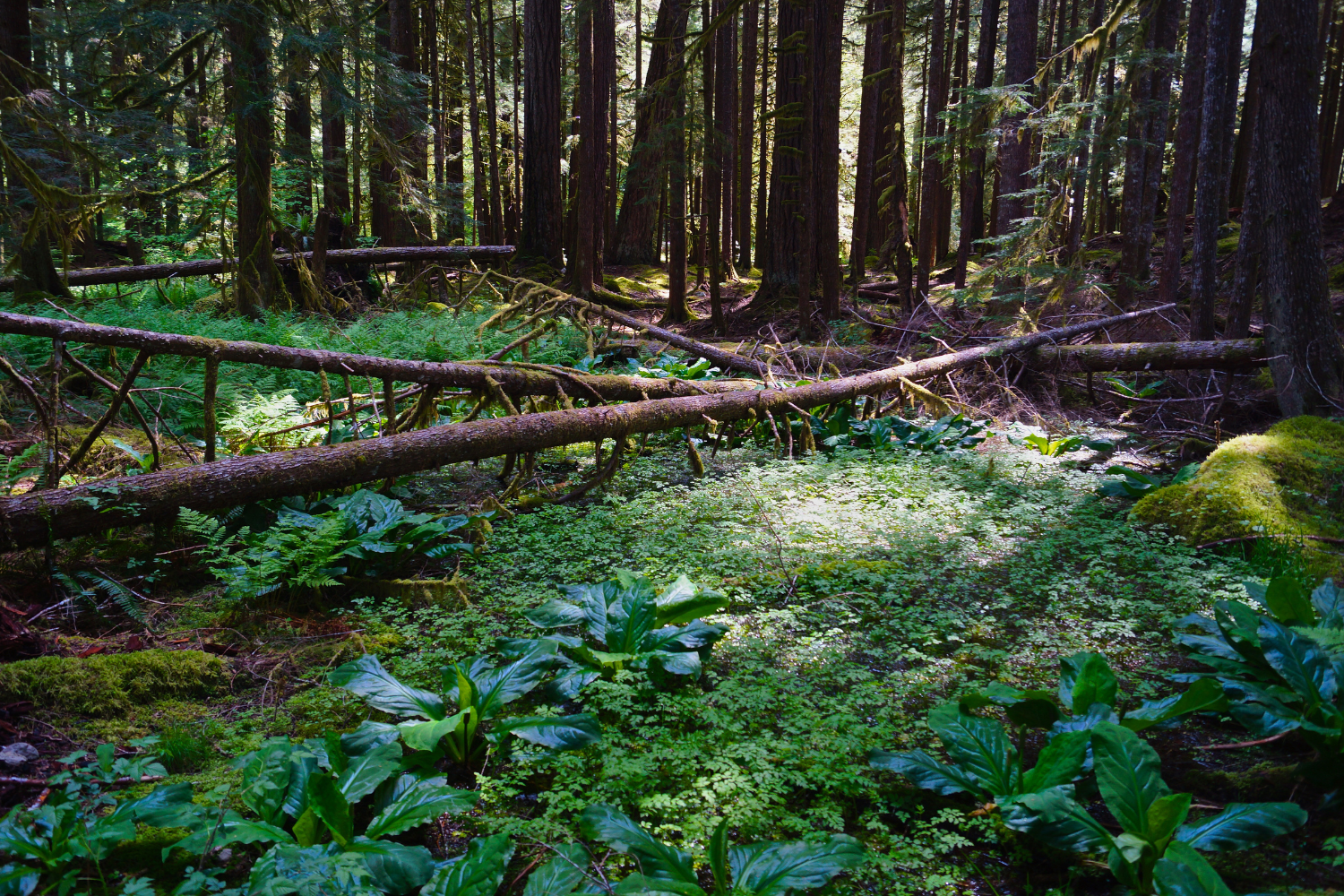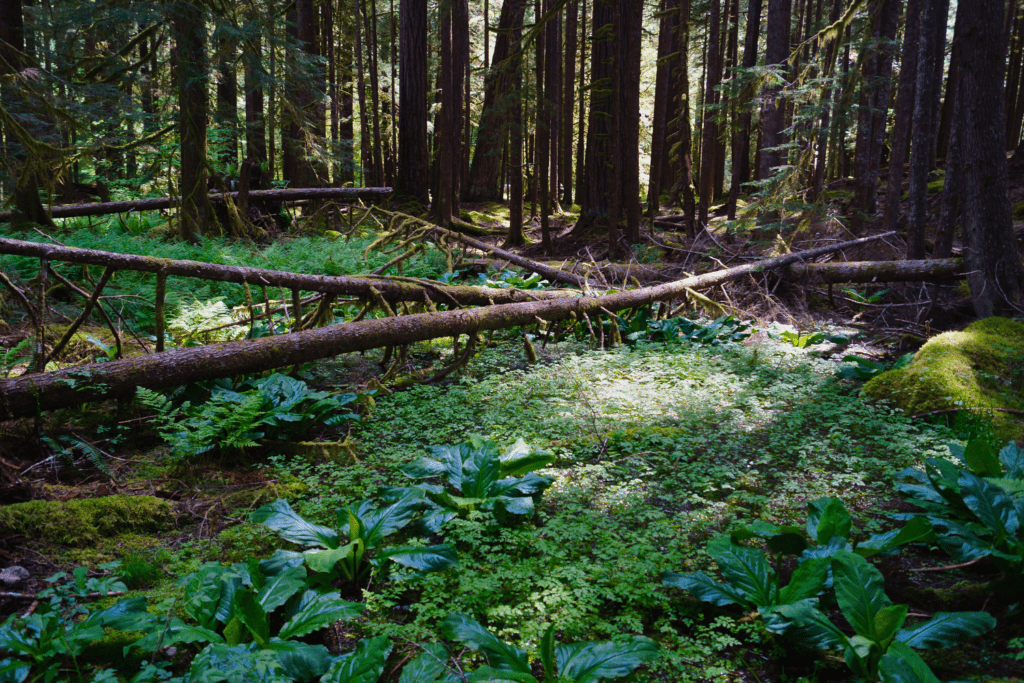 About 40 miles southwest of the town of Forks, in the Forks, Wa forest, is Sol Duc Valley. Travelers will find it to be a handy location because it is easily accessible by automobile. This enchanted forest is well-known for its distinctive features, which include lush vegetation, tall trees, and tranquil paths that meander across a variety of terrain.
Indulge in a range of outdoor pursuits when visiting Sol Duc Valley, such as hiking on well-kept paths, camping in approved locations, seeing animals, and taking breathtaking pictures of the area's natural splendor. It's important to pack rain clothes, bear awareness supplies, and strong hiking boots for negotiating the trails. Hikers may come across significant wildlife in this area, including Roosevelt elk, black bears, and a variety of bird species. For a fully immersed natural experience, Sol Duc Valley is a must-visit location near Forks, Wa forest.
5. Olympic National Forest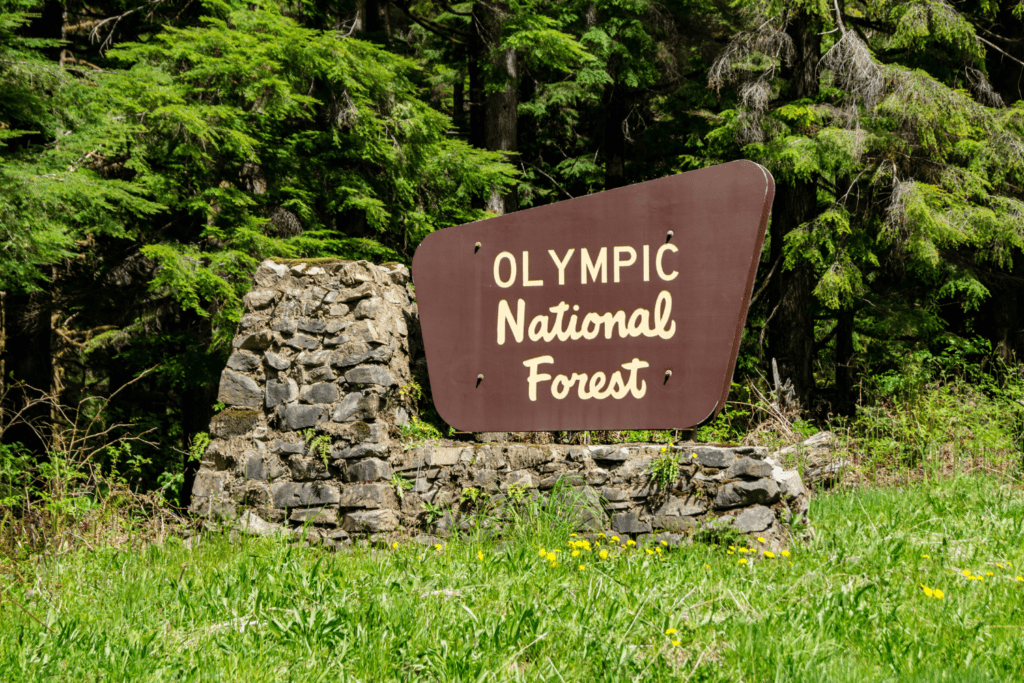 The lovely town of Forks, Washington, is home to the Olympic National Forest, which is easily accessible to both locals and tourists. With its rich vegetation, tall trees, and peaceful paths winding through its picturesque settings, this forest is well-known for its distinctive features.
There are many different outdoor activities available to visitors visiting the Forks, Wa forest, such as hiking, camping, animal viewing, and photography. From easy day walks to strenuous backcountry treks, hikers may explore the network of well-maintained trails. To experience the peace of the forest, campers can pick from a variety of campsites. In addition to photographers capturing the stunning majesty of the forest, wildlife aficionados may view a variety of species, including bald eagles, Roosevelt elk, and black bears.
Packing the right equipment and monitoring trail conditions are crucial for a successful forest excursion, particularly in the unpredictable weather of the Pacific Northwest. Take in the delights of the Forks, Wa forest, and its colorful fauna during a wonderful outdoor excursion.
The Forks, WA Forest Twilight Connection
The Twilight book and movie series, which were based on this charming hamlet in the Pacific Northwest, brought Forks, Washington, and the Forks Wa forest trees that surround it, international renown. Due to the swarms of followers anxious to fully immerse themselves in the magical realm of the narrative, the Twilight craze has had a huge influence on local tourism.
In the Forks, Wa forest, guests may explore a variety of Twilight-related sights and activities. Among these are the "Welcome to Forks" sign, a well-liked location for photos, and the "Forever Twilight in Forks" event, which is held in honor of the television series by the local Chamber of Commerce. The village offers fans an opportunity to enter the made-up world of Bella and Edward with its "Bella's House" replica, guided tours, and stores with Twilight-related merchandise.
Forks and the surrounding Forks Wa forests are a must-visit location for Twilight book lovers, as the link remains a big tourism attraction.
Best Time to Visit the Forks, WA Forest
The Forks, Wa forest appeals to a variety of tastes and has a distinct charm at every season. Spring offers bright flowers and restored animals, but be prepared for possible rain, so carry rain gear. The busiest season is summer, when temperatures are pleasant and dry but can get busy. Fall has gorgeous foliage, fewer people, and pleasant weather. Winter turns the woodland into a peaceful paradise that's ideal for a peaceful getaway.
Visit in the spring for lush vegetation, in the summer for outdoor sports and hiking, in the autumn for colorful foliage, and in the winter for a serene, snowy haven for the best trips. The decision is based on how much privacy you want in the Forks, Wa forest and how much you can withstand the weather.
Local Accommodations and Dining At Forks, WA Forest
There are several hotel alternatives available for those wishing to stay close to Forks, Wa Forest. Cozy cottages, plush hotels, and quaint bed-and-breakfasts are all available. For those who love the outdoors, a lot of lodgings have easy access to hiking paths and views of forests. Camping overnight at one of the forest's campsites for a more immersive experience.
When embarking on your visit to the Hoh Rainforest, you have the option to enhance your experience by choosing to stay at a variety of Hoh Rainforest Lodging options available.
Forks also provides distinctive eating experiences, such as Pacific Northwest cuisine and fresh fish from the area. Make sure to sample some of the town's restaurants' offerings, like Dungeness crab or fresh salmon. Known for its Twilight-themed décor and memorabilia, the "Forks Coffee Shop" is a must-visit location.
Lodging can fill up fast, so it's best to book well in advance when planning your vacation, especially during the busiest times of the year. Additionally, to guarantee a place amid the splendor of the Forks, Wa forest at renowned dining establishments, think about making reservations.
Conclusion
Think of the Forks, Wa forest as the ideal starting point for exploring Olympic National Park's spectacular natural splendor. This unspoiled jewel of the Pacific Northwest offers a tranquil and entrancing forest experience, complete with towering trees, an abundance of greenery, and a variety of outdoor activities, such as hiking and animal viewing.
It's time to arrange your trip to this alluring location. For those who enjoy nature, adventure, or Twilight, the Forks, Wa forest offers a unique getaway. Don't hesitate any longer; begin your journey to this remarkable doorway and discover all of its many treasures. Don't forget to find other local locations that enhance your trip and make your Pacific Northwest tour genuinely unique.
FAQs