Looking for a fun activity to do in Jaipur? Look no further than PUNO! It is Jaipur's first-ever trampoline park and offers a variety of activities that are perfect for everyone in your family or group of friends. Puno Jaipur is divided into different sections, so you can choose the activities that appeal to you the most. Whether you want to jump on the trampolines, play some dodgeball, or go down our giant slide, we guarantee that you'll have a blast at PUNO Jaipur!
About PUNO, Jaipur: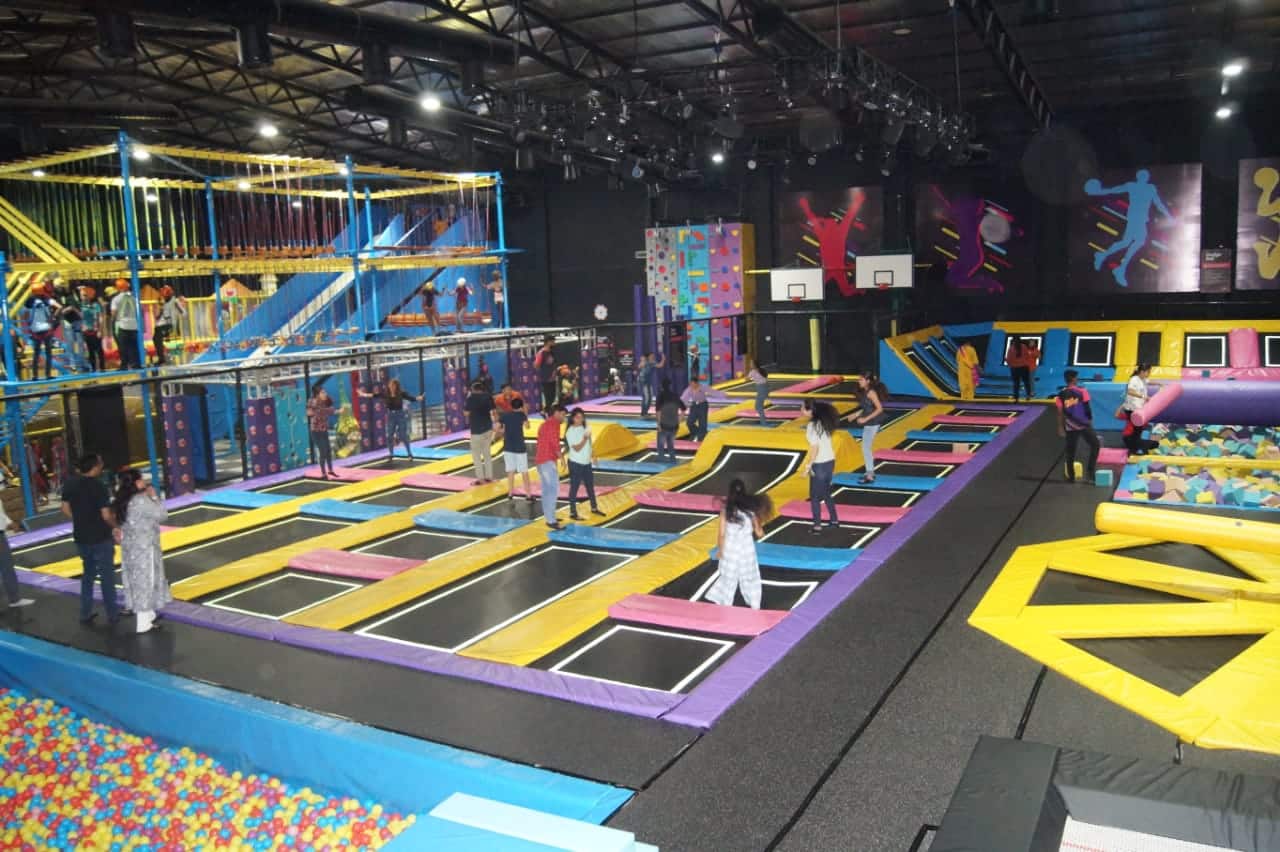 Puno Jaipur is an adventure park located in Jaipur that offers a variety of activities for both kids and adults. The Ninja Course is a great way to test your agility and strength, while the Rope Course provides a challenging test of balance and coordination.
For those who want to show off their dunking skills, the Slam Dunk section is sure to impress. And for those who want to take on a more extreme challenge, the Roller Bridge is sure to provide an adrenaline rush. Kids can also enjoy the park with the various sections designed just for them in the Kids Arena. So whether you're looking for a fun way to get active or just want to explore all that Puno Jaipur has to offer, be sure to check out this unique adventure park.
Puno Jaipur is a trampoline park that offers a unique and thrilling experience for all its visitors. With various sections to explore, the Adventure Arena is perfect for anyone looking for an adrenaline-pumping activity. From the beginner's section to the more advanced areas, there is something for everyone to enjoy. The staff at Puno are also extremely friendly and helpful, ensuring that everyone has a safe and memorable time. So if you're looking for a fun-filled activity in Jaipur, be sure to check out Puno!
Looking for an adrenaline-pumping activity that will also leave you laughing uncontrollably? Then you need to head to the Donut Slide at Puno in Jaipur. Here, you can slide down a donut-shaped tube and experience some ultimate fun. If you're feeling extra adventurous, try your hand at the Ninja Course area where you'll have to cross various obstacles. Or, if you're looking for something a little more relaxed, simply keep your balance on the Roller Bridge. And don't forget to challenge your friends to a fight in the Battle Beam section – it's sure to be a battle for the ages! Whichever activity you choose, you're guaranteed to have a blast at Puno Jaipur.
PUNO, Jaipur is the perfect place to have a blast with your friends! With a Free Jump Arena, you can freestyle to your heart's content and jump carefreely. The kids will also enjoy their time in the Kids Arena with its Soft Play Arena and EPP Playzone area. You can also involve yourself in various fun-filled activities with your friends and have a great time here at PUNO, Jaipur!
How to Reach:
PUNO, Jaipur is a beautiful place located nearly 6.2 km away from the hustle and bustle of the main city. It takes around 14 minutes to drive there from the heart of Jaipur. PUNO is accessible by public transport and you can also hire a cab or rent a vehicle if needed. This place is perfect to spend some quality time with your loved ones away from the busy city life. The tranquil atmosphere and serene surroundings of PUNO will definitely make your day. So, if you're ever in Jaipur, don't forget to visit PUNO for an unforgettable experience!
Entry Ticket Prices:
For 60 minutes: INR 660/Adult
For 90 minutes: INR 910/Adult
Activities in Puno, Jaipur: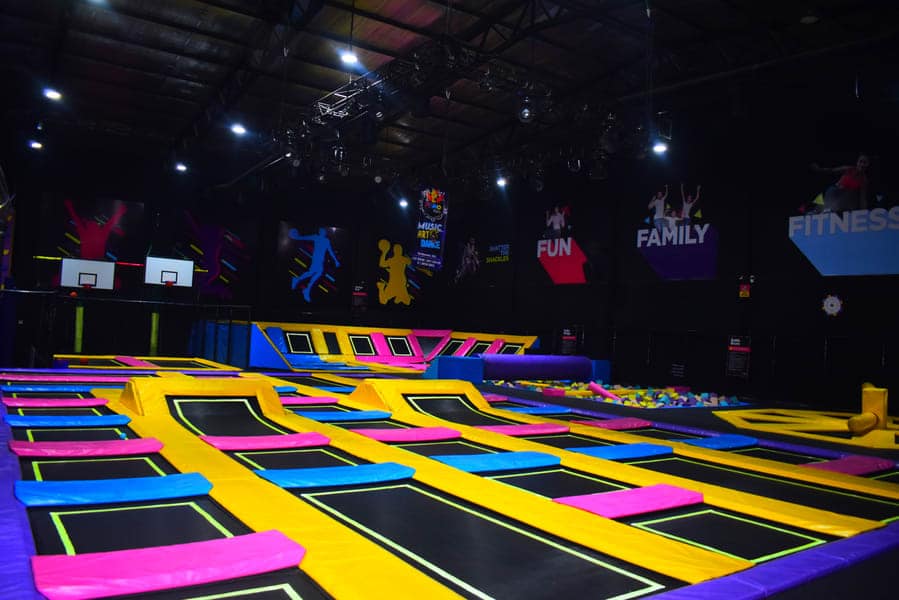 PUNO Junior
PUNO offers a new activity that is not only thrilling and exciting but also boosts fitness and integrates the function of amusement. This activity is safe for children of all ages and provides a great way to get them moving. Additionally, it is a great way to teach them how to stay active and have fun at the same time. PUNO's new activity is perfect for those who are looking for an adventure, as well as those who want to improve their fitness level. It is also a great way to bond with your child, as you can both enjoy the thrills and spills together. So, what are you waiting for? Come on down to PUNO and let your child loose on our new activity area. They're sure to have a blast!
Kiddie Cars
Looking for a fun activity to keep your little ones entertained? Kiddie Kars offers a unique and thrilling experience for kids of all ages! Our kiddie cars are designed for bumper-to-bumper action, and our track is full of twists and turns to keep things interesting. Plus, our staff is always on hand to make sure that everyone is having a safe and enjoyable time. So come on down and let your Junior loose at Kiddie Kars!
Jumpin Airbag
The airBag is the perfect toy for your energetic junior who loves to jump! The airbag is soft and cuddly, making it safe for your junior to jump on. The AirBag is also great for indoor or outdoor use, making it versatile for any activity. Get Jumpin' and Get Crazy with Puno Junior's Jumpin' AirBag today! Your junior will love it!
Air Hockey
Air hockey is a great way to improve your reflexes and hand-eye coordination. The game is simple: two players compete to hit a small puck into the other player's goal using paddles. The first player to score seven goals wins. Air hockey is a fast-paced game that requires quick reflexes and precise aim. Although it is often thought of as a children's game, air hockey can be enjoyed by people of all ages. The next time you are looking for a fun and challenging way to improve your coordination, pick up a paddle and give air hockey a try. You might just find yourself addicted to the fast-paced action.
Off-Road Champs
Off-road champs is a great toy for kids that love cars and want to play with them in the sand, snow, or dirt. It is also perfect for those who want to have a little more control over their car than what is possible with an on-road car. The off-road champs have a four-wheel-drive that can go through any terrain imaginable. There are no roads that can stop this car. In addition, the car has a working suspension system so that it can go over any bumps in the way. The tires are made of rubber so they will not get stuck in the mud or sand. This car is sure to provide hours of fun for any child who loves to play with cars. Order your off-road champs today! Your child will be sure to love it.
Foam Pit
There's nothing quite like the feeling of jumping into a big pile of soft, fluffy foam. It's like being surrounded by a cloud, and for a few moments, you can forget all your worries and just enjoy the sensation of weightlessness. That's why foam pits are such popular places for kids to play. They can jump and tumble and roll around without fear of getting hurt, and they always end up with a big smile on their face. If you're looking for a fun place for your kids to burn off some energy, then a foam pit is definitely the way to go.
Connect 4
When most people think of the game Connect 4, they think of it as a simple game that can be played by people of all ages. However, this game can actually be used to teach young children some important life skills. For example, the game can help to generate effective problem-solving skills. In order to win the game, players must be able to plan ahead and think strategically. This skill can also be applied to other areas of life, such as schoolwork or career planning.
Additionally, the game can help to develop motor skills. Players must use fine motor control in order to place the pieces on the board. This skill is not only important for playing the game, but also for everyday tasks such as writing or using a computer. Finally, Connect 4 is also an amazing way of teaching your junior how to make friends. The game is a great icebreaker and can help kids to socialize and interact with others. As a result, it is clear that Connect 4 is much more than just a simple game – it is a tool that can be used to teach valuable life skills.
Interactive Ball Pool
Interactive ball pools are a great way to help kids develop a variety of important skills. By playing in a pool filled with hundreds of balls, kids can build hand-eye coordination, gross and fine motor skills, spatial awareness, grasping skills, problem-solving skills, balance, and even language and social skills. Plus, it's just plain fun! So if you're looking for a fun activity that will help your child develop key skills, an interactive ball pool is a great option.
Play With Clay
Children usually engage in play with clay during their preschool and early elementary school years. It's a fun and easy activity for them to do, but it also has many benefits. Playing with clay can help children develop fine motor skills, boost their creativity, and improve problem-solving abilities. Many children find the tactile nature of clay to be therapeutic, and it can provide a sense of calm during anxious or stressful moments. Modeling clay is also a great way for kids to express themselves and explore different emotions. So next time your child is feeling restless or bored, encourage them to play with clay. It could be just what they need to recharge and feel calmer.
Rotating Globe
Rotating Globe is all about having fun. No matter what your world looks like, we think that life is all about having a good time. We want to help you hold tight and enjoy the ride. We believe that when you rotation , you should do it with a smile on your face. So whether your world is full of happiness or sorrow, we think that Rotating Globe can help you find the fun in life. Thanks for taking the time to check us out and we hope you have a great day!
Swing Bridge
Who says only adults can have all the fun? At PUNO, we believe that everyone should be able to enjoy the thrill of a swing bridge. That's why we've created a junior version of our popular attraction, specifically designed for kids. The PUNO Junior swing bridge is just like the original, but smaller and safer, so that even the littlest ones can enjoy the fun. With its easy-to-use controls and comfortable seats, the PUNO Junior swing bridge is the perfect way for kids to get their thrills. So come on down and join in the fun!
Tap-a-Tap
You know that feeling when your heart is pounding, the adrenaline is pumping, and you're completely focused on the task at hand? That's the feeling you get when you're playing Tap-a-Tap. In this high-energy, competitive game, you'll need all your dexterity and quick reflexes to win. As each plastic ball lights up, your job is to tap it before your opponents do. It's a fast-paced game that will have you on the edge of your seat. And best of all, it's a great way to improve your cognitive skills. So if you're looking for a fun and challenging way to improve your hand-eye coordination, Tap-a-Tap is the game for you!
Time Machine
The brightly colored human hamster wheel creates a rainbow of fun and entices people of all ages into a therapeutic environment. They engage all the muscles of the body, provide buoyant support and encourage deep relaxation. It almost feels like time travel! When you're in the moment, all your worries and concerns fade away. For a brief instant, you are transported to a simpler time where life was just about having fun. The Time Machine is the perfect way to add a little bit of magic to your life. It's a fun way to exercise, relieve stress and just enjoy the moment. So take a spin on the Time Machine and see where it takes you!
Yahoo Trampoline
Yahoo Trampoline is a great way to keep your kids active and engaged. It is a fun and safe activity that can help them improve their coordination and stamina. The best part about Yahoo Trampoline is that it can be used indoors or outdoors, making it perfect for all weather conditions. Additionally, Yahoo Trampoline is very affordable, making it a great option for families on a budget. With so many benefits, it's no wonder that Yahoo Trampoline is becoming a popular choice for parents looking for ways to keep their kids active and healthy.
Donut Slide
The Donut Slide is an exhilarating experience that will leave you feeling stoked. You'll start by heart-thumping and fist-clenching your way down the slide, before jumping on an airbag. The feeling of skating on ice and jumping on an airbag is unlike any other, and you'll be sure to enjoy every minute of it. After the adrenaline rush subsides, you'll be left with a sense of satisfaction that can only come from conquering the Donut Slide. So if you're looking for an adventure that will get your heart racing, be sure to add the Donut Slide to your list.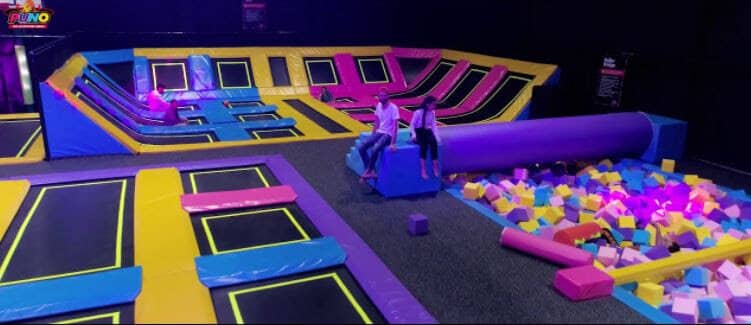 Ninja Course
The Ninja Course is an intense and challenging obstacle course that will push your limits. From the first step to the finish line, you will be put to the test. The course is designed to challenge your strength, agility, and endurance. You will need to use all of your ninja skills to navigate through the obstacles. The course is not for the faint of heart. Only the strong will survive. Are you up for the challenge?
Rope course
Take your fitness to new heights with the Rope Course at PUNO! This exciting course is designed to test your balance, agility, and strength, all while providing a safe and adrenaline-pumping experience. The course features a variety of obstacles and challenges, ranging from tightropes and swinging logs to suspension bridges and zip lines. No matter your fitness level, the Rope Course at PUNO is sure to provide an exhilarating adventure. So come on out and test your limits today!
Dodge Ball
Dodge ball is not for the faint of heart. It takes quick reflexes and even quicker thinking to succeed in this high-stakes game. The goal is simple: to hit your opponents with the ball and eliminate them from the game. But the path to victory is fraught with danger. You must dodge the balls thrown at you while also trying to take out your opponents. This requires split-second decisions and lightning-fast reflexes. One misstep can mean defeat, so you must be constantly on the lookout for potential hazards. But if you can keep your head under pressure and make smart decisions, then you just might come out on top in a game of dodgeball.
Slam Dunk
Nothing gets the blood pumping quite like a powerful slam dunk in basketball. And at PUNO, we believe that everyone deserves the opportunity to experience this truly exhilarating move. That's why we offer Slam Dunk, the ultimate activity for Freestyle skill progression and pure fun. Whether you're a seasoned veteran or just picking up a basketball for the first time, our trained professionals will guide you through everything you need to know to make your slam dunk dreams a reality. So come on down and see us today. We guarantee you won't be disappointed.
Roller bridge
A Roller bridge is an extreme recreational activity that is sure to get your adrenaline pumping. Located at PUNO, Roller Bridge consists of a narrow beam that you must run across as quickly as possible. The catch is that the beam is constantly moving, so you must maintain your balance or risk falling into a pit of foam. This activity is perfect for those who are looking for a thrilling challenge. So if you're feeling adventurous, head on down to PUNO and give Roller Bridge a try!
Battle Beam
Whether you're looking for a fun way to get some exercise or you're just a big kid at heart, Battle Beam is the perfect activity. It's a unique twist on the classic game of balance beam, and it's sure to get your heart pumping. The objective is simple: stay on the beam and knock your opponents off. But with sword fighting thrown into the mix, it's anything but easy. You'll need to be quick on your feet and have sharp reflexes if you want to come out on top. So round up your friends and gear up for the ultimate showdown. Battle Beam is the perfect way to get your competitive juices flowing.
Swing Bridge
Visitors to the city of Puno, Peru, are in for a treat when they stop by the local swing bridge. The bridge, which spans a small body of water, is made entirely of rope and wood. Visitors can walk across the bridge, but they must be careful not to fall off. If they do fall, they will be caught by a net of colorful balls. The swing bridge is just one of the many attractions that Puno has to offer. Other attractions include the nearby Lake Titicaca, the world's highest lake, and the Valley of the Colca Canyon, one of the deepest canyons in the world. Whether you're looking for adventure or simply want to take in some of the most breathtaking scenery on Earth, Puno is sure to have something for you.
Wipe out
Wipe out is a fast-paced competition that will have you jumping for joy. The premise is simple: be the last person standing. To do this, you'll need to avoid being hit by the bar. The game is perfect for any party or get-together. It's also a great way to get some exercise. So put on your game face and get ready to Wipe out!
Spider Tower
A visit to Spider Tower is not for the faint of heart. Those who brave the climb will be rewarded with a view that is truly breathtaking. The tower stands tall and proud, surrounded by a dense forest of spider webs. And, if you're lucky, you might even catch a glimpse of the elusive spider that inhabits this strange place. For those who are looking for an adventure, Spider Tower is definitely worth a visit. Just be sure to watch your step, lest you become entangled in the web of excitement that awaits you.
Sky Stepper
Do you like adventure? How about a little faith? If so, then you'll love Sky Stepper! This unique game combines both as you attempt to climb pillars of varying heights before taking a leap of faith off the tallest one. But don't worry, the mechanism at Sky Stepper is magic! Just ask any of the many satisfied customers who have made the journey. So what are you waiting for? Come on up and see for yourself!
Sky walls
Do you have a fear of heights? Do you get anxious when you're even slightly elevated off the ground? If so, then sky walls are definitely not for you. But, if you're the type of person who loves to hit new heights and experience the rush of adrenaline that comes with it, then sky walls are definitely worth checking out. Located in PUNO, Jaipur, Sky walls are 90-degree straight walls that allow you to experience true mountain climbing. And, because they are so high up, they offer breathtaking views of the surrounding area. So, if you're looking for an adventurous activity that will really get your heart racing, be sure to add sky walls to your list.
Free Jump Arena
When it comes to trampoline parks, PUNO is in a class of its own. Our state-of-the-art facility features a wide variety of trampoline activities, from parkour and freestyle jumping to dodgeball and basketball. And with our experienced staff on hand to supervise, you can be sure that your safety is always our top priority. So whether you're looking for a fun way to stay fit or just want to try something new, come to PUNO and discover the joy of trampoline jumping!
High Performance
No matter what your skill level, high performance is always within reach. If you're just starting out, you can use high performance to develop new skills and explore new heights. And if you're already an experienced jumper, you can use high performance to push yourself even further. Whether you're looking to do a free run or train for a trampoline sport, high performance is the key to taking your jumping to the next level. So don't hesitate – take the leap and reach new heights today!
3D Needle
We all know what a needle is and what it looks like. But have you ever seen a needle in 3D? With the aim of fun and innovation, we at PUNO look at things beyond imagination. The 3D needle is the thing that no one can take eyes off from, a frame that gives you mixed feelings of snicker and element of surprise and can make you 'uh oh' at a second. It is sure to make anyone who sees it do a double take!
This amazing invention is not just for looks, however. It has a very practical use as well. The 3D needle is perfect for those who are hard of hearing or deaf, as it can be used to sign in three dimensions. This means that the person signing can be seen clearly from any angle, making communication easy and effective.
So if you are looking for something unique and eye-catching, then look no further than the 3D needle!
Interactive trampoline
Interactive trampoline is a new and exciting way to experience virtual reality. By combining the exhilaration of bouncing on a trampoline with the immersive world of VR, an interactive trampoline offers a unique and fun-filled experience. Players must use their bodies to match the movements of their chosen character in order to progress through the game. In addition, they can perform freestyle tricks to score points and achieve victory. Whether playing alone or with friends, the interactive trampoline is sure to provide hours of enjoyment. So why not give it a try today?
Cyclone
Looking for an adrenaline rush? Look no further than the Cyclone! This thrilling ride is sure to get your heart racing and leave you wanting more. Featuring speedy turns and flips, the Cyclone is not for the faint of heart. But if you're looking for a thrill, this is the ride for you. So strap in and get ready for the time of your life!
Sky Rider
Looking for an adventure that will take you to new heights? Then look no further than Sky Rider at PUNO Adventure Arena. With this thrilling ride, you'll feel like you're truly flying as you soar high above the ground with the entire arena in sight. You'll be able to take in all the sights and sounds of the adventure park while getting a great workout too. So come on up and give Sky Rider a try today!