Karnataka is a state located in the southern part of India. The people of Karnataka have diverse cultures, heritage, and traditional dress styles.The traditonal dresses of karnataka presents the harmony of tradition and modernity of the state.
The karnataka traditonal dress for men is a dhoti, and for women is a saree. Contemporary society is reflected by the dressing sense of the people of Karnataka.
The state is quite popular among tourists who experience a new and enchanting world here. Karnataka is known for its soothing classical Carnatic and Hindustani music and traditional dresses, which shows all its glory.
The state's art forms serve as a means to bring the communities closer. Each aspect of the state is quite significant and contributes to the beauty of the state. The people of Karnataka are very proud of their culture and traditional. Furthermore, we will look at the traditional dress worn by women and men in Karnataka.
Traditional Dresses of Karnataka For Women
1) Ilkal sarees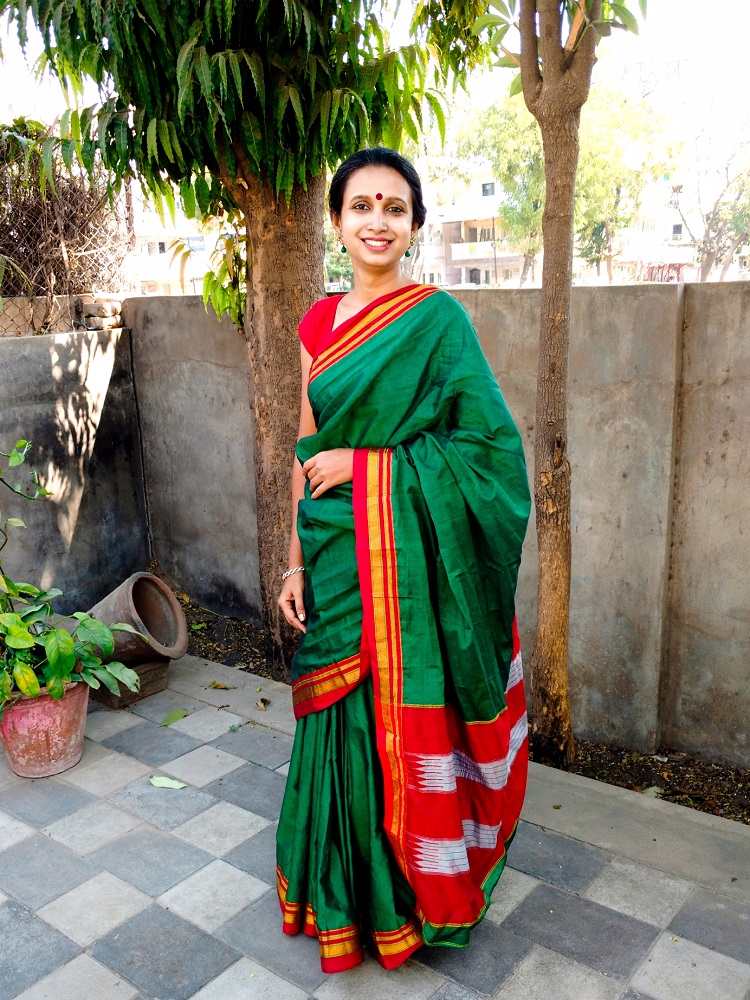 Ilkal sarees are one of the most popular styles of Karnataka culture dress worn by women. Ilkal comes from the town of Ilkal, located in the district of Bagalkot, Karnataka. These sarees are made with silk and cotton. Cotton is used as warp for the body in Ilkal saree, and art silk is used for the border and pallu.
The sarees are also decorated with beautiful gold zari work. These sarees are available in various colours and designs and are a must-have in every woman's wardrobe.
2) Langa Davani or Half Sari
The Langa Davani is a traditional two-piece sari initially worn in South India by young ladies. The half-sari gets its name from Karnataka, which is more commonly known. Langa davanis are often on the simpler side, with muted colors such as green, yellow, or red. The borders, which had gold printing or tiny patterns with religious and natural themes, served as the primary decoration.
In recent years, the popularity of the Langa Davani has increased, with many women choosing to wear it as a convenient and comfortable alternative to the full sari. While it is most commonly seen in South India, the half-sari has also begun to gain popularity in other parts of the country.
3) Kanchipuram Sarees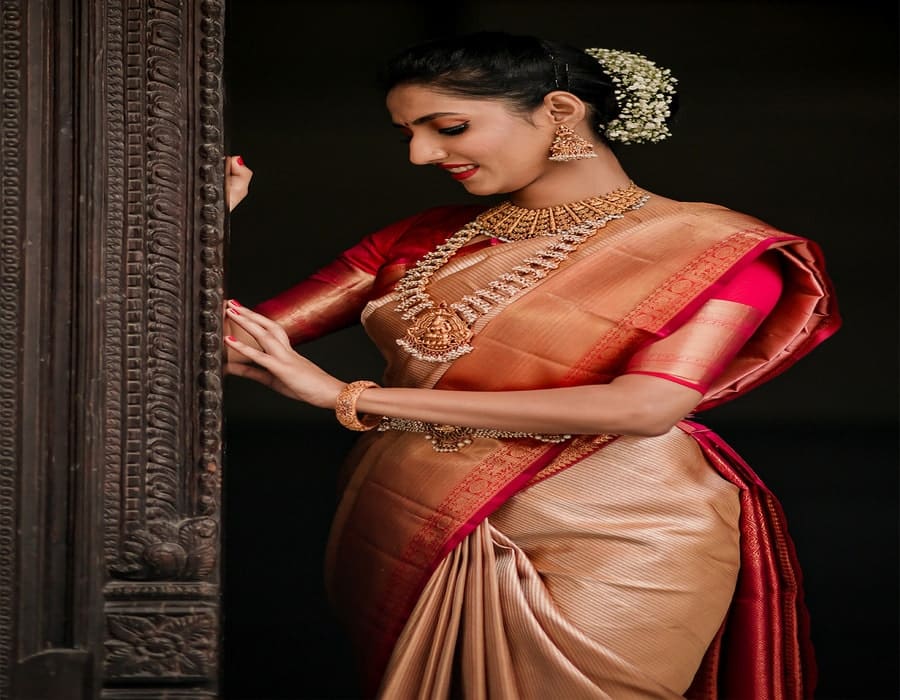 The Kanchipuram Sarees are a beautiful and elegant type of saree that originates from the city of Kanchipuram in Tamil Nadu, India. It is known for its beautiful decorations, fine handwork, and broad border. The sarees are made of silk and often have gold or silver threads woven, making them quite expensive.
However, their high quality and uniqueness are considered worth the price. The sarees are usually worn on special occasions or during festivals, as they are quite delicate and require careful handling. However, they make for a lovely and stunning outfit that will make any woman feel like a goddess.
4) Kodagu saree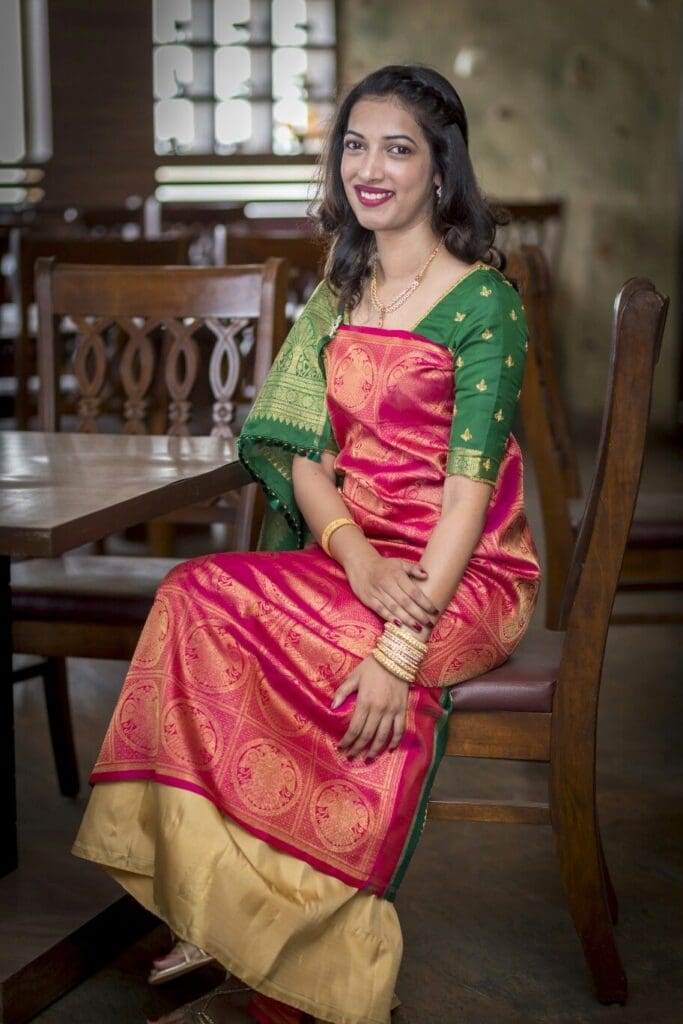 Kodagu Sarees are usually made of silk or cotton and are highly expressive which is one the famous section in Karnataka's Traditional Dresses. Red is known to be the happiest color and is worn by ladies during special events. Nowadays, women wear whatever color they like, but the saree is still an important part of their culture.
The women of Kodagu have their unique way of wearing a saree. The saree is simple, but the women make all the wrinkles on the back of their pallu and then attached to the shoulder using a pin and, this enhances the beauty of ladies
5) Kurtis
Kurtis is popular clothing worn by women in Karnataka, India. This outfit is popular throughout India, and many other states have similar outfits in their culture and books. Kurtis is practical and comfortable clothing worn for everyday activities or special occasions.
They are often made from cotton or other breathable fabrics, making them ideal for warm weather conditions. Kurtis is also easy to care for and can be machine washed and ironed. With so many benefits, it's no wonder Kurtis is a popular choice of clothing for women in Karnataka and beyond.
Traditional Dresses of Karnataka For Men
1) Panche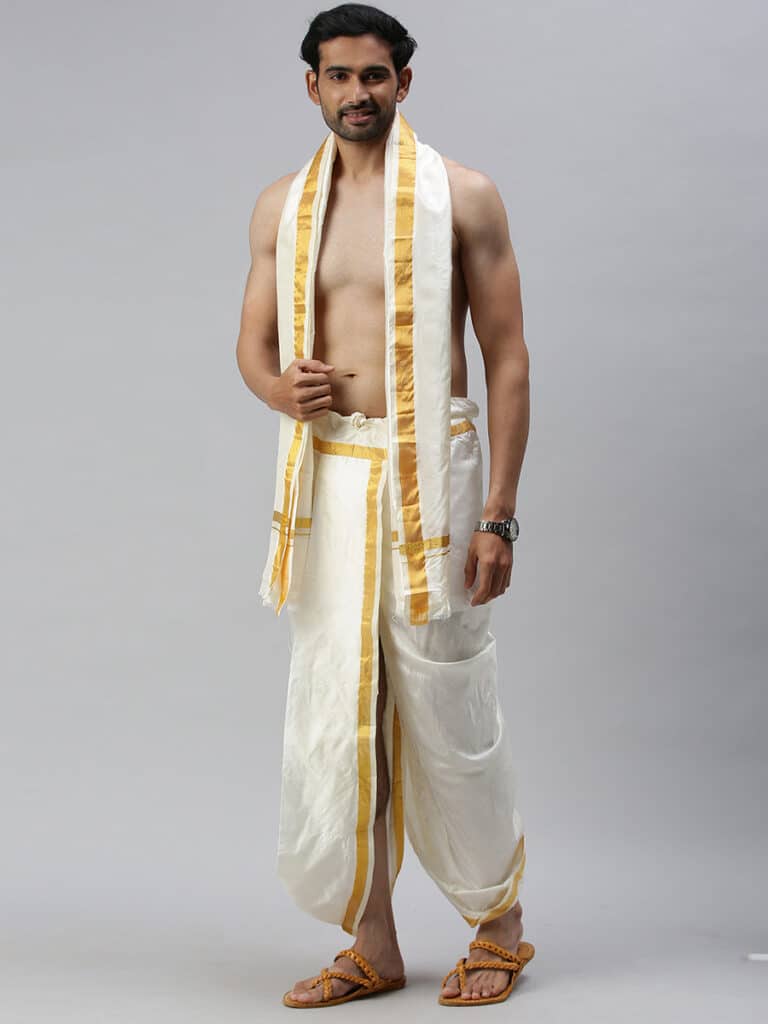 Panche is the traditional dress of the men in Karnataka, which is worn underneath the waistline accompanied by a shirt on top. It is otherwise called Lungi, Dhoti, Veshti, etc. An 'angavastram', a silk or cotton muffler, is set on the neck, covering the shoulder.
Panche are cotton or silk, and their length varies from the middle of the calf to the ankles. Since the beginning of time, wearing panche has been very popular , and even Lord Rama and Krishna once wore them.
Panche are comfortable to wear and help to keep the body cool during hot summers. They are also easy to wash and maintain. Currently, panche are available in various colors, designs, and fabrics to suit every individual's taste.
They have also become quite popular among the youth who like to experiment with their looks. Overall, panche is an integral part of karnataka traditional dresses.
2) Peta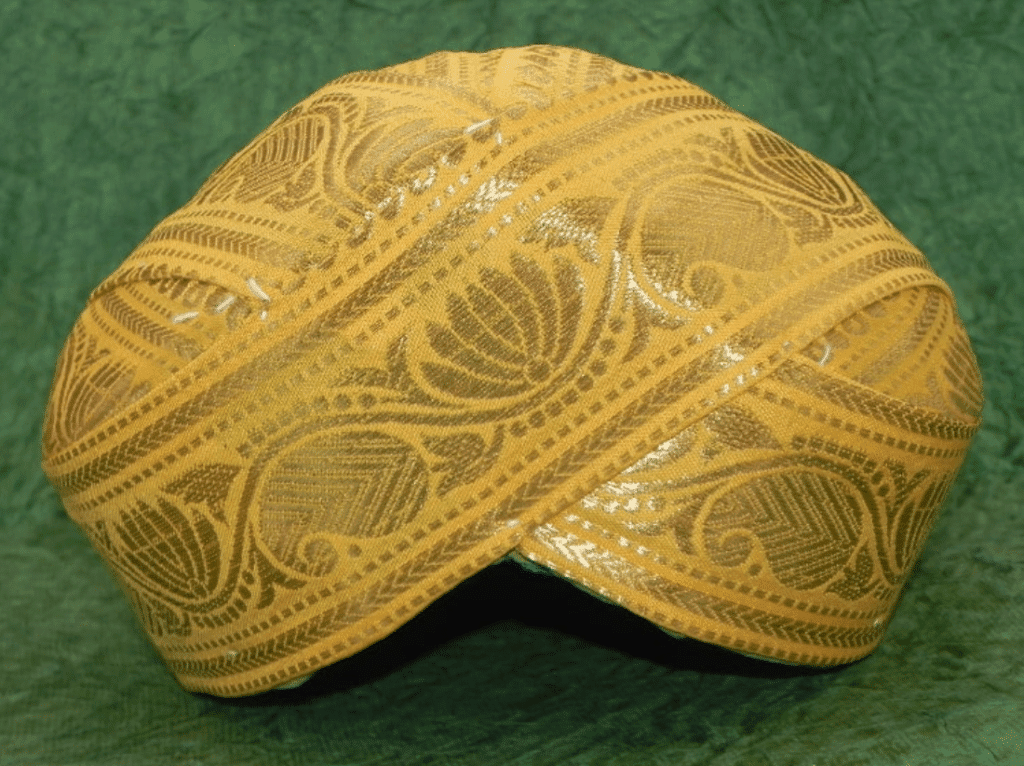 Peta is a customary hat worn by men in the southern Indian state of Karnataka. It is typically made of silk, with gold-plated or silver Uzbekistan Coins sewn into the fabric.
The Peta is often worn with a traditional Karnataka costume, known as a kurta. The hat is also a popular choice for grooms on their wedding day. While most Karnataka men now wear modern clothing for everyday activities, the Peta remains an important part of their cultural heritage.
Top Karnataka's Traditional Ornaments
1) Mundale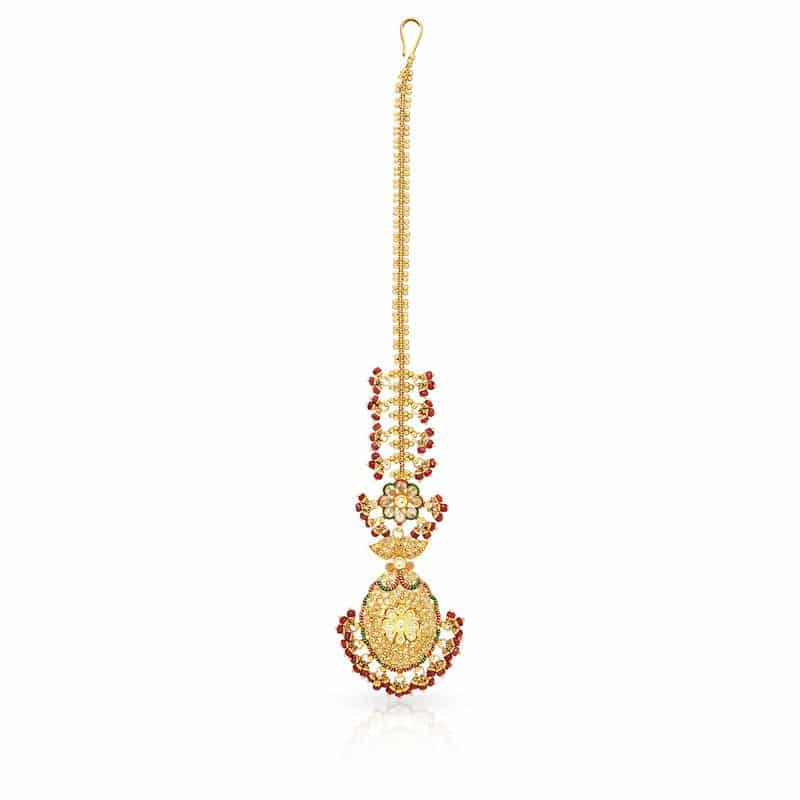 Mundales are a beautiful and unique accessory that has recently gained popularity. A mundale combines various precious stones, like a maang tikka, that rest on the bride's forehead and highlight her eyes.
Mundales are often made with a mix of diamonds, rubies, and sapphires but can also be made with other stones such as emeralds and pearls.
They are available in various styles and designs, making them a perfect way to add a personal touch to your wedding day look. Whether you are looking for something simple or elaborate, a Mundale is a great way to give your special day an extra shine.
2) Havalakki Sara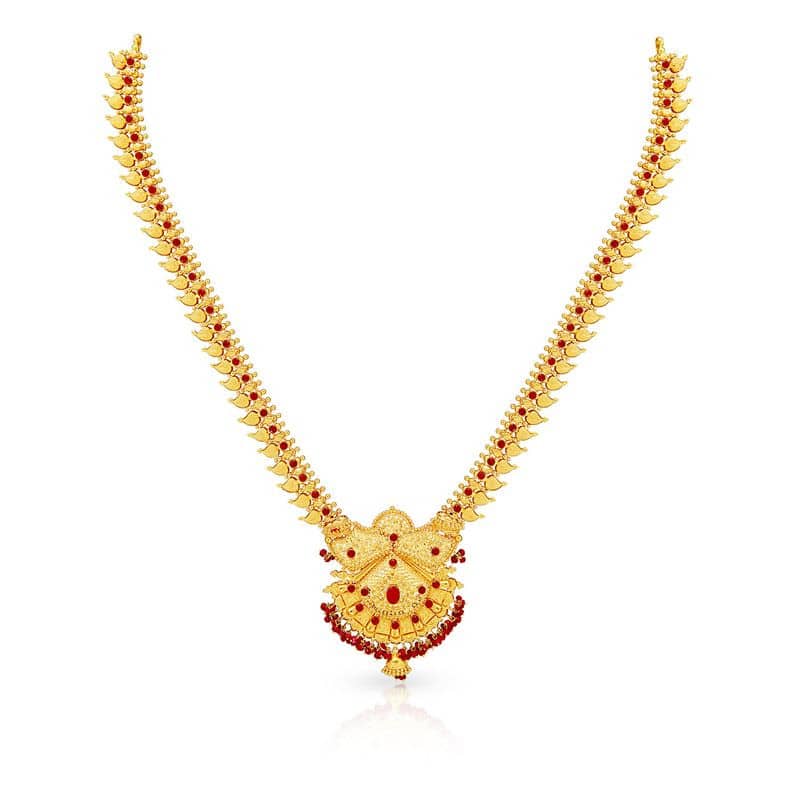 The Havalakki Sara is a gold necklace that is a part of the traditional wedding attire for Bunts. The necklace is long and heavy and often set with precious gemstones. The mix of red and gold in the bridal attire produces a stylish look that is extremely lovely. The Havalakki Sara is just one of the many necklaces a bride wears at her wedding, and it is a unique and special piece of jewellery.
3) Lakshmi Balai
The Lakshmi Balai is a wristlet worn by Bunt brides that displays the similarity of the goddess Lakshmi. Lakshmi, the goddess of wealth and prosperity, is widely worshipped. As a result, the Lakshmi Balai is seen as lucky and is widely displayed.
Apart from being a fashionable accessory, the Lakshmi Balai is also believed to confer numerous benefits upon the wearer. It promotes harmony and peace while attracting positive vibes and energy.
In addition, the wristlet is also known to protect the wearer from evil forces and negative influences. Thus, The Lakshmi Balai is not only beautiful, but it carries significant value.
4) Guruvina Kada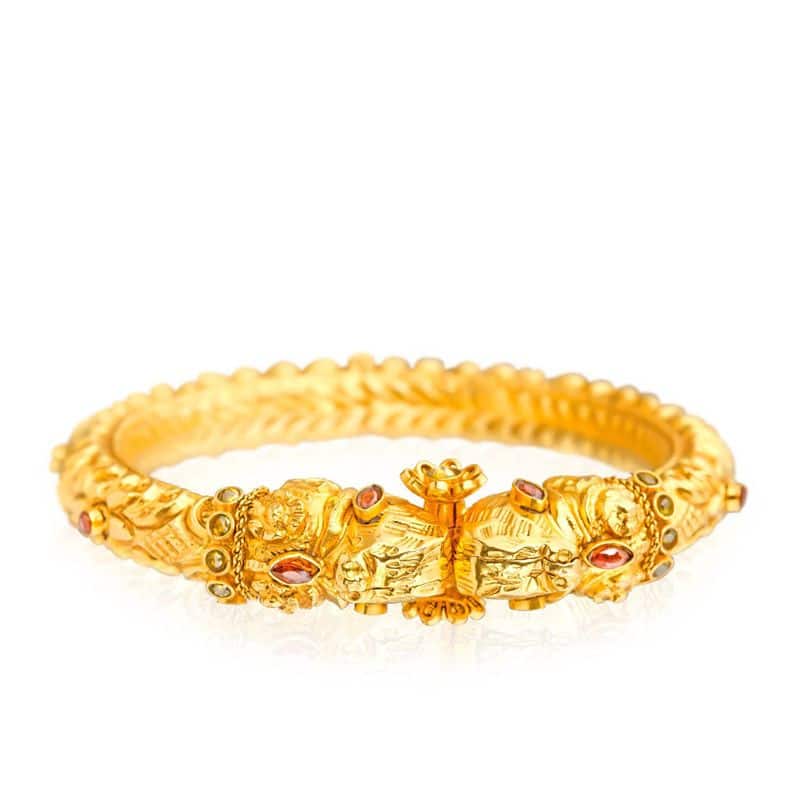 If you're looking for an eye-catching piece of jewellery, Guruvina Kada is worth checking out. This heavy gold bracelet is set with red stones and features antique temple-based designs.
It's sure to turn heads when you wear it, and it's also a great conversation starter. If you're interested in learning more about Guruvina Kada, ask someone who owns one. You're sure to get a lot of compliments on this beautiful piece of jewellery.