Hanumantiya Tapu is a beautiful tourist destination located in the Khandwa district of Madhya Pradesh. It is well-known for its water sports and adventure activities, making it a popular spot for tourists.
The place has recently been developed as a great sightseeing spot by the Madhya Pradesh Tourism Development Centre, making it more accessible to tourists. If you are looking for some exciting adventure and sightseeing in Madhya Pradesh, then be sure to add Hanumantiya Tapu to your list!
Hanumantiya Tapu is located at a distance of 47 kilometres from the mainland of Khandwa. The place can be easily reached by well-developed transportation routes.
The beautiful scenery and calm atmosphere of the place make it a perfect destination for some relaxing time. There are many water sports and adventure activities that you can enjoy at Hanumantiya Tapu.
You can also go sightseeing and explore the place to learn more about its history and culture.
So, what are you waiting for? Plan your trip to Hanumantiya Tapu today!
Points Of Interest for Hanumantiya Tapu
1) Land Activities:
Hanumantiya Tapu is a great place to enjoy a variety of land-based activities. Volleyball, tug of war, and archery are all popular games that can be played on the beach.
For those looking for a more active experience, climbing and zip-lining are also available. Kite flying is also a popular activity at Hanumantiya Tapu, and it's a great way to relax and enjoy the incredible views.
Bull carting is another option for visitors looking to explore the area, and it's a great way to get around and see everything that Hanumantiya Tapu has to offer.
No matter what your interests are, there's sure to be something for everyone at Hanumantiya Tapu.
2) Air Activity
Hanumantiya Tapu is a paradise for adventure lovers. Situated in the middle of the Narmada river, it offers a variety of air activities that are sure to get your heart pumping.
Amongst these, land parasailing, paramotors, and hot air balloon rides are the most enjoyable. Land parasailing gives you a bird's eye view of the beautiful surroundings as you soar through the air.
At the same time, paramotors let you experience the thrill of flying like a superhero. And if you want to go all out, there's nothing like a hot air balloon ride to give you an unforgettable experience.
So come to Hanumantiya Tapu and enjoy the best that Mother Nature has to offer!
3) Water Activities
Hanumantiya Tapu is a small island off the coast of Madhya Pradesh. It is well-known for its popular Jal Mahotsav.
Every year, thousands of people flock to the island to participate in water activities. Water parasailing, banana riding, cruising, jet-skiing, motorboat riding, speed boat drive, scuba diving, sea window sliding, and full-face snorkelling mask are some essential water activities.
The Jal Mahotsav is a great opportunity for people of all ages to enjoy the many different water activities that the island has to offer.
4) Cruising:
Here's a fun activity for your next birthday party or special event – a freshwater Rewa cruise! Madhya Pradesh Tourism Boat Club offers a 45-minute cruise that will surely be a hit with all your guests.
The best part is that you don't have to worry about coordinating transportation – just show up at the docks by 4 pm, and we'll take care of the rest.
Sit back, relax, and enjoy the scenery as we cruise down the Rewa River. You might even spot some of the local wildlife! This is definitely an event that your guests will be talking about for years to come. So don't wait – book your Rewa cruise today!
Floating Fantasy ride:
Looking for a unique vacation rental? Floating fantasy features two houseboats comprising 3 rooms each.
The upper deck of each houseboat displays a dining cum party area. You can avail of their pantry service to cater to your food requirements.
The houseboats have all modern amenities like air-conditioning, television and a private bathroom. So why not enjoy a peaceful vacation afloat amidst nature's beauty? Book your stay today!
Bird watching
Hanumantiya Island is a bird watcher's paradise. You can witness some exotic Central Indian bird species here.
Peacocks, black storks, a small cormorant, and European Ostray are some frequently observed species here. The island is located in the middle of the Chambal River.
It is surrounded by wetlands, making it an ideal habitat for these birds. In addition to being a great place to see birds, Hanumantiya Island is also a popular spot for picnicking and camping.
There are several restaurants and shops on the island, as well as a playground and a small boardwalk. Visitors can also take boat rides around the island to look closely at the birds. Whether you're an avid birdwatcher or just looking for a place to relax, Hanumantiya Island is sure to please.
Trekking
Khandwa is blessed with many natural attractions that offer ample opportunities for adventure and exploration.
Among these, the Hanumantiya Tapu is a particularly popular destination for trekking and cycling. The tapu, or island, is located in the middle of the Narmada River and is known for its undulating terrains.
This makes it an ideal place for cyclists to test their skills and endurance. In addition, the tapu is also home to many rare plant and animal species, making it a paradise for nature lovers.
With so much to offer, it's no wonder that the Hanumantiya Tapu is one of the most popular tourist destinations in Khandwa.
How To Reach: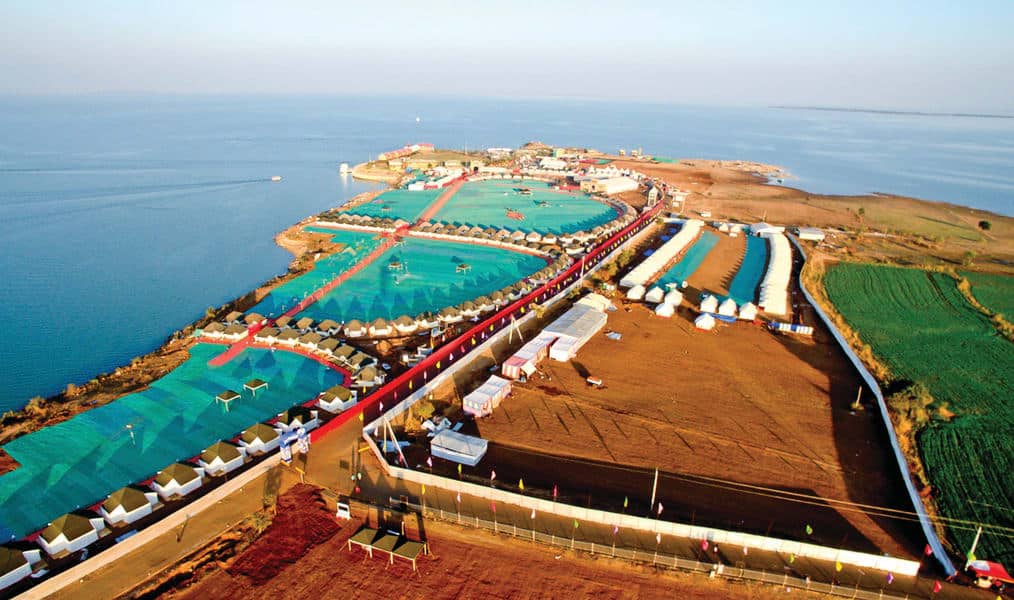 Hanumantiya Tapu is a beautiful place situated in Madhya Pradesh. It is famous for the backwaters and the lovely scenery.
The best way to reach Hanumantiya Tapu is by road. The place is well connected to major cities like Indore, Bhopal and Jabalpur.
The nearest airport is located in Indore. From there, one can take a bus or a taxi to reach Hanumantiya Tapu.
The journey by road is quite scenic as one sees a lot of greenery and small towns along the way. The best time to visit Hanumantiya Tapu is from October to March, when the weather is cool and pleasant.
Hanumantiya Tapu is a popular tourist destination in Madhya Pradesh, India. The best time to visit Hanumantiya Tapu is between October and March.
This is when the weather is cooler, and the water level in the rivers is lower, making it easier to explore the area. Hanumantiya Tapu is home to various wildlife, including tigers, leopards, and deer.
There are also many bird species present in the area. Visitors can participate in various activities, such as bird watching, jungle safaris, and boat rides.
Hanumantiya Tapu is a beautiful place to visit and there are plenty of things to see and do.
So, suppose you're looking for a place to enjoy some time in nature. In that case, Hanumantiya Tapu is the perfect destination for you.
If you are planning to visit Madhya Pradesh soon, then do include Hanumantiya Tapu in your