Ghatkopar Khau Galli in Mumbai, the street food market, is known for its wide variety of food options, from Indian classics to international dishes. This food street is famed for its delicious snacks and chaats, and it's always packed with people looking to satisfy their cravings.
There's something for everyone at Ghatkopar Khau Galli, so come with an empty stomach and be prepared to sample a little bit of everything. From freshly made dosas to crispy vadas, there's no shortage of delicious options. And don't forget to wash it down with a refreshing glass of chaas or masala chai.
So if you're visiting Mumbai and want to experience some authentic Indian street food, check out this amazing food street Ghatkopar Khau Galli. You won't be disappointed!
A Vegetarian's Paradise: Ghatkopar Khau Galli
Finding a good vegetarian spot in a city like Mumbai can be tough, especially if you're looking for more than just simple dishes. But you can find some real gems if you know where to go one of those places.
Ghatkopar Khau Galli is famous for its variety of delicious vegetarian options. – from masala dishes to rich desserts, there's something for everyone here. The best part is that all the dishes are completely meat-free, so you don't have to worry about accidentally ordering something with chicken or beef.
Whether you're a strict vegetarian or just looking for a meat-free meal, Ghatkopar Khau Galli is worth checking out.
Best Things To Eat in Ghatkopar Khau Galli
1) Dabeli Cone
Dabeli Cone is popular street food from Kutch, and the Dabeli cone is an innovative twist on this classic dish.
Mashed Dabeli Masala is sauteed on a Tawa with onions and spiced peanuts, then stacked in a crispy cone and topped with Sev. This delicious snack can be found in Ghatkopar Khau Gali for just Rs.20. So, if you're looking for a unique and tasty snack, try the Dabeli cone!
2) Sev Khichiya Food with Chaat Masala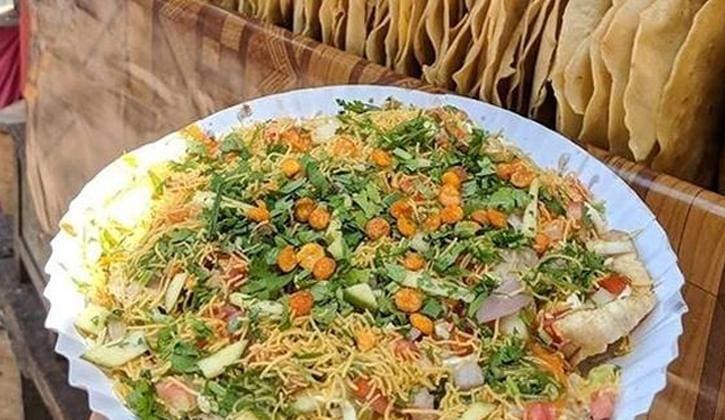 Ghatkopar khau gali is a foodie's paradise. From chats to kulfis, there's something for everyone here. But one dish that stands out amongst the rest is the khichiya papad. Rice papad, roasted to perfection on red-hot coal and topped with cucumbers, tomatoes, onions, dhaniya, sev, boondi, and loads of masala; this papad was a winning dish, and we even took some home!
The best part about this dish is that it's available at a surprisingly affordable price, making it a favorite amongst the regulars here. So if you're ever in Ghatkopar, check out the khichiya papad at the Ghatkopar khau gali!
3) Manchurian Pasta Dosa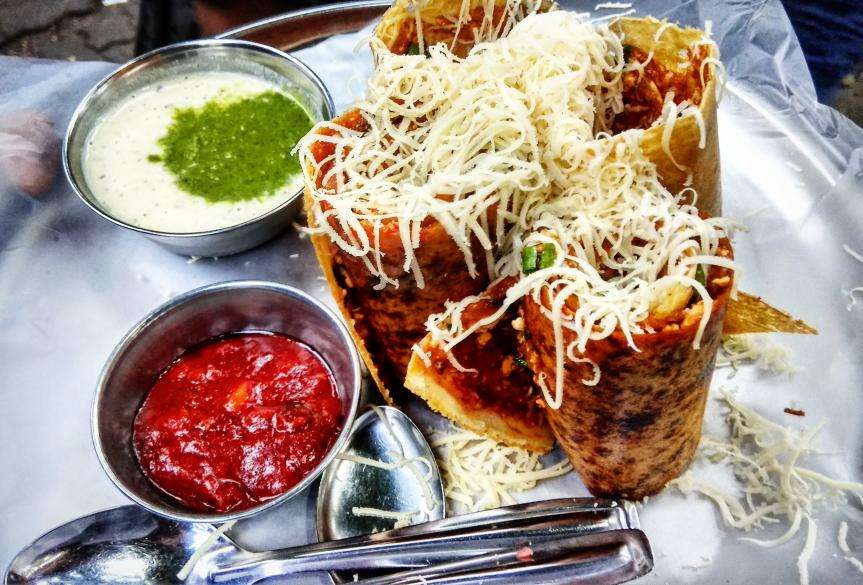 Any pasta lover would tell you that a good plate of Manchurian Pasta Dosa is all about the sauce. And when it comes to sauces, there's nothing quite like a classic Manchurian gravy.
Add in some dosa, and you've got a dish that's sure to please. The best part is that it's priced at just Rs 180, making it a great value. So if you're looking for a hearty meal that won't break the bank, this is certainly one to check out.
4) Jain Pani Puri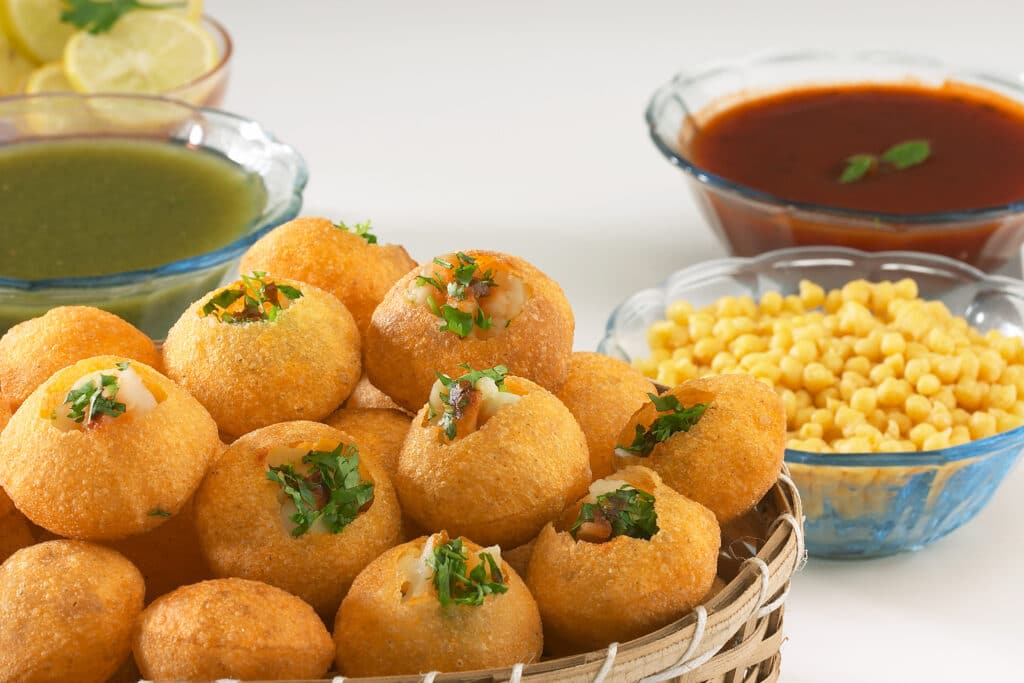 The Jain Pani Puri stand is one of the most popular in Ghatkopar's Guru Kripa, and for a good reason. The puris are light and fluffy, and the filling is a perfect mix of sweet, sour, and spice. Plus, it's a stone's throw away from the iconic Jain temple, so you can be sure that the puris are 100% vegetarian.
This is the place to go if you're looking for a delicious and affordable meal. Just be warned that the line can get pretty long during peak hours.
5) Breadless sandwich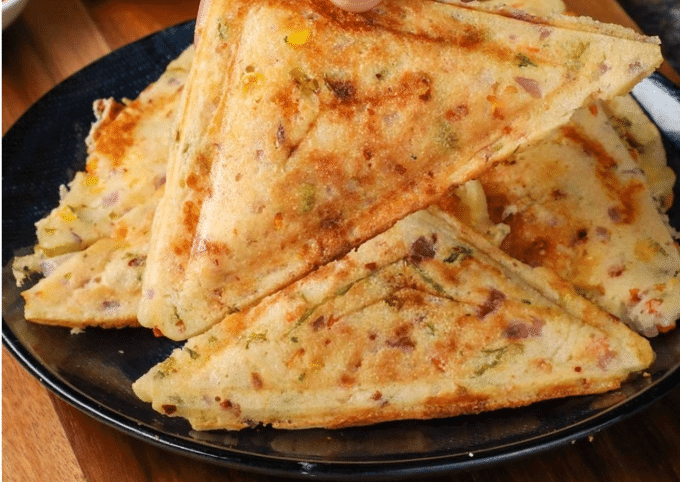 A breadless sandwich is a healthy alternative to a classic sandwich. It is perfect for fitness freaks who want to avoid carbohydrates.
This sandwich is made with all raw vegetables, layered as a normal sandwich. The vegetables provide essential nutrients and fiber while being low in calories. This sandwich is a great option for those looking for a healthy, filling, and satisfying snack.
6) Jinni Dosa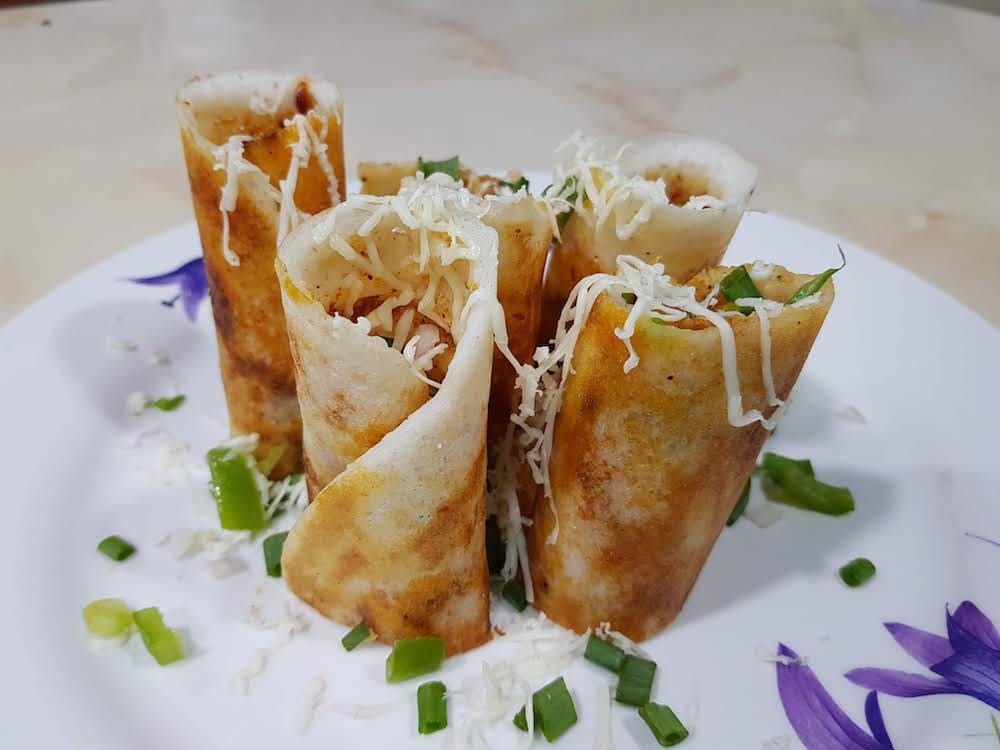 Dosa is one of the most popular dishes in India, and it's no wonder why. Not only does it taste delicious, but it also looks amazing. Dosa is prepared using schezwan chutney, mashed potatoes, masala, and more.
The sliced rolls towering on the plate are garnished with shredded coriander. Simply lip-smacking is good! If you're ever in Mumbai, check out Ghatkopar Khau Gali for some of the best dosas in town.