Delhi is a city that never sleeps. There's always something to do, and always somewhere to go. But what if you want to get away from the hustle and bustle of the city for a day?What if you want to enjoy some fresh air and take part in some outdoor activities?
E-O-D Adventure Park is the perfect place for you!This park, located in the heart of Delhi, is surrounded by lush greenery and offers plenty of fun activities for people of all ages.
Whether you're looking for thrill rides or indoor sports, E-O-D Adventure Park has it all!
Come to E-O-D Adventure Park for an unforgettable day out in Delhi! There are 14 exciting obstacles to overcome, including a 150 meter long zipline.
You'll also get to enjoy a peaceful boating session on Sanjay Lake, passing through the park. And don't forget to take pictures of your children having fun at Jungle House and Kids Fun Zone.They'll be sure to remember this day for years to come!
At E-O-D, you can explore challenges and activities at the 1st ever obstacle course in Delhi, Jungle House.
Partake in 14 challenging activities including 150m long Zipline, Zip Cycle, etc. You can also have fun at Tree Top Course, built at varying heights of 40- 50 feet.
With so many fun activities to choose from, E-O-D is the perfect place to spend a day with your loved ones.
From bowling and boating to archery and body zorbing, there's plenty to keep you entertained.
And if you're looking to get wet, don't forget about the rain dance! So come on down and have some fun – you might just surprise yourself at what you're capable of.
Adventures Activites in E-O-D Adventure Park: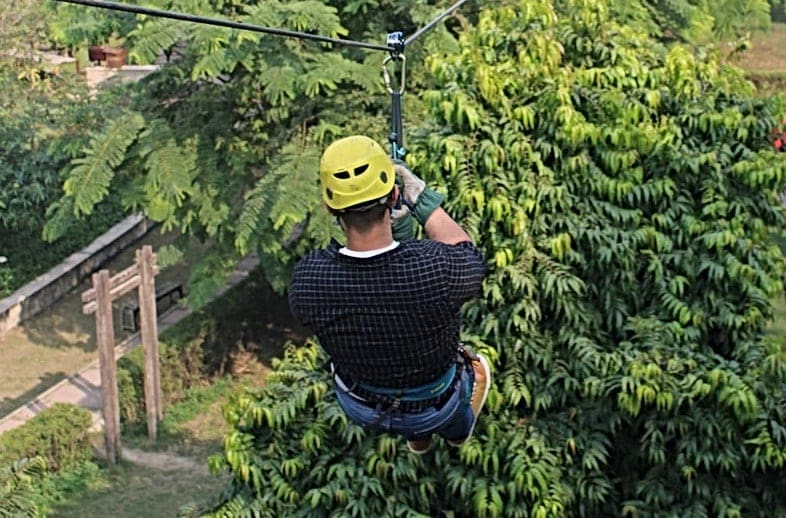 The Tree Top Course will challenge you with 14 different obstacles, built high off the ground on top of trees.
If you're looking for even more of a rush, try our ZipLine – at 150 metres, it's the longest Zipline in NCR! Or go for a unique experience with our Zip Cycle, the first-ever zip cycle in NCR.
When you need a break from all the adrenaline, come bowl with us at our 7-lane Alley – it's the most fun and best value in Delhi! And don't forget to check out boating at Sanjay Lake, the only lake in Delhi where you can go boating.
Our archery range includes specially designed equipment that is perfect for all skill levels. Our rain dance is the perfect way to beat the heat, and our bull ride is perfect for those looking for a thrill.
E-O-D Adventure Park body zorbing is perfect for those who want to get active, and our facilities are perfect for all ages. So come on down to EOD Adventure Park today and start your adventure!
Entry Tickets & Info:
1) Weekdays;
Kids Combo: INR 127/Kid
Explorer Combo: INR 165/Adult
Conqueror Combo: INR 245/Adult
Adventurer Combo: 249/Adult
Killer Combo: 325/Adult
2) Weekends:
Ultimate combo: INR 329/Adult
Supreme Combo: INR 399/Adult
Make your visit and let us know how was it