Balandra Beach is a true marvel of nature, standing out as the epitome of natural beauty in Mexico. Its stunning turquoise waters, known for their exceptional clarity, seamlessly blend with the soft, powdery white sand dunes that stretch along the beach. This picturesque landscape is further adorned with crimson-hued hills and occasional majestic cardón cacti, creating a unique and captivating desert-meets-ocean scene.
What sets Balandra Beach apart is its ability to offer a sense of solitude and seclusion despite its proximity to the bustling city of La Paz. It exudes an aura of tranquility and peace, making it an ideal destination for those seeking a peaceful and rejuvenating escape. The absence of large crowds enhances the feeling of being in a hidden paradise, far away from the typical tourist hotspots.
Balandra beach is one of the most beautiful beaches in Mexico among other beaches. The beach's shallow and calm lagoon provides the perfect setting for various water activities such as swimming, stand-up paddleboarding, and kayaking. The gentle waters are inviting to visitors of all ages and skill levels, making it an excellent spot for families and adventurers alike.
As you venture further into the heart of Balandra Beach, the scenery transforms into a captivating mangrove forest. The contrast between the soft sand and the lush greenery of the mangroves creates a mesmerizing and unforgettable experience. Exploring this unique ecosystem is a must for nature enthusiasts, and it offers an opportunity to witness the diverse flora and fauna of the region up close.
While Mexico boasts numerous coastal destinations like Cancun and Tulum in the Riviera Maya, Playa Balandra undeniably stands out as the supreme gem among them all. Its pristine beauty, tranquility, and unparalleled scenery make it a true hidden treasure and Mexico's ultimate beach destination. Those who have experienced its magic wholeheartedly declare Balandra Beach as a must-visit location, with its allure leaving a lasting impression on the hearts of all who visit this beautiful beach. A trip to Baja California would be incomplete without immersing oneself in the captivating beauty and serenity of Balandra Beach.
Introducing Balandra Bay: A Hidden Gem in La Paz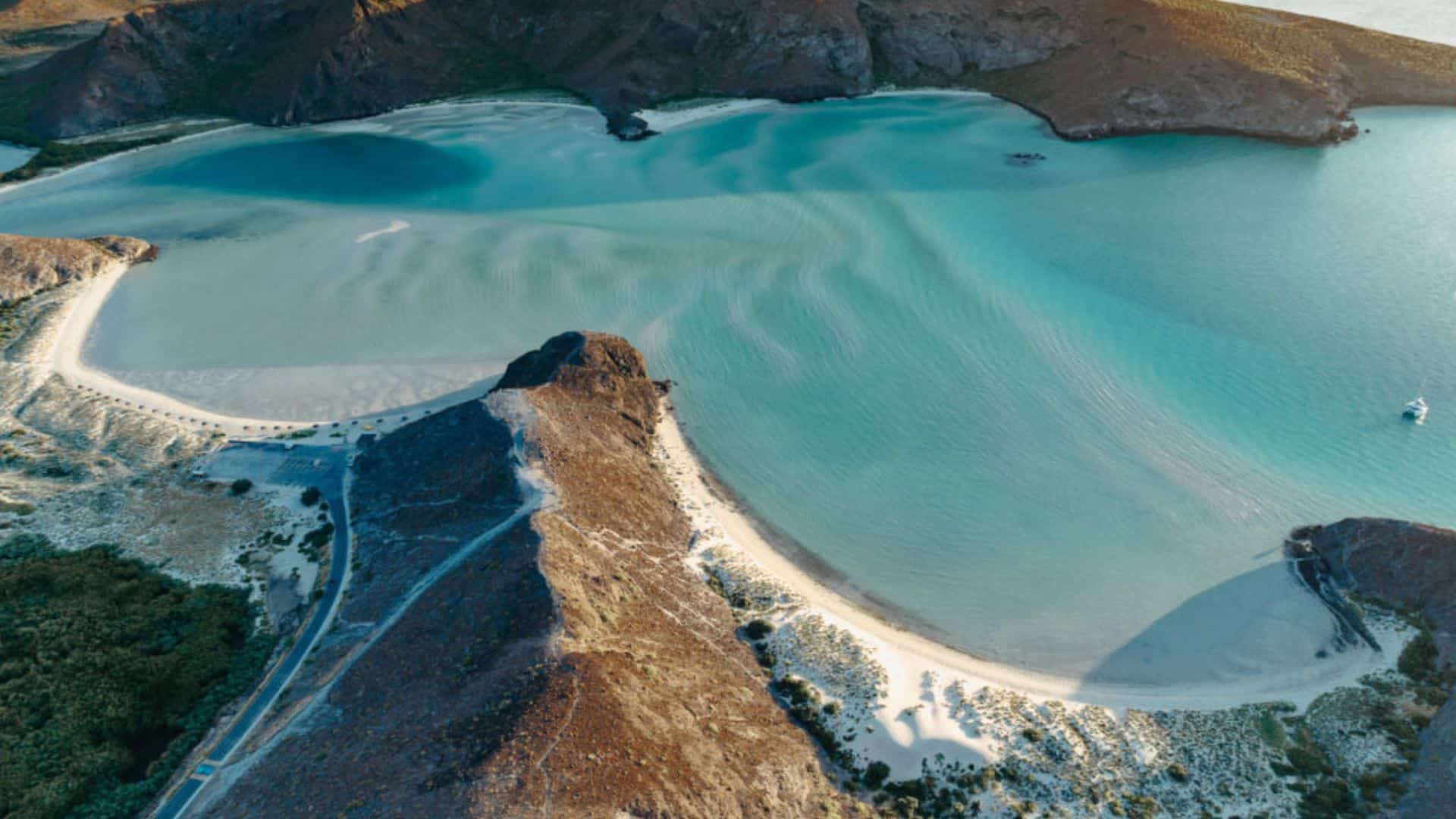 Nestled north of La Paz, Mexico, lies the enchanting Balandra Bay, a natural wonder and protected area that has captivated the hearts of visitors from far and wide. Recognized as a Natural Protected Area in 2008, thanks to the relentless efforts of a local environmental group called Colectivo Balandra, this coastal paradise is a testament to the power of community-driven conservation. Balandra Bay boasts a collection of seven pristine beaches, each with its own unique charm. One of the bay's most intriguing features is its exceptionally shallow tides. Even at high tide, the water merely grazes chest height, allowing intrepid explorers to amble around the headlands and discover the hidden treasures of each beach. At low tide, a mesmerizing sight awaits as vast stretches of white sandbanks emerge, inviting you to wander out to the sandbar, where the water remains ankle-deep. As you embark on this ethereal journey, exercise caution by shuffling your feet to avoid the presence of stingrays that dwell beneath the surface, ever watchful of their sandy abode. Before you embark on your Balandra Bay adventure, allow us to equip you with essential information to ensure an unforgettable visit. Experience the Mesmerizing Splendor of Balandra Beach La Paz in this Video MEXICO'S MOST BEAUTIFUL BEACH! 🇲🇽 BALANDRA (LA PAZ)
Essential Information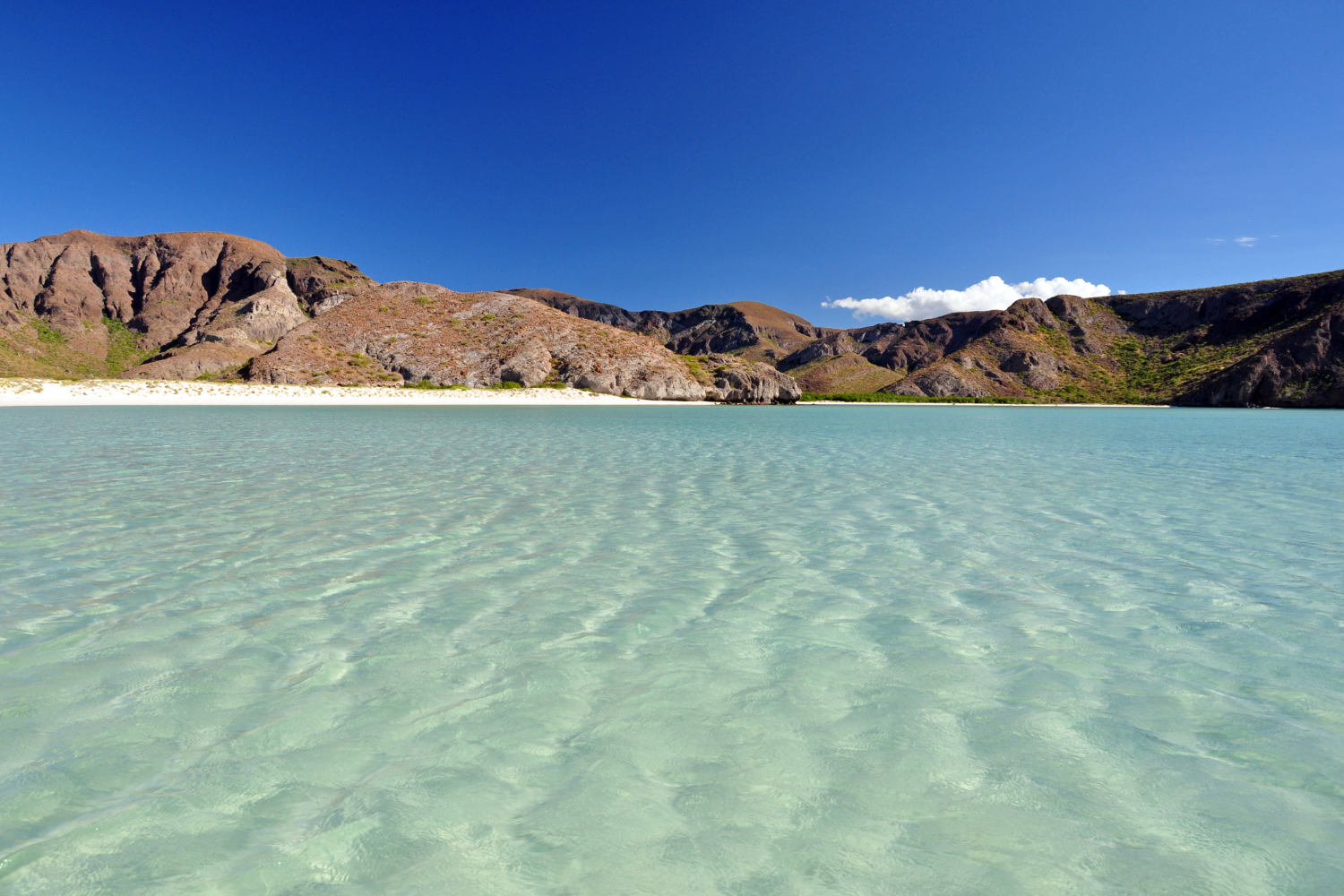 Phone No.: 612 127 1614
Official Website: https://visitbalandra.com/
Entry Fees: There is an entry fee of 50 peso for national and international visitors, however the locals can enjoy the beach free of charge. Balandra beach is not a private beach.
Pincode: N/A (The postal code may vary based on the specific area).
Weather: Enjoy a mild desert climate with summer highs of 25-33°C and winter temperatures ranging from 18-25°C. Minimal rainfall year-round.
Language: Spanish (the primary language spoken).
Currency: Mexican Peso (MXN).
Best Time to Visit: Year-round destination, with warmer and less crowded conditions during the winter months.
Additional Facilities: Limited facilities available, including parking areas, restroom facilities, and picnic spots. Bring your own food, water, and supplies.
Activities: Swim, paddleboard, kayak, snorkel, and explore the marine life.
Accessibility: Easily accessible by road from La Paz; parking facilities available.
Address: Carretera a Pichilingue KM 7, HWY 11, Tecolote, 23040 La Paz, B.C.S., Mexico
Location: Situated near La Paz on the eastern coast of the Baja California Peninsula, along the Sea of Cortez.
Entry Requirements for Balandra Beach:
To access Balandra Beach, you are required to obtain a permit.
Purchase a Permit: To enter Balandra Bay or Espiritu Santo National Parks, you need to pay a daily or annual fee. The National Park Fee is $160 MXN or $8 USD per person.
Obtain Your Bracelet: Prior to visiting Balandra Bay, you must collect your bracelet at either Cortez Club or SeaSide Office. Bracelets can be picked up between 8 am and 8 pm, as these offices are open daily.
Purchase the Bracelet: You can buy the $8 USD bracelet for Balandra Beach here.
However, please note that purchasing the permit does not guarantee entrance, as only 450 visitors are allowed per time phase.
How to Reach Balandra Beach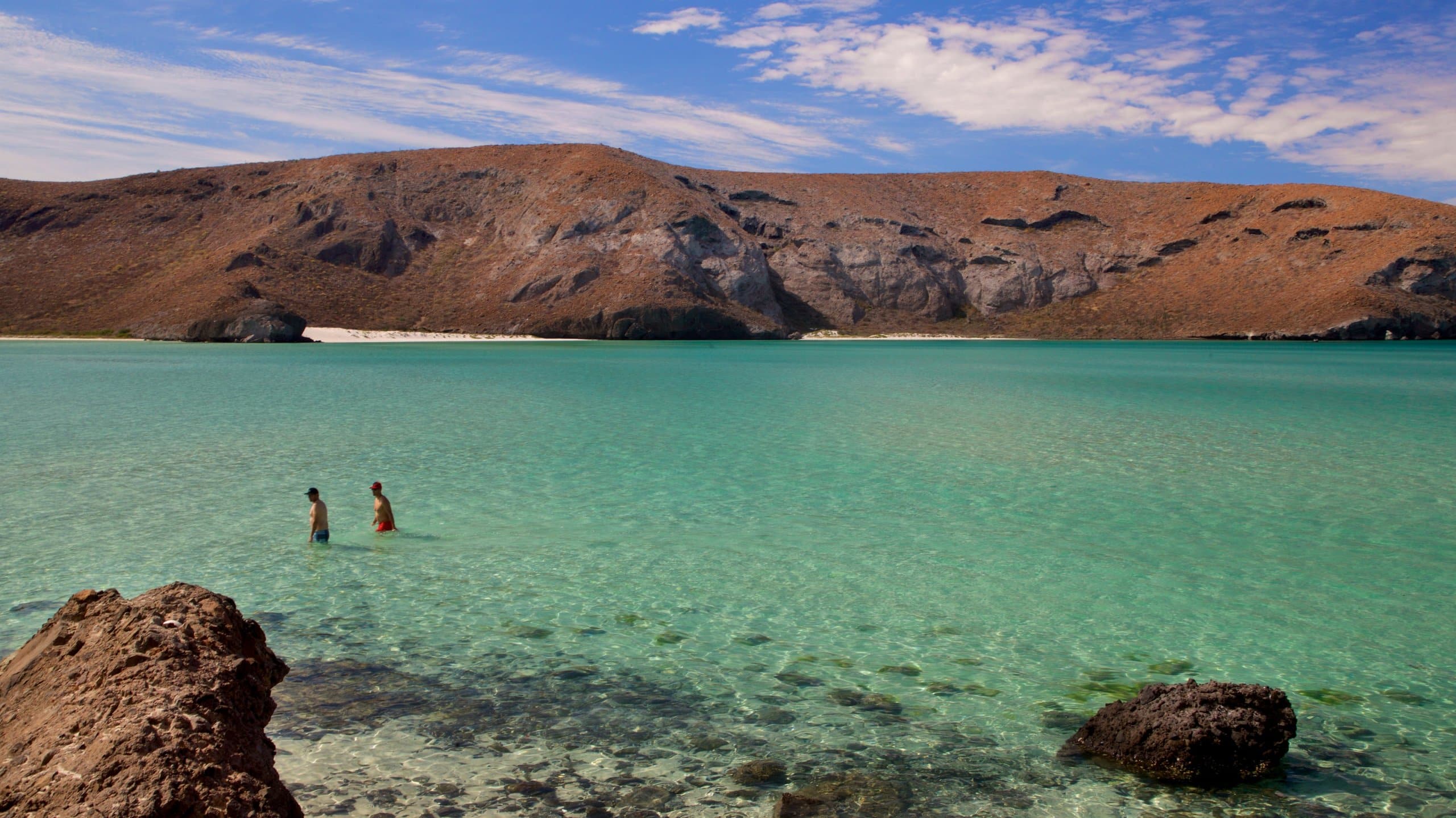 To get to Balandra Beach, a stunning coastal gem situated along the Gulf of California, follow these directions. Balandra Beach is located approximately 30 minutes north of La Paz, Mexico, in the state of Baja California Sur. If you're considering a day trip from Cabo San Lucas, allocate around 2.5 hours for each leg of the journey. To make your way to Balandra Beach independently, rental car is the most convenient option, especially if you plan on exploring other parts of Baja California. Los Cabos Airport is the ideal location to rent a car.  Visit Playa Balandra RentalCars.com to compare prices from renowned car rental services such as Hertz, Avis, and Budget. Keep in mind that when renting a car in Mexico, you'll need to acquire third-party liability insurance. Alternatively, you can opt for a guided tour of Balandra Bay. Baja Desconocida offers an exciting SUP (Stand-Up Paddleboarding) tour, departing from their office near the marina in La Paz. Booking a tour allows you to enjoy the expertise of knowledgeable guides while immersing yourself in the beauty of Balandra Bay. Feel free to adjust the content to fit your needs, and let me know if there's anything else I can assist you with!
Public Transportation
Getting to Balandra Bay via public transportation is a convenient option for exploring this enchanting destination. From the La Paz Bus station, a daily bus service operates with several departure times. Catch the 10 am bus to arrive at Balandra Bay by 10:40 am, but note that you'll need to leave the beach by 12 pm and wait until 1 pm to reenter. Alternatively, opt for the 12 pm bus, allowing you to enjoy the bay until 4:30 pm before catching the 4:40 pm return bus. Choose the timing that suits your preferences, ensuring a hassle-free journey to and from Balandra Bay.
DIDI/UBER Convenience
For those who prefer not to drive, opting for a DIDI or Uber ride is an excellent choice when heading to Balandra Bay. In my opinion, this is the most convenient mode of transportation. To ensure a seamless experience, consider the following suggestions: Timing is key. Aim to request your ride around 8:20 am to avoid potential waiting times in queues. By arriving early, you can minimize any delays and allow the driver to drop you off swiftly. Alternatively, if you prefer to arrive even earlier, you can request the driver to drop you off at the checkpoint. From there, it's a mere minute's walk to reach the mesmerizing beach of Balandra Bay. By choosing DIDI or Uber, you can enjoy a hassle-free journey, leaving you with more time to relish the beauty of Balandra Bay without the concern of driving or parking logistics.
Boat Excursions and Hidden Beaches
Balandra Beach tour by boat offers a unique and captivating experience, providing access to not only Balandra Beach but also a variety of other breathtaking coastal wonders. Numerous boat offer Balandra beach tours are available, allowing you to embark on a memorable journey that combines multiple stops and unveils hidden beaches exclusively accessible by boat. By opting for a boat tours, you can not only visit the iconic Balandra Beach but also discover a selection of stunning beaches that adorn the horizon, visible from the shores of Balandra itself. These secluded gems, tucked away from conventional access, are only reachable by venturing out onto the sparkling waters.
Rating Breakdown
With a total of 2,965 reviews, this destination has received an impressive average rating of 4.5 out of 5. Let's delve into the breakdown of these ratings to get a better understanding of the visitors' experiences:
Excellent: The majority of reviewers, 2,364 in number, found their experience to be excellent. This indicates a high level of satisfaction and suggests that the destination has left a lasting impression on the visitors.
Very good: 446 reviewers regarded their experience as very good. This signifies a positive sentiment and demonstrates that the destination has consistently met or exceeded expectations for a significant portion of visitors.
Average: 111 reviewers expressed an average rating. While this category indicates a mixed sentiment, it suggests that the destination still managed to provide a satisfactory experience for these visitors, albeit with room for improvement.
Poor: 27 reviewers rated their experience as poor. Although this number is relatively low compared to the total number of reviews, it is essential to consider the feedback provided in this category to identify areas where the destination might fall short and address any potential concerns.
Terrible: Wondering is Balandra beach safe?17 reviewers characterized their experience as terrible. While this represents a small portion of the overall reviews, it is crucial to acknowledge these experiences and investigate the reasons behind them to ensure the destination continuously improves and addresses any issues.
Don't forget to check out what people are saying about Balandra Beach on TripAdvisor!
Culinary Delights Near Balandra Beach
When visiting Balandra Beach, prepare yourself for not only the stunning natural beauty but also a delectable culinary experience. Here are some remarkable restaurants near Balandra Beach that will tantalize your taste buds:
Nestled along the coastline, Seaside Bites offers a perfect blend of local flavors and international cuisine. Indulge in freshly caught seafood dishes, savor refreshing ceviches, and relish the breathtaking ocean views from their outdoor seating area.
Another excellent choice, Azul Marino is situated in La Paz, approximately 7.6 miles from Balandra Beach. This restaurant has gained a reputation as one of the top dining establishments in the area, offering a diverse menu and receiving positive feedback from patrons.
Located just 1.2 miles from Balandra Beach, Palapa Azul is a charming beachside restaurant. It offers a relaxed atmosphere where you can enjoy seafood, Mexican cuisine, and refreshing beverages. Visitors have praised its casual ambiance and great drinks.
Situated approximately 1.2 miles from Balandra Beach, Restaurante Bar El Tecolote is another option for dining in the area. While some visitors have expressed mixed reviews, it may still be worth considering for drinks or a casual meal.
Conclusion
Balandra Beach in Baja California Sur, Mexico, is truly a hidden gem that enchants visitors with its serene coastal beauty. The turquoise waters, framed by majestic rock formations, create a postcard-worthy scene that leaves visitors in awe of nature's wonders. As a protected area, respecting the environment and bringing your own supplies is not only essential but also adds to the sense of solitude and preservation of this pristine paradise.
The beach offers a diverse range of experiences for every traveler. For those seeking relaxation, the gentle lapping of the waves and the warm sun create the perfect ambiance for unwinding and escaping the stresses of everyday life. The tranquil atmosphere invites you to lay back on the soft sand, listen to the rhythmic sounds of the ocean, and let your worries drift away.
Adventurers will also find plenty to explore at Balandra Beach. From snorkeling in the crystal-clear waters to hiking along the shore and discovering the hidden nooks among the rock formations, there are countless opportunities to connect with nature in exciting ways.
Witnessing the breathtaking sunsets over the horizon and stargazing under the night sky are experiences that will leave a lasting impression on your heart. The beauty of Balandra Beach is not just in its physical form but also in the sense of tranquility it imparts on every soul fortunate enough to visit.
Whether you're a seasoned traveler or a first-time visitor to Mexico, Balandra Beach promises an unforgettable coastal experience that will leave you yearning to return. Allow yourself to be captivated by the allure of this extraordinary destination, and let Balandra Beach etch its name in the tapestry of your most cherished travel memories.
FAQs